Readers Write: "Life Partners Holdings (LPHI)?" and "Could you elaborate....?"
Hello Friends! Thanks so much for stopping by and visiting my blog, Stock Picks Bob's Advice! As always, please remember that I am an amateur investor, so please remember to consult with your professional investment advisers prior to making any investment decisions based on information on this website.
This week has felt like being on the deck of the fishing boat on The Perfect Storm: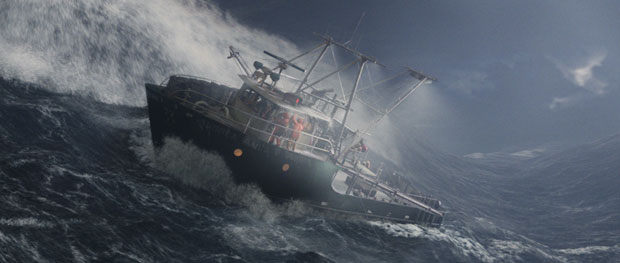 I have been battening the hatches, sitting tight while the waves have been washing over the deck :).
There haven't been many new stocks moving strongly higher to write about. There are a couple of names that have indeed moved higher, but either I never got around to it, or simply, I have written up the stocks within the past year and don't want to repeat myself too often. Anyhow, I did get a couple of letters from great readers who write great questions. As an amateur, I shall try my best to respond to these inquiries. If any of you would like to add your thoughts, please feel free to add comments to these or any of my entries, or drop me a line at bobsadviceforstocks@lycos.com. Your comments and ideas are always welcome. If you could, let me know your first name and your general location. Just makes everything a bit more personal I guess.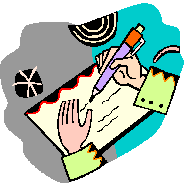 My first letter came from a great reader, Doug S. who wrote:
"Bob:

Do you have any thoughts on a stock like this (LPHI) that is blowing numbers away but is already up over 200% since the first of the year.


I have no position and am tearing my hair out trying to decide. It could either double again or pull back 20% in a heartbeat. Any thoughts on situations like this."
Doug,
Thanks so much for writing. First of all let me take a very brief look at LPHI for myself and for the rest of my readers.
First of all Life Partners Holdings (LPHI) closed at $35.31 on 6/22/07, up $.73 or 2.11% on the day. Not a bad performance in such a miserable market.
The company, according to the Yahoo "Profile",
"...through its subsidiary, Life Partners, Inc., operates as a financial services company that provides purchasing services for life settlements in the United States. It facilitates viatical and life settlement transactions by identifying, examining, and purchasing the policies as an agent. Life Partners Holdings' financial transactions involve the purchase of life insurance policies of terminally ill persons or elderly persons at a discount to their face value."
O.K. a little ghoulish, but still a great service to those who need funds and want to sell their life insurance.
Last quarter? 1st quarter 2007 results were announced June 14, 2007. Revenue climbed to $17.6 million from $6.2 million in the same quarter the prior year. Net income was up fabulously to $4.7 million or $.49/share, up from $.2 million or $.05/share the same quarter the prior year. WOW!
How about longer-term?
Not quite as pretty a picture actually. Looking at the Morningstar.com "5-Yr Restated" financials, we see that revenue climbed sharply from $2 million in 2002 to $9 million in 2005. However, revenue dipped to $8 million in 2006 and then back up to $9 million in the TTM. However, with revenue in the latest quarter at $17.6 million, the numbers are back on track in a big way!
Earnings have also been all over the place with improvement from a loss of $(.11)/share in 2002 to $.28/share in 2005, before dipping to $.12/share in 2006 and $.14/share in the TTM. Again, with $.49/share in the latest quarter (!), all bets are off. So while not a perfect steady picture, the latest numbers are way above the previous trends.
The company has been paying a dividend since 2002 and increasing it from $.03/share in 2002 to $.15/share in 2006 and $.21/share in the TTM. The number of shares outstanding has been fairly stable at 9 to 10 million.
I don't have any numbers on free cash flow and nothing shows up on the balance sheet on Morningstar.com.
Let's take a look at the chart, checking the "Point & Figure" chart on LPHI from StockCharts.com, we can see the meteoric recent rise which hasn't quit.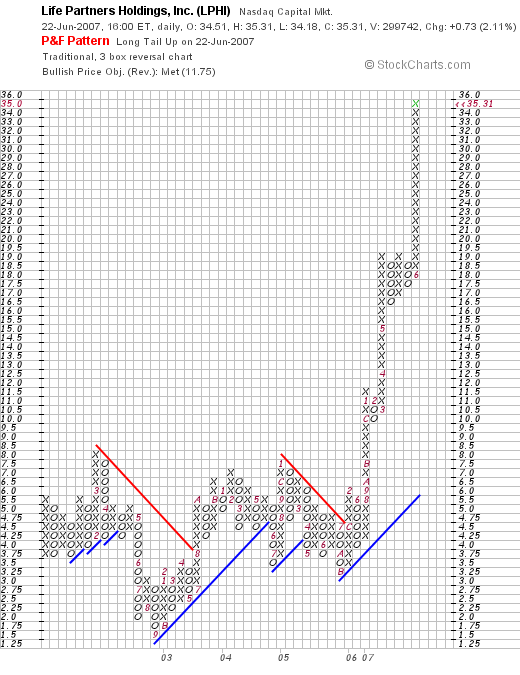 O.K., back to your question. I find this particular stock intriguing because of the latest quarter report and the fabulous technical price action. However, it doesn't really fit into my own strategy of steady growth and I don't have some numbers on that Morningstar.com page that I depend on for my write-ups. Probably you can get that information elsewhere, and that doesn't mean it is a bad investment. It just doesn't fit into my particular strategy exactly. So I can't give it a "buy."
But that isn't really your question is it? You want to know what to do about a "rocket' like LPHI that is moving straight up. Would I buy shares in something like this?
The answer is you bet your sweet bippy I would. I buy stocks that are showing strong daily momentum on days when I have a "permission slip" to be buying. Of course I require everything else to be intact. And I am missing some data on this particular company. So I probably would pass over it.
I am not afraid of buying a stock that has already moved higher 200% that year.
Where does this fear come from? Personally I believe that there is a little bit of superstitious belief that stock motion is somehow like random Brownian movement. Kind of like "what goes up must come down!" And the belief that it is wisest to "buy low and sell high".
But in reality, I regularly buy stocks that are moving higher. And have already moved significantly higher before I purchase them. I am not so brilliant to anticipate higher price moves. I would rather be observant and identify stocks that are already moving higher that have the fundamentals behind them that I believe may increase the probability of a higher price move yet!
How do I do this and yet sleep soundly each night?
It is because when I buy a stock I do not marry them for life. I am ready to part with my stocks at the drop of a dime....actually at the drop of 8%. Sometimes that happens a day or two after my purchase. Seriously.
Knowing that I can exit any of my stocks and that I have a plan to exit before I enter adds a bit of confidence to me. Of course stocks can gap down further than 8% and then I could take a larger loss at any time. However, in general if the fundamentals are as strong as I require, then that gapping down is unlikely. But I am prepared anyhow.
So don't look back. Don't look down when in high places. But look ahead and think confidently. Buy the strongest stocks. Be confident that you are prepared to pull the plug at any time as required by your own trading rules. And good luck!
That actually brings me to my second letter I received this past week. This one came in from Glen M. who I believe is writing from Canada who wrote:
"Hi Robert, I really appreciate your views and I have to say you write in a very understandable way - much appreciated!

Your canslim method is very similar to the one I employ. I have just read Lichello's book based on the AIM system. Do you apply that to your portfolio? I noticed that you mention in one or two of your blog entries that your portfolio has not given a buy signal. Could you elaborate how you apply AIM to Canslim?

Thanks in advance

Glen"
Thanks so much for writing Glen!
Thank you for your kind words. First of all, for those people who don't know what CANSLIM is here is a nice reference from the Investor's Business Daily on this strategy.
Basically, the CANSLIM system is looking for stocks with strong price momentum as well as strong earnings results who are at new highs, or doing something new, with not too many shares, a leader, institutional sponsorship and a market that is supportive of the price move.
I have drawn a few things from this strategy and have emphasized examining stocks not that are just making 'new highs' but rather moving strongly higher that particular day. I am also interested in finding stocks with other factors like increasing dividend, reasonable PEG ratio, and stable outstanding shares, positive free cash flow, and a nice balance sheet.
I also read Robert Lichello's book, How to Make $1,000,000 in the Stock Market Automatically, and appreciated some of his insight. Lichello developed his proprietary AIM system, which really was about automatically responding to market influences by shifting money between two funds, as I recall, basically a cash or money market account and an aggressive mutual fund account. This way, when stocks declined, an automatic "signal" would be triggered to transfer money into equities and when stocks climbed enough, a similar signal would be triggered to transfer money back into cash.
I am probably not doing justice to Lichello, but that was the gist of the book as I understood it.
The important part that I drew upon was the need to develop some sort of system to respond to market forces. Yet utilize the wisdom of CANSLIM and identify stocks that were the strongest to own. How could I integrate these two disparate strategies?
I recall reading in O'Neil's classic text, How to Make Money in Stocks, that I have found so inspirational a comment about the "M" in CANSLIM. That sometimes your portfolio is talking to you so to speak :).
The problem in selling at 8% loss limits as O'Neil suggests is the need to avoid the temptation of buying another 'great' stock immediately when the M or Market is declining. O'Neil points out that when you are hitting these sale points you should listen to your portfolio as it is telling you that the market is LOUSY. And it isn't the time to be buying stock.
But that was only 1/2 of the equation. I needed to have another signal. That is a signal that would tell me when it was a good time to be buying a new position.
I chose to set up sale signals on the upside. I sell portions of my holdings (currently 1/7th of the remaining position) if a stock hits a 30, 60, 90, or 120% level, then increasing intervals to 180, 240, 300 and 360%, then again increasing intervals to 450%, 540%, 630%, and 720%, etc.
At each of these levels I sell a portion of my holdings and use this as a signal that times are indeed good and have a "permission slip" to add a new holding.
This isn't exactly the AIM system at all. This is just what I do. But it was the AIM system and the O'Neil comments that inspired me to think about "listening" to my portfolio. I call this the "Zen" approach. Observing the things around us that we otherwise miss.
Assuming a maximum of 20 positions, I would 'start' at 10 with 1/2 cash and 1/2 stock and then only add a new position if one of my holdings hit a sale at a gain. Contrarily, if the stocks hit a sale, I would 'sit on my hands' unless at the minimum of 5 positions (1/4 of my maximum). In that case I would sell the holding and replace it. Similarly at a maximum portfolio number, which for me is at 20, when I hit a sale at a gain, if I am at 20 positions, I do not use this signal to add a new position but instead would add the funds to cash (or pay down my unfortunate margin balance!)
This is how I combine AIM and CANSLIM. I hope my thoughts and approach are helpful to you. I truly am an amateur so take that into consideration. Thanks so much for reading and writing.
Bob