"Revisiting a Stock Pick" Ventana Medical Systems (VMSI)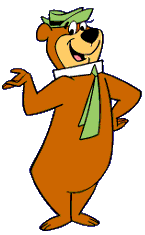 Hello Friends! Thank you for stopping by and visiting my blog,
Stock Picks Bob's Advice
. It has definitely been a "bearish" January. Hopefully, it will turn out to be more of a "Yogi Bear" market than one of those mean growling kind of mauling bear markets. I will vote for Yogi, one of my favorite bears growing up. As always, please remember that I am an amateur investor. (Now what KIND of professional investment advisor would run a picture of Yogi Bear in the midst of a stock decline, anyhow?). So if you like what you read here, please go ahead and consult with your professional investment advisors prior to making any investment decisions to make sure that such decisions are appropriate, timely, and likely to be profitable for you! If you have any questions or comments, please feel free to email me at bobsadviceforstocks@lycos.com.
On December 23, 2003, I
posted Ventana (VMSI) on Stock Picks
at $39.80. In fact, I like Ventana so much, that I ended up buying some shares for my
"Current Trading Portfolio"
and I still do own 150 shares in that account.
Looking through the
list of top % gainers on the NASDAQ
today, I saw that VMSI had made the list. As I write, VMSI is trading at $64.36, up $4.54 or 7.59% on the day. Since it has been over a year since I have examined this stock on the blog, I thought it was a good idea to review a stock that I have already "picked" and is doing well enough to make the top % gainers list today!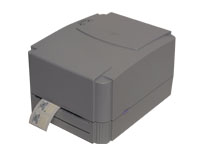 Taking a look at the
Yahoo "Profile" on VMSI
, we find that Ventana "...develops, manufactures and markets instrument-reagent systems that automate slide staining in anatomical pathology and drug discover laboratories worldwide."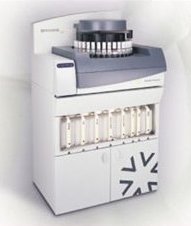 And what was it that drove the stock higher today? Earlier this morning, VMSI
announced
that things were going to be doing "better" than what the street was expecting. In other words, they 'raised guidance.' They raised guidance for both the final quarter in 2004 as well as the 2005 outlook. In my mind, I can see about a million analysts out there doing the calculations of future earnings and revenue growth and recalculating what a proper value of the stock is today. And they did exactly that, driving the stock higher.
And what about the latest quarter that has already been reported? On October 23, 2004, VMSI
announced 3rd quarter 2004 results
. For the quarter ended September 30, 2004, sales came in at $39.3 million, a 23% increase over the same quarter in the 2003 fiscal year. GAAP net income for the quarter was $4.1 million or $.23/diluted share, up from $3.3 million, or $.19/diluted share the prior year. These were solid results. The company at THAT time raised guidance for 2004, and confirmed guidance for 2005. The repeated raising of guidance is bullish (and not Yogi-bearish) indeed.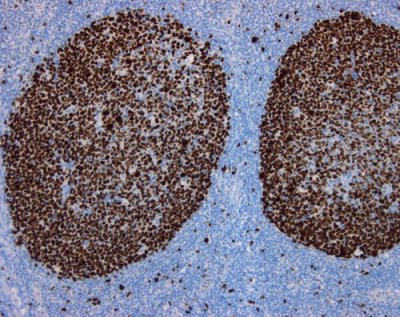 How about longer-term? If we take a look at the
"5-Yr Restated" financials on Morningstar
, we can see that revenue growth has been superb, increasing from $69.4 million in 1999 to $155.8 million in the trailing twelve months (TTM).
Earnings, which dropped from $.88/share in 1999 to a loss of $(1.85)/share in 2000, have increased steadily since then to $.59/share in the trailing twelve months (TTM). Free cash flow, which was a negative $(29) million in 2001, has also been improving, and Morningstar records $15 million in the trailing twelve months (TTM).
The balance sheet is gorgeous, with $40.6 million in cash reported per Morningstar, with $32.8 million in current assets, and just $2.0 million in long-term liabilities. Amounts that are easily covered with just the available cash! In addition, Morningstar reports Ventana with $45.7 million of additional current assets.
How about "valuation"? Looking at
Yahoo "Key Statistics" on VMSI
, we can see that this company is a mid-cap stock with a market capitalization of $1.12 billion. The trailing p/e is very rich at 109.61, with a forward p/e of 43.99. Thus, even with a great growth in earnings, we have a 5-yr PEG per Yahoo of 2.25. Price/sales is also rich at 6.67.
Yahoo reports 17.38 million shares outstanding with 15.30 million that float. Of these, as of 12/8/04, there were 1.63 million shares out short. This represents 10.67% of the float (!), and 17.01 trading days of average volume. Today's steep spike in the stock price may very well represent a short "squeeze" and traders hustle to cover their borrowed shares sold short. Just a possibility (?)
No stock dividend and no stock split reported on Yahoo.
How about "technicals"? If we take a look at a
"Point & Figure" chart on VMSI from Stockcharts
: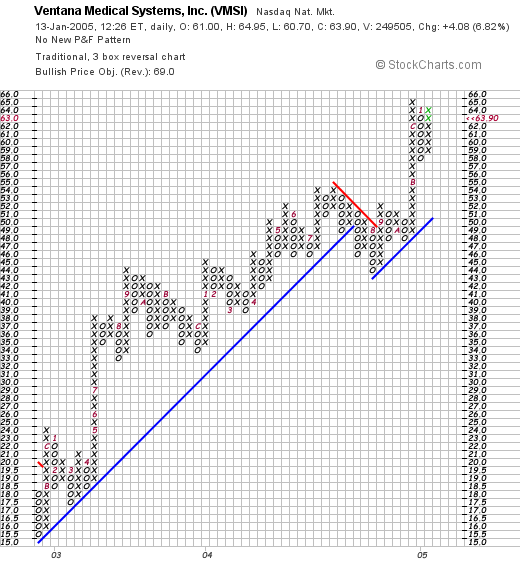 we can see a very strong price chart for Ventana from late 2002, when the stock was trading around $15/share, to the latest trades of around $64. Except for a short period of weakness in August, 2004, this stock has literally roared ahead!

So what do I think? Well I do own some shares of this stock, so please take that into consideration. I love the latest earnings guidance for 2005, the latest quarterly report was wonderful, the Morningstar analysis looks good, but the only thing holding me back a little is the "value hat" I try to wear as well, and the stock looks a bit pricey (I mean with a p/e over 100!). So let the buyer beware!

Thanks again for stopping by! If you have any questions or comments, please feel free to leave them right here or email me at bobsadviceforstocks@lycos.com .

Bob