Schlumerger LTD (SLB) and Sysco (SYY) "Trading Transparency"
Hello Friends! Thanks so much for stopping by and visiting my blog, Stock Picks Bob's Advice! As always, please remember that I am an amateur investor, so please remember to consult with your professional investment advisers prior to making any investment decisions based on information on this website.
Sysco (SYY) is currently one of my holdings in my Trading Account. My 125 shares were acquired 7/27/09 with an effective cost basis of $23.25/share. As I have discussed elsewhere I manage all of my holdings by minimizing losses by selling stocks quickly and completely if they decline and lock-in stocks that appreciate in price by selling them slowly and partially at targeted appreciation levels determined by my purchase price. As is my strategy, I sell 1/7th of my holding as each appreciation price is reached.
Sysco (SYY) hit my first appreciation level which is a 30% gain from the purchase price today and I sold 18 shares of my 125 shares (I now have 107 shares of SYY remaining in my account) at a price of $30.30. This represented a gain of $7.05 or 30.3% since purchase.
It is also my strategy to allocate my portfolio into equities or cash based upon the activity of my underlying holdings. In this case, owning far less than my maximum of 20 positions (only 8 currently) a partial sale on a stock appreciating (what I refer to as "good news") generates a signal to add a new holding. On the other hand should I sell a stock on a decline, I refer to this as a sale on 'good news' and instead of adding a new holding, I leave the proceeds in cash. Thus, assuming that my stocks generally reflect the overall tone of the market, I am literally forced to respond to market moves by either adding to stocks or moving into cash.

With the sale of shares of Sysco (SYY) on good news, I utilized this "good news" buy signal to make a purchase of shares of Schlumberger (SLB). I purchased 42 shares of Schlumberger (SLB) at $42.00$65.48/share for a cost of $2,756.85. It is my intention to continue to add new positions on 'good news' creating a new holding slightly bigger than the average size of my other positions.
The economy appears to be slowly recovering from the deep recession of 2008. Even though unemployment remains unacceptably high at 9.7%, last month 162,000 jobs were created, the best job creation performance since the recession began. The recession kept oil prices low, making oil service companies like Schlumberger (SLB) unattractive to investors. However, oil prices have once again moved sharply higher as the recovery has developed. Graphically, we can see the sharp rebound in oil prices in this chart from MoneyWeek: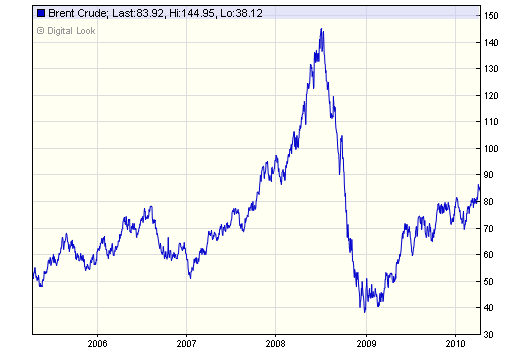 As this article points out, as expected, as oil prices have rebounded so has the resurgence in oil exploriation as oil rigs recently hit a 14-month high.

Given all of this, I chose to buy shares of Schlumberger (SLB) a company which according to the Yahoo Profile,
"...supply technology, integrated project management, and information solutions to the oil and gas industry worldwide. The company operates in two segments, Oilfield Services and WesternGeco. The Oilfield Services segment provides a range of exploration and production services required during the life of an oil and gas reservoir."
and
"The WesternGeco segment provides reservoir imaging, monitoring, and development services, as well as operates data processing centers, and multiclient seismic library. Its services range from 3D and time-lapse (4D) seismic surveys to multi-component surveys for delineating prospects and reservoir management. The company has a joint venture agreement with National Oilwell Varco, Incorporated to provide high speed drill string telemetry systems."
Schlumberger (SLB) will be announcing the latest quarter's results in just a few days on April 23, 2010.
On January 22, 2010, Schlumberger (SLB) announced 4th quarter 2009 results. Revenue came in at $5.74 billion, down from the $6.87 billion in revenue the prior year. Income from continuing operations decreased 34% to $.67/share vs. the $1.03/share the prior year. Sequentially both results improved but year-over-year results showed the effects of the slowdown in the oil exploration business in the midst of the recession.
This stock does not really fit into my usual strategy of buying the consistent growing company independent of cyclical economic events. However, as this economy rebounds it seems wise to participate in those sectors that are emerging from downturns---oil service appears to fit the bill.
In fact, Schlumberger has used the economic recession as an opportunity to expand its business through acquisition. Most recently it announced an acquision of IGEOSS, a "France-based provider of 'geomechanical solutions', acquired Nexus Geosciences, another seismic software and services company, and Geoservices for $1.07 billion from Astorg Partners, another French firm. Schlumberger, meanwhile, is still working on its acquisiton of Smith International, another oil service company which faces ongoing Justice Department review.
In terms of longer-term financial results, reviewing the Morningstar.com "5-Yr Restated" financials on SLB, we can see that revenue which grew rapidly from $14.3 billion in 2005, peaked at $27.2 billion in 2008, then dipped to $22.7 billion in 2009. Earnings grew rapidly from $1.82/share in 2005 to $4.45/share in 2008 only to also dip to $2.59/share in 2009. Dividends are paid regularly and grew from $.42/share in 2005 to $.84/share in 2008 where it was kept in 2009. Outstanding shares, which increased from 1.23 billion in 2005 to 1.24 billion in 2006, have been decreased with share buy-backs to 1.239 billion in 2007, 1.22 billion in 2008 and 1.21 billion in 2009.
Free cash flow has remained positive with $3.07 billion reported in 2007 and $2.92 billion in 2009. Morningstar shows that the balance sheet is solid with $243 billion in cash and $13.4 billion in other current assets. This is almost a 2:1 current ratio, and in fact current assets are nearly enough to cover both the $7.2 billion in current liabilities and the $7.1 billion in long-term liabilities combined.
Reviewing the 'point & figure' chart on Schlumberger (SLB) from StockCharts.com, we can see that this stock peaked at approximately $108/share in July, 2008, before sharply selling off and hitting a recent low of $35/share in February, 2009. The stock has rebounded along with the rebound in oil prices, recently broke through resistance at its current level of $65.51. The stock clearly has reversed its downward slide and imho appears poised for further appreciation on the upside.
In terms of valuation, reviewing the "Key Statistics" on Schlumberger (SLB) from Yahoo, we can see that this is a large cap stock with a market capitalization of $78.39 billion. The trailing p/e is a moderate 25.31, but the forward p/e (fye 31-Dec-11) is estimated at 17.06. With the reasonably rapid growth in earnings, the p/e is more or less reasonable as measured by the PEG ratio at 1.56.
Yahoo reports 1.2 billion shares outstanding with 1.19 billion of them that float. As of 3/15/10 there were 44.28 million shares out short, but since the daily volume is a substantial 12.6 million shares (over the past 3 months), the short interest ratio works out to a moderate 2.6, under my own 3 day rule for significance.
The company, as noted above, does pay a dividend with a forward annual dividend rate of $.84/share yielding 1.3%. Schlumberger last split its stock April, 10, 2006, with a 2:1 stock split.
To summarize, my idiosyncratic trading system dictated that I add a new position to my trading account due to the "good news" generated by the partial sale of my holding of Sysco (SYY). Lacking any holding that reflected the new-found strength in the oil market along with the renewed economic recover, I chose a very large player in the oil service industry, Schlumberger (SLB) which appeared to be a relatively good value with good potential going forward.
Thank you for visiting my blog! If you have any comments or questions, please feel free to leave them right here or email me at bobsadviceforstocks@lycos.com.
Yours in investing,
Bob
Posted by bobsadviceforstocks at 10:02 PM CDT |
Post Comment
|
Permalink
Updated: Saturday, 17 April 2010 10:09 PM CDT