Kohl's (KSS)
Hello Friends! Thanks so much for stopping by and visiting my blog, Stock Picks Bob's Advice. As always, please remember to consult with your professional investment advisors prior to making any investment decisions based on information on this website.
Here is an entry that I really intended to get to yesterday, but one thing led to another....same old story I guess! Kohl's (KSS) had a great day yesterday, closing at $60.76, up $2.57 or 4.42% on the day. I do own some shares of KSS in a managed account that I do not direct.
What exactly does the company do?
According to the Yahoo "Profile" on Kohl's, the company
"...operates specialty department stores in the United States. Its stores sell apparel, footwear, accessories, and beauty products for women, men, and children, as well as soft home products, such as towels, sheets and pillows, and housewares."
How did Kohl's do in the latest quarterly earnings report?
As is often the case, the stock rose Friday after the company announced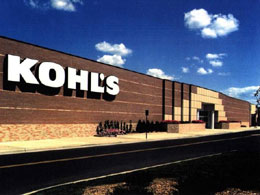 2nd quarter earnings after the close of trading Thursday. For the quarter ended July 29, 2006, net sales for the quarter grew 14% to $3.3 billion from $2.9 billion. Earnings jumped 27.8% to $.69/share, up from $.54/share the same quarter last year.
A couple of points about the earnings report: first of all, the company reported on their same store sales which climbed 5.5% in the quarter. This is reasonably strong and reproducible same store sales growth number. The report was good because it was what I call a "trifecta-plus"....that is the company increased revenue and earnings, beat expectations, and also raised guidance. Everything one could want in an earnings report!
According to this report, the company, which came in at $.69/share, exceeded analysts expectations of only $.65/share. In addition, Kohl's raised guidance to $3.04 to $3.13/share for the year, up from previous guidance of $2.91 to $3.02.
How about longer-term financial results?
Reviewing the Morningstar.com "5-Yr Restated" financials, we can see that Kohl's has steadily grown its revenue from $7.5 billion in 2002 to $13.4 billion in 2006 and $13.8 billion in the trailing twelve months (TTM).
Except for a slight dip in earnings between 2003 and 2004, when earnings dropped from $1.75 to $1.59, the company has been growing its earnings from $1.35/share in 2002 to $2.43/share in 2006 and $2.55/share in the TTM.
The number of shares outstanding has been fairly steady with 335 million in 2002, growing to 344 million in 2006 and dropping back to 340 million in the TTM.
Free cash flow, which was a negative $(92) million in 2004, improved to 47 million in 2005 and $82 million in 2006. Morningstar reports a huge increase in free cash flow in the TTM at $1.8 billion.
The balance sheet, as presented on Morningstar.com, looks solid with $1.6 billion in cash and a total of $4.1 billion in current assets. When compared to the $1.6 billion in current liabilities, this yields a current ratio of 2.52. The company can easily pay off all of its liabilities with all of its current assets.
How about some valuation numbers and statistics on the company?
Reviewing the Yahoo "Key Statistics" on KSS, we see that this is a large cap stock with a market capitalization of $20.69 billion. The trailing p/e is a moderate 23.85 with a forward p/e (fye 28-Jan-08) of only 16.97. However, the growth rate in the earnings (5 yr expected) is adequate to give us a PEG of .89.
Looking at the information on the Fidelity.com eresearch site, we can see that Kohl's is in the "Department Stores" industrial group. Within this group, Kohl's is relatively richly priced relative to similar companies. Topping this group is Federated Department Stores (FD) with a Price/Sales ratio of 1.6, this is followed by Kohl's (KSS) at f1.5, J. C. Penney (JCP) at 0.8, Saks (SKS) at 0.4 and Dillard's (DDS) at .3.
Insofar as profitability is concerned, at least as measured by return on equity (ROE), this measure is led by J.C.Penney at 25.4%, followed by Kohl's at 15.4%, Federated Department Stores at 10.1%, Dillard's at 6.2%, and Saks (SKS) at 4.3%.
Finishing up with Yahoo, we find that there are 340.44 million shares outstanding and 308.51 million of them that float. Currently (7/11/06) there are 9.93 million shares out short representing 3.20% of the float or 2.8 trading days. This does not rise to my cut-off of 3 days of short interest for significance. No cash dividend and the last stock split was a 2:1 split April 25, 2000.
What does the chart look like?
Examining the "Point & Figure" chart on KSS from StockCharts.com, we see a chart just moving sideways. Since September, 2003, when the stock hit a peak of $65/share, down to a low of $39/share in March, 2004, the stock has zigged and zagged between these two extremes. With the latest quarterly report and the strong move Friday, Kohl's appears to be poised to move into higher ground. Of course, time will tell, but I like the overall optimistic appearance of the stock price.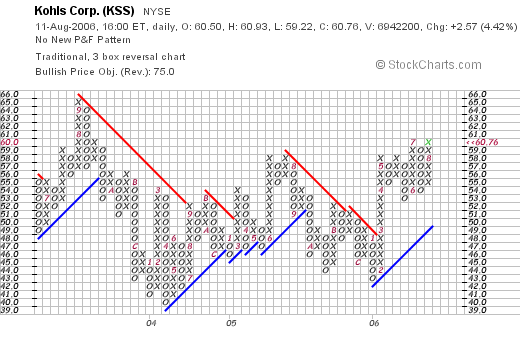 Summary: What do I think of this stock?
This company appears to be doing everything right in an overall challenging retail and economic environment. A few years back, the company appeared to be stumbling badly with their California expansion. However, with the latest financial report, the company is now 'firing on all cylinders'. They have steady same store sales growth, they are beating expectations and raising guidance! And the street is responding to the good news bidding up the stock price.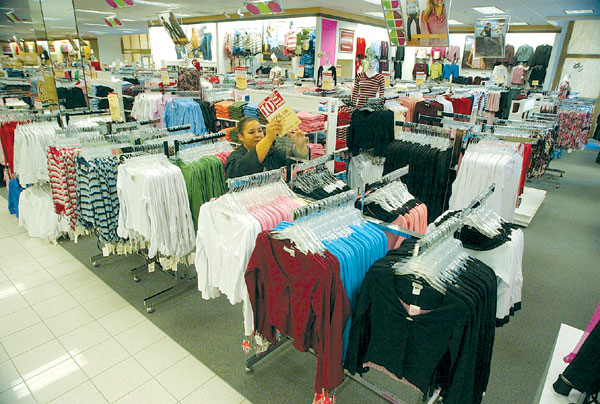 The Morningstar.com report appears solid with steady revenue and earnings growth and a recent surge in free cash flow. The number of shares outstanding is quite stable and the balance sheet is solid. Valuation appears reasonable, especially the PEG under 1.0.
In a nutshell, I like this stock :). I do own some shares, so that may color my perspective, but that decision was made independent of my input.
Am I buying any shares? My trading strategy does not direct me to be buying anything at this time. But it is the kind of stock that I might buy if I were in the market to purchase shares.
Thanks again for visiting! If you have any comments or questions, please feel free to leave them on the blog or email me at bobsadviceforstocks@lycos.com. Also, be sure to stop by and visit my Stock Picks podcast site.
Bob