Is Gold a Safe Haven?
Hello Friends! Thanks so much for stopping by and visiting my blog, Stock Picks Bob's Advice! As always, please remember that I am an amateur investor, so please remember to consult with your professional investment advisers prior to making any investment decisions based on information on this website.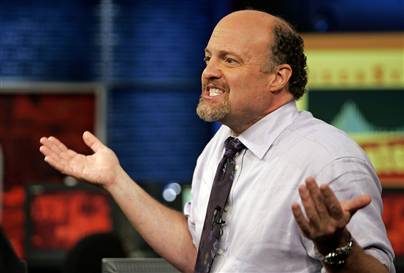 Jim Cramer believes in gold as something that belongs in everyone's portfolio.
As reported February 23, 2009:
"Cramer said gold remains his favorite sector in the market, but he cautioned that even in a horrible market, investors can't have just gold in their portfolio."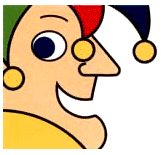 Cramer is in good company. Alex Dumortier, CFA, on the Motley Fool site has reassured us all that gold may well be the "Ultimate Safe Haven Investment."
He writes:
"For these reasons, and because of my deep misgivings about the way in which the government is taking on the current crisis, I think gold is an attractive choice as a portion of one's investable assets. I believe conditions look very favorable for gold to outperform the U.S. stock market in 2009 and over the next three to five years. Still, investing in gold isn't without its challenges."
Traditionally gold has been viewed as an inflation hedge. As Blanchard and Company, a retailer of gold coins and investments for the individual investor, has written in their "Why Own Gold?" commentary:
"Gold is renowned as a hedge against inflation. The most consistent factor determining the price of gold has been inflation - as inflation goes up, the price of gold goes up along with it. Since the end of World War II, the five years in which U.S. inflation was at its highest were 1946, 1974, 1975, 1979, and 1980. During those five years, the average real return on stocks, as measured by the Dow, was -12.33%; the average real return on gold was 130.4%.

Today, a number of factors are conspiring to create the perfect inflationary storm: extremely stimulative monetary policy, a major tax cut, a long term decline in the dollar, a spike in oil prices, a mammoth trade deficit, and America's status as the world's biggest debtor nation. Almost across the board, commodity prices are up despite the short-term absence of a weakening dollar which is often viewed as the principal reason for stronger commodity prices."
Jason Hamlin back in 2006 wrote on Seeking Alpha how "Gold Still Works as an Inflation Hedge."
Now, with deflationary pressures exerting their influence on the world economy, gold 'bugs' are suggesting that gold is also an excellent deflation hedge!
Jeffrey Nichols, a Managing Director of American Precious Metals Advisors writes on his blog, NICHOLSonGOLD.com that gold should be a safe haven in a deflationary environment:
"Here's why gold is a deflation hedge:

During periods of deflation, when spending shrinks and savings (in anticipation of lower consumer prices) rise, households hoard cash and cash-equivalents such as short-term U.S. Treasury debt, bank deposits, and money-market instruments. Gold and silver are also a cash equivalents and some will choose to hold more of their savings in these metals, particularly during times of stress and economic uncertainty when gold just feels safer.

Moreover, deflations are also characterized by very low interest rates, both in nominal and real (inflation-adjusted) terms. Why? Because the demand for credit is very low (no one wants to borrow and, if they do want to borrow, the banks are loathe to lend), savings are high, and — importantly — the Fed and other central banks will push rates down to encourage economic recovery. So the opportunity cost of holding gold and silver (the interest forgone by holding these metals rather than an interest-bearing asset) is extremely low, further encouraging some investors to favor the metals (because of gold and silver's other attractions and attributes) over alternatives."
It is an interesting hypothesis. And I suppose that we could use this argument to justify the high price in gold and Cramer's rant about buying gold stocks.
Perhaps a more revealing chart comes from the Gold Digest, in which it is noted that after the "Japanese Bubble" broke in 1988, the Yen gold price fell almost 50%.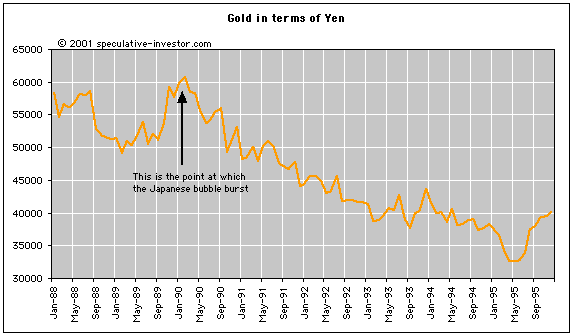 As the article points out:
"The above empirical evidence is consistent with our thinking on the matter. When gold was officially linked to the national currencies (pre-1971), it was a hedge against deflation and would lose purchasing power during periods of inflation. When gold was 'set free' it became a hedge against inflation (or, more to the point, a hedge against the loss of confidence brought about by inflation)."
In other words, since the dollar is no longer linked to the price of gold, the deflation-protection role of gold is minimized.
American investors have gone through several bubbles, each one breaking and sending shock-waves through the economy. The "Dot-com bubble" burst on March 10, 2000, with the NASDAQ peaking at 5,132.52. We have seen the effect of the breaking of the United States Housing Bubble. We have benefited from the declining oil prices of the breaking oil bubble which peaked at $147.20/barrel in July, 2008, to its current price near $40.
Stephanie Mills has written:
"Everything that's old is new, and everything that's new is old."
Much like the Tulip mania that swept Holland and reached its peak in 1636-1637, we think that each time there is a reason for a peak in a commodity, whether it be a high-tech stock bubble justified by an enthusiastic George Gilder, oil prices justified by Peak Oil advocates, real estate prices justified by people like Gary and Margaret Hwang Smith, who, back in 2006, justified Southern California real estate prices based on rent calculations. As reported:
"In a paper the two presented at the Brookings Institution this week, "Bubble, Bubble, Where's the Housing Bubble?" they said that even though prices had risen rapidly and some buyers unrealistically expected the trend to continue, "the bubble is not, in fact, a bubble in most of these areas."

They argued that the value of a home is determined by the rent it could fetch. Calculate the future rents, subtract mortgage payments, taxes and other costs, factor in a good annual rate of return of 6 percent or more, and one should be looking at the proper price of a house or condo.

Their bottom line was: "Buying a house at current market prices still appears to be an attractive long-term investment."
Thus there will always be people who will justify a bubble phenomenon. Meanwhile Real Estate prices are crashing, milk prices have plunged, corn and soybean prices are down, aluminum prices are weak, and wages are stagnant. Meanwhile, the United States is in the midst of a "severe contraction", and the United States is threatened with a deflationary collapse and not inflationary problems at this time.
Will gold move higher in a deflationary environment? Perhaps, if you believe Cramer and other gold bugs who believe that gold can reach $2,000/ounce or higher.
As for me, with gold not linked to currency in the United States since President Nixon took the nation off the gold standard in 1971, I do not see a necessary increase in the price of anything, including gold, in a deflationary environment. While cash may be 'king' in a deflationary environment, will investors truly treat gold as a 'cash equivalent' or will it act perhaps more like a commodity?
Certainly I am not an economist, but can't you hear the echos of the same arguments that justified $146 oil when the bubble was breaking, or the real estate investor who justified the $1 million 'tear-down' in Southern California when the sky was the limit.
It appears to be part of the human condition to chase values of seemingly rare things to levels that are absurd. Is the gold price real? Time will tell. But I shall not be going along for the ride.
Yours in investing,
Bob