AT&T (T) "Trading Transparency"
Hello Friends! Thanks so much for stopping by and visiting my blog, Stock Picks Bob's Advice! As always, please remember that I am an amateur investor, so please remember to consult with your professional investment advisers prior to making any investment decisions based on information on this website.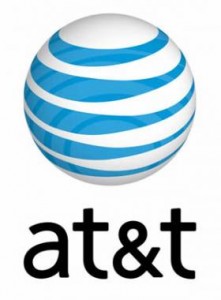 As I wrote earlier, I was disappointed in needing to sell my Morningstar (MORN) shares this morning as that stock fell under the pressure of a disappointing earnings report as well as the generalized weakness in the financial sector.
One stock that I have been watching as a possible 'safe haven' has been AT&T (T) which as I write is trading at $23.60, up $.41 or 1.77% on the day. AT&T at this price trades with a p/e of only 10.92 and a yield of 7.07%. A few moments ago I purchased 71 shares of T at a price of $23.64. This peculiar share amount was calculated as I have described previously by calculating the average size of my other four holdings and buying 1/2 of that average amount to replace my 5th position, Morningstar (MORN), which was also sold just this morning.
Scott Moritz over at Street.com commented about how Goldman Sachs analyst Jason Armstrong has upgraded both Verizon (VZ) and AT&T (T) and both stocks have responded positively.
The article explains:
"With AT&T and Verizon down about 18% so far this year, Armstrong says the "pendulum has swung too far" and that it's time to consider the long-range perspective. In a research note Friday, Armstrong recommends buying shares of the two telco titans now, while pessimism about the economy is weighing so heavily on the market.

Why now? Armstrong has three points: The bar has been lowered in terms of Wall Street expectations, both telcos have "an achievable path to growth in 2010," and both offer a big, safe dividend -- about 7% annual payout -- to help you bide your time."
Looking at the 4th quarter earnings report you will see that I have also accepted a less than stellar report with earnings coming in at $.41 this year down from $.51/share in the prior year. Revenues did manage to improve slightly to $31.1 billion, up 2.4% from last year's results.
Reviewing the Morningstar.com '5-Yr Restated' financials, we can see the impressive growth in revenue from $40.7 billion in 2004 to $118.9 billion in 2007 and $123.3 billion in the trailing twelve months (TTM). Earnings have grown, albeit a little inconsistently, from $1.77/share in 2004 to $1.94/share in 2007 and $2.26 in the TTM.
Dividends have also been raised yearly from $1.26 in 2004 to $1.47 in 2007 and $1.60 in the TTM. Shares have also grown from 3.3 billion in 2004 to 6.17 billion in 2007 and 6.01 billion in the TTM. Much of this share growth may be attributed to shares issued for acquisitions.
I remember well the original break-up of 'Ma Bell' in 1983 when the seven 'baby bells' were created. In 1998 SBC Communications acquired Pacific Telesis, the baby bell for the western states. In November, 2005, SBC Communications (the old baby bell Southwestern Bell) acquired AT&T and renamed itself AT&T. In 2006, AT&T spent $67 billion to acquire BellSouth.
Like Frankenstein, AT&T has been busy putting its pieces back together

again!
I confess to having a personal attraction to AT&T that transcends the stock and its particulars. Years ago, when my father was still alive, I really believe that AT&T was his favorite holding. He had owned it for many years and enjoyed the dividend stream and the many stock splits over the years. A while back I wrote about him and my own investing experience. But that shouldn't really enter into our own investing decisions, should it?
Let's take a brief look at the 'point and figure' chart on AT&T from StockCharts.com. Here we can see that the stock which corrected rather deeply in September, 2002, dipping to $15.50/share, revisited that low in Apri, 2003, and then climbed as high as $40/share in September, 2007, and again hit that high in December, 2007, only to dip as low as $21 in October, 2008. The stock has been struggling to move higher, with higher lows but meeting resistance on the upside. The stock is bouncing off the recent low of $23.00 from November, 2008, and now is showing some support at this price point.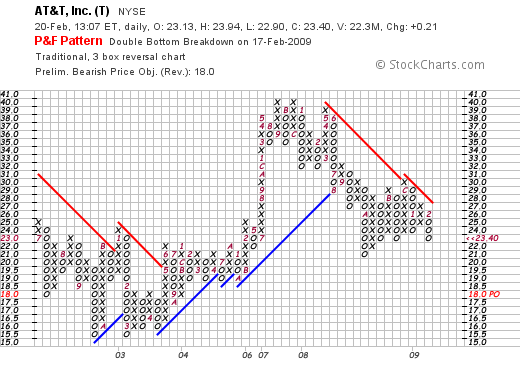 Like most charts these days, the picture is less than encouraging. But if the dividend is secure, something we cannot depend on anymore, the stock may well be support in a bond-like fashion.
In any case, I am now a shareholder, albeit a small shareholder, in an 'old favorite' of if not mine, of my father who while no longer alive, was always my main mentor in this stock business.
If you have any comments or questions, please feel free to leave them on the blog or email me at bobsadviceforstocks@lycos.com.
Yours in investing,
Bob