Nu Skin Enterprises (NUS)
Hello Friends! Thanks so much for stopping by and visiting my blog, Stock Picks Bob's Advice! As always, please remember that I am an amateur investor, so please remember to consult with your professional investment advisers prior to making any investment decisions based on information on this website.
I regret that I do not blog quite as often now as I have in the past. I continue to work to write as I really enjoy sharing ideas with all of you. My own strategy for selection remains essentially unchanged. I continue to look for stocks of companies with strong fundamentals and strong price performance. Aren't we all doing that?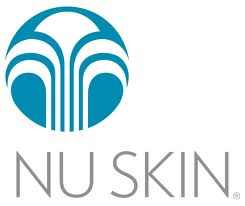 I recently added Nu Skin (NUS) as a holding in my Covestor "Buy and Hold Value" model. My shares were acquired with a cost basis of $44.47; Nu Skin (NUS) closed at $47.22 onNovember 18, 2011, up $.63 or 1.35% on the day.
According to the Yahoo "Profile" on Nu Skin (NUS), the company
"...develops and distributes anti-aging personal care products and nutritional supplements worldwide. The company sells its personal care products under the Nu Skin brand; and nutritional supplements under the Pharmanex brand. Its personal care product line includes core systems, targeted treatments, total care, cosmetic, and Epoch, a product formulated with botanical ingredients. The company's nutritional supplements product line comprises micronutrient supplements, targeted solution supplements, and weight management products. It also sells Vitameal, which are nutritious meal products for starving children or purchased for personal food storage."
On November 16, 2011, Nu Skin raised guidance on 4th quarter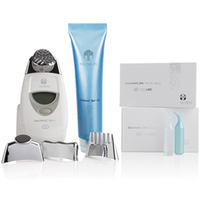 results with earnings now expected to come in between $.68 and $.72/share above the prior guidance of $.66 to $.70/share. In addition, the company raised 2012 revenue guidance to a range of $1.8 to $1.83 billion. Analysts have been expecting 4th quarter earnings of $.70/share (in line with the new company guidance) and revenue of $1.7 billion, under what the company now believes achievable.
On October 25, 2011, the company reported 3rd quarter results. Net income climbed 32% to $46.8 million or $.72/share from $35.3 million or $.55/share the prior year. This result beat expectations as analysts had been expecting income of $.61/share. Revenue for the quarter increased 12% to $428.4 million ahead of last year's $383.6 million. This result also beat expectations by analysts of revenue of $414.4 million. The strongest region for this company was "Greater China" where revenue climbed 32% to $83.4 million.
Reviewing the Morningstar review of Nu Skin "Financials", we can see that revenue has increased from $1.12 billion in 2006 to $1.54 billion in 2010 and $1.65 billion in the trailing twelve months (TTM). During this same period diluted earnings per share have increased steadily from $.45/share in 2006 to $2.11/share in 2010 and $2.19/share in the TTM. Outstanding shares have declined from 71 million in 2006 to 64 million in the TTM.
In terms of the balance sheet, Morningstar has NUS with total current assets of $423 million, and total current liabilities of $216 million. This yields a very healthy current ratio of 1.96. (Over 1.5 is great from my perspective!)
Morningstar reports that the free cash flow has improved from $38 million in 2006 to $134 million in 2010 and $124 million in the TTM.
In terms of valuation, examining the Yahoo "Key Statistics" on NUS, we can see that the company is a mid cap stock with a market capitalization of $2.94 billion. The trailing p/e is a moderate 21.56 with a forward p/e (fye Dec, 31 2012) estimated at 16.12. With rapid growth in the past and expected in the future, the PEG (5 yr expected) works out to a reasonable 1.30.
Yahoo reports 62.16 million shares outstanding with 54.01 million that float. As of 10/31/11 there were 4 million shares out short with a short interest ratio of 4.5 slightly ahead of my own arbitrary '3 day rule'.
The company pays a forward dividend of $.64/share yielding a not-insignificant 1.4%. The company has a payout ratio of 25%. No prior stock splits are reported on Yahoo.
Reviewing the 'point & figure' chart on Nu Skin (NUS) from StockCharts.com, we can see that the stock declined to a low of $8.00/share in March, 2009, from a recent high of $18/share in March, 2008. Since then the stock has rallied strongly to a recent price of $47.22.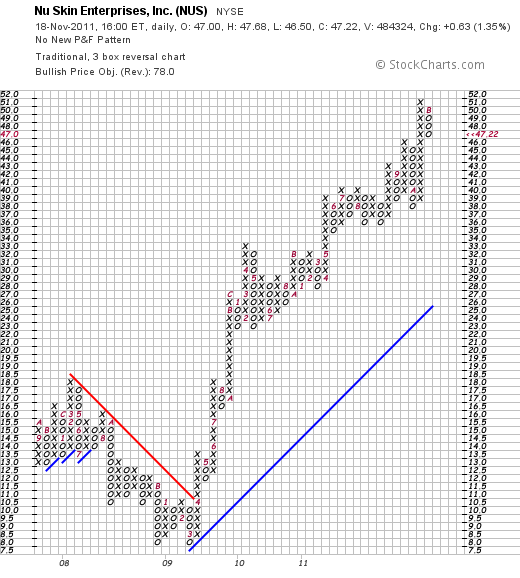 To summarize, Nu Skin Enterprises (NUS) is a stock that I own in my Covestor 'Buy and Hold' model. I own this stock because of its strong technical performance, its recent financial results that exceeded expectations while also raising guidance. The company has a strong more than 5 year record of such performance. In addition, the company is just developing a business presence in 'Greater China' where it is recording much of its outstanding growth. Valuation appears reasonable and the company also pays a small but growing dividend. The chart is gorgeous with a strong price move the past 2 1/2 years. What is there not to like?
Thanks so much again for stopping by and visiting. If you have any comments or questions, please feel free to leave a comment right here.
Yours in investing,
Bob