A Reader Writes: "Do you have an 'About Me' site?"
Hello Friends! Thanks so much for stopping by and visiting my blog, Stock Picks Bob's Advice! As always, please remember that I am an amateur investor, so please remember to consult with your professional investment advisers prior to making any investment decisions based on information on this website.
As I approach my fifth anniversary blogging here, I am most grateful to some of my loyal readers who provide me with the encouragement to continue to write and explore the world of investing. I shall always be the first to tell you that I don't know everything, that I am not sure that my methodology will work over the long haul, and that there are many wiser minds and writers out there. I have a load of links to some of the blogs I have learned to appreciate over the years. Be sure and visit those websites.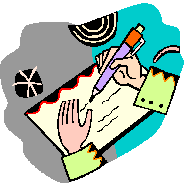 But one of my favorite things about blogging is to hear from a reader who perhaps appreciates my efforts and maybe has learned something about investing that he or she didn't know. I haven't heard from Tony for awhile, but Tony dropped me a line today that truly warmed my heart. I hope that I can be helpful.
Tony wrote:
"This is Tony, I was the person who wanted to start a website online and have your articles posted on there. However, I was unable to fully spend time in building the site so I decided to focus on my studies more.

My question to you today is... Do you have an "About Me" site? I wanted to know how you got to do what you do and learn the things you do and how you make your pick selections. I want so bad to learn more about Stocks that I've decided to Major in economics with hopes of gaining sufficient knowledge.

I'm currently Subscribed to Americanbulls.com and take their day/weekly picks and recommendation signs to make a little here and there as a student. I would, however, love to learn your style of trading and I think the best way is just to follow your every move and report on the particular companies your have recommended. As a student I dont exactly have a great amount to work with but Americanbulls.com has helped a little to build a little something based on nothing but caddlestick signals.


Respectfully,
Tony T.

P.S. I really like your style.. Sometimes I wish school could teach real things like trading and Technical analysis. Every think about teaching? I'd be first in line!"
Thank you so much for your very generous assessment of my writing and content here. I try very hard to explain everything the best I can and I am sure if you read through the blog, most of your answers will be answered.
If you would like to know more 'about me' and my philosophy, I have been fortunate to have been interviewed by Wall Street Transcript through my Covestor relationship. You can read my interview here.
Also Gannon on Investing interviewed me here.
I think these should explain my philosophy, background, etc.
In a nutshell, I try to identify what I call the highest quality stocks. I measure quality by persistence of good and improving results, with stable outstanding shares, positive free cash flow, a solid balance sheet, and a positive appearing price chart. If I can get good value as well, I am even more interested in that investment.
The other part of my strategy is my aggressive sales of stocks on declines and partial sales of gaining stocks as they reach appreciation targets.
Furthermore, I use these sales, both on the upside and downside, as signals to give me "permission" to be adding new holdings. Within this context, I have set my maximum size of my portfolio at 20 and float between 5 and 20 depending on market conditions as directed by my own holdings.
I hope that is helpful to you.
If you have other questions or comments, please feel free to leave them on the blog or email me at bobsadviceforstocks@lycos.com. Good luck with your Economics studies! We certainly are living in interesting times.
Other sites you might wish to visit include my Covestor Page where my holdings in my Trading Account are reviewed and analyzed, my SocialPicks page where my stocks picks from 2007 and more recent are covered, and my Podcast Page where if you have the time, you might want to download some of my mp3's where I discuss some of the individual stocks and answer some of the questions you are raising.
Again, thank you for your kind words. If I ever have the opportunity to teach, I certainly would love to share any wisdom with you that I might have! Now, if I can find someone out there that would like to hire me :).
Bob
Posted by bobsadviceforstocks at 9:05 PM CST |
Post Comment
|
Permalink
Updated: Sunday, 13 January 2008 9:36 PM CST