"Revisiting a Stock Pick" Perficient (PRFT)
Hello Friends! Thanks so much for stopping by and visiting my blog,
Stock Picks Bob's Advice
. As always, please remember that I am an amateur investor, so please remember to consult with your professional investment advisors prior to making any investment decisions based on information on this website.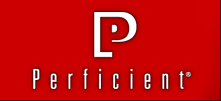 I was looking through the
list of top % gainers on the NASDAQ
today and came across an old favorite of mine; in fact, a stock that I also had owned in the not too distant past: Perficient (PRFT). Perficient closed at $13.45, up $1.32 or 10.88% on the day.
I first
posted Perficient on Stock Picks Bob's Advice
on March 4, 2005, when the stock was trading at $9.33. With today's close at $13.45, this represents a nice gain of $4.12 or 44.2% since posting this stock a little over a year ago. Unfortunately, I was unable to hang on to my shares which I purchased on 3/4/05 at $9.26, and then sold them rather quickly with a (10.7)% loss on 3/8/05 at $8.37. As I had pointed out on my post when I purchased shares, stocks at $10 or less are quite volatile, and if you wish to stick to 8% loss limits, you are rather likely to get 'shaken out'.
Let's take another look at this stock. I shall, in my effort to keep posts easy for me, limit the pictures and get right to the information.
According to the
Yahoo "Profile" on Perficient
, the company
"...provides information technology consulting services primarily to Global 2000 and midsize companies in the United States. It engages in the design, building, and delivery of ebusiness solutions using a set of software products."
Looking through the
Yahoo "headlines" on Perficient
to see why the stock moved higher, we can see that the company
raised 2nd quarter revenue guidance
, with revenue now expected between $36.6 million to $37.7 million, up strongly from prior guidance of revenue of $31 to $32.8 million. Once again, we can see the effect of both the growth in revenue as well as the company's
guidance
for the street affecting the stock price in a very direct fashion!
Looking for the latest quarterly results, I found the
1st quarter 2006 results for PRFT
, which was reported on May 3, 2006. Total revenue climbed 50% to $29.6 million from $19.7 million the prior year same period. GAAP earnings per share came in at $.07/share, up from $.06/share last year. This year's results is better than it appears, as this year now includes appropriate inclusion of the cost of "non-cash stock compensation" this year, compared to last year when no such expense was included.
How about longer-term results? Reviewing the
Morningstar.com "5-Yr Restated" financials
, we see the steady growth in revenue from $20.4 million in 2001 to $97 million in 2005 and $106.9 million in the trailing twelve months (TTM).
Earnings have increased from a loss of $(7.01)/share in 2001 to a profit of $.07 in 2003 and a profit of $.29/share in the TTM. On a negative note, the company certainly
has
been growing quickly, but has apparently done so with acquisitions and the floating of additional shares of stock. While PRFT has 6 million shares in 2001, this grew to 22 million in 2005 and 25 million shares in the TTM. Hopefully a greater portin of Perficient's growth in the future will be from organic growth of existing businesses and less from acquisitions.
Free cash flow is positive and growing with $2 million in 2003, $4 million in 2004 and $7 million in 2005. They are reporting $8 million in free cash flow in the TTM.
The balance sheet according to Morningstar.com looks solid with $2.3 million in cash and $25.2 million in other current assets. Calculated, this works out to a current ratio of 2.8. Indeed, the total current assets can easily pay off the combined current and long-term liabilities which togeter add up to $11.8 million.
Looking at
Yahoo "Key Statistics" on PRFT
, we find that this is a small cap stock with a market capitalization of $334.86 million. The p/e is rich at 46.88, but the company is growing so fast that the forward p/e is 23.26 and the PEG works out to a ratio of 1.07.
Using the
Fidelity.com eresearch website
, we find that Perficient is in the "Business Software & Services" industrial group. Within this group, the stock is reasonably priced with a Price/Sales ratio of 3. Leading off this group is BEA Systems (BEAS) with Price/Sales ratio of 4. This is followed by First Data (FDC) at 3.2, Perficient at 3, Automatic Data Processing (ADP) at 2.9, Fiserv (FISV) at 1.9 and Business Objects (BOBJ) at 1.8.
Again, since this is a small company which is just now growing its profitability, it is priced based on future anticipated results and not the current profit. This is reflected in the ROE (Return on Equity) ratio. Topping this group is Fiserv at 19.7%, then First Data Corp. at 19%, Automatic Data Processing at 18.9%, BEA Systems at 13.2%, then Perficient at 11.8% and at the bottom is Business Objects at 5.8%.
Finishing up with Yahoo, we can see that there are 24.82 million shares outstanding with 21.99 million of them that float. As of 6/12/06, there were 921,510 shares out short representing 3.7 trading days of volume. This short interest represents 4.6% of the float, and does not appear very significant to me.
Looking at the
Perficient "Point & Figure" chart from StockCharts.com
: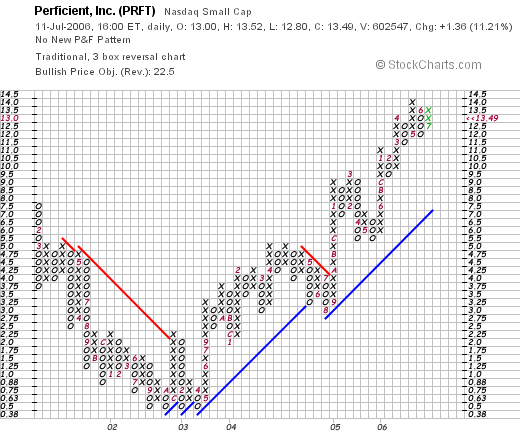 We can see that while the company moved lower between January, 2001, when it was trading as high as $7.50, dropping to a low of $.50/share in September, 2002, the stock subsequently and certainly since last year when I first posted the stock, has been moving ahead strongly and steadily.

So what do I think of the stock? Well I liked it enough last year to buy some shares :). I don't own any shares or options now. However, the strong guidance to higher revenue numbers is encouraging. The latest quarterly report was encouraging, especially with the added accounting requirements. Morningstar.com looked good except for the fairly significant growth in the float the past few years. And valuation, while not that exciting, still came in with a PEG just over 1.0, and other numbers in the middle of their group. The balance sheet is solid, and the company is spinning off growing amounts of free cash. Finally, the chart still looks strong, and certainly the stock has been on a tear since last year!

Thanks so much for stopping by! If you ahve any comments or questions, please feel free to leave them on the blog or email me at bobsadviceforstocks@lycos.com. Also, don't forget to drop by and visit my Stock Picks Bob's Advice Podcast site.

Bob