MedcoHealth Solutions, Inc. (MHS)
Hello Friends! Thanks so much for stopping by and visiting my blog, Stock Picks Bob's Advice! As always, please remember that I am an amateur investor, so please remember to consult with your professional investment advisers prior to making any investment decisions based on information on this website.
I continue to look for and report back to you both on my actual trades in my Trading Account, as well as stocks that I believe are 'suitable' for this blog and for consideration for inclusion in my own stock portfolio. My idea of 'quality' includes companies that show record of consistent revenue and earnings growth, possibly show increasing dividends, stable outstanding shares, positive and growing free cash flow, a reasonable balance sheet, and acceptable valuation. This may be a lot to ask for, but there are many stocks to choose from and neither you nor I can own them all. So why not own some of the best?

MedcoHealth Solutions (MHS) does not fit each and every one of these criteria, but it represents a model of a company that deserves inclusion in this blog as well as consideration for actual ownership because it does meet many of these objectives that I utilize in my own review. I do not currently own any shares nor have any options on this stock. Medco (MHS) closed at $65.05 on January 8, 2010.
According to the Yahoo "Profile" on MHS, the company
"...is a health care company that provides clinically driven pharmacy services for approximately 60 million Americans. The company focuses on various segments of the healthcare industry. It engages in the management and dispensing of prescription medications through its mail-order pharmacies and its network of retail pharmacies."
Examining the latest quarterly report results, on November 3, 2009, Medco reported 3rd quarter results. Revenue for the quarter came in at $14.8 billion, up from $12.6 billion the prior year. Net income increased to $335.6 million or $.69/share up from $296.7 million or $.58/share the prior year. Just as important as the positive results was the fact that the company exceeded earnings expectations of $.71/share according to FactSet compilation of analysts' expectations. The company also exceeded expectations on revenue which had been expected according to Thomson Reuters to come in at $14.68 billion. In addition, the company raised full-year 2009 guidance to range of $2.58 to $2.60 from prior range of $2.54 to $2.59. In addition, the company provided 2010 guidance for earnings of $3.05 to $3.15/share.
For me, this represented an outstanding earnings report in which a company reported strong results which actually exceeded expectations. In addition, they went ahead and raised guidance signalling to analysts that their perspective on future prospects is even better than what is commonly accepted 'on the Street'.
In terms of a longer-term perspective, if we examine the Morningstar.com "5-Yr Expected" financials on Medco, we can see that revenue has been increasing from $35.4 billion in 2004 to $51.3 billion in 2008 and $57.5 billion in the trailing twelve months (TTM). Earnings have also steadily increased from $.88/share in 2004 to $2.13/share in 2008 and $2.45/share in the TTM. The company does not pay a dividend. Outstanding shares which did increase from 549 million in 2004 to 603 million in 2006, have subsequently been decreasing to 519 million in 2008 and 495 million in the TTM.
Free cash flow is positive and growing with $1.09 billion reported in 2006, increasing to $1.35 billion in 2008 and $3.10 billion in the TTM.
In terms of the balance sheet, the company has $2.02 billion in Cash and $5.33 billion in Other Current Assets. This $7.34 billion in Current Assets, when compared to the $5.7 billion yields a satisfactory current ratio of 1.29. The company also has an additional $5.2 billion in Long-Term Liabilities.
In terms of valuation, the company has a market cap of $31.01 billion according to Yahoo "Key Statistics" on MHS. The trailing p/e is a bit rich at 26.53 but with the rapid growth expected (fye 27-Dec-10), the forward p/e is a bit better at 19.42. Looking at the p/e in terms of the growth rate (5 yr expected) yields a reasonable PEG of 1.34. Yahoo reports 476.76 million shares outstanding with 11.57 million shares out short as of December 15, 2009. With an average volume of 2.7 million shares, this works out to a short interest ratio of 5.1 trading days of volume. My own '3 day rule' for short interest, suggests that this might be a significant amount of sales out short which might put upside pressure on this stock if positive results reported in the near future.
No dividends are paid and the last stock split was a 2:1 split on January 25, 2008.
If we review the "point & figure" chart on MHS from StockCharts.com, we can see that the stock, which traded as low as $30 in July, 2008, has subsequently rallied strongly especially since June, 2009 when it climbed from $45 to a high of $66 in December, 2009. The stock has been consolidating between $62 and $66 since that time. If anything, the chart suggests that over the short-term, we may have missed at least one significant leg higher on this price chart and the price might be a bit over-extended technically, at least from this amateur's perspective!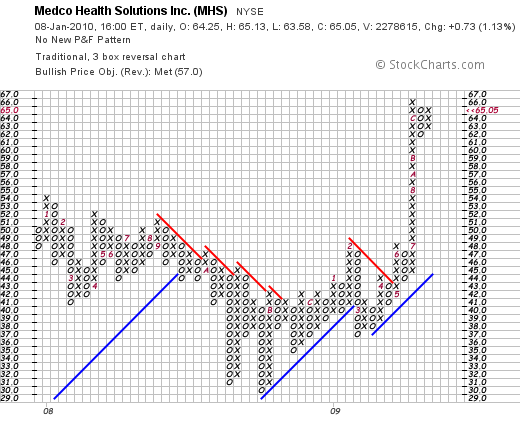 To summarize, MedcoHealth Solutions (MHS) is a stock of a company which recently reported a terrific quarter in the midst of a mediocre economy. They beat expectations and raised guidance in the same announcement. This report was followed by a nice price appreciation of the stock and they should be reporting the next quarter soon.
They are a healthcare company that may well benefit from healthcare reform as additional previously uncovered patients are added to the insurance-covered population in America. They have a record of steadily increasing revenue and earnings over the past five years, have been reducing their outstanding shares the past few years, and are generating free cash flow while maintaining a solid balance sheet. Valuation, while not cheap, still appears reasonable with a PEG under 1.5. In addition, with the recent price appreciation, there are significant numbers of shares out short from speculators who likely bet a stock will decline only because it has risent previously. If the company continues its record of outstanding results, they may well be 'squeezed' adding to the upward momentum.
Thanks again for dropping by and sharing some of your time with me on this website. If you have any comments or questions, please feel free to leave them on the blog or email me at bobsadviceforstocks@lycos.com.
Yours in investing,
Bob