Research in Motion, Ltd. (RIMM) "Revisiting a Stock Pick"
Hello Friends! Thanks so much for stopping by and visiting my blog, Stock Picks Bob's Advice! As always, please remember that I am an amateur investor, so please remember to consult with your professional investment advisers prior to making any investment decisions based on information on this website.

I read with interest when another one of my 'old favorites' showed up the other day on the top % gainers lists on the back of a terrific earnings announcement. Research in Motion (RIMM) closed at $70.00, up $6.54 or 10.31% on December 18, 2009. I do not own any shares of this stock.
RIMM has been an early favorite of mine, having first written up Research in Motion on this blog on September 26, 2003, when the stock was trading at $38.24. Adjusted for a 2:1 split in June, 2004, and then a 3:1 stock split in August, 2007, this workes out to a split-adjusted 'pick price' of $6.37. With Friday's close at $70.00 this works out to an appreciation of $63.63 or 999% since writing up the stock.
I revisited Research in Motion (RIMM) on August 19, 2007, when the stock was trading at $220.52. Adjusted for the 3:1 stock split a couple of days after posting this entry, the stock pick was made at a split-adjusted price of $73.51, so RIMM has essentially traded sideways since that point, and is actually a few dollars lower than the blog entry of 2007.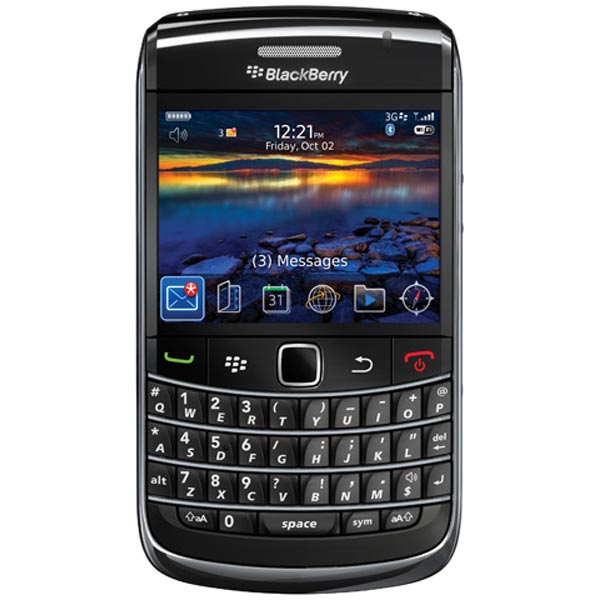 Let's again revisit this stock and look at the latest earnings, the fundamentals underlying this stock, some valuation numbeers, and a 'point & figure' chart.
On December 17, 2009, Research in Motion announced 3rd quarter results. For the quarter ended November 30, 2009, net income was reported at $628.4 million or $1.10 per share, upsharply from net income of $396.3 million or $.69 per share the prior year. Revenue climbed 41% to $3.92 billion in the quarter.
Equally important the company beat expectations for the quarter which according to FactSet Research were for earnings of $1.04 per share on revenue of $3.78 billion.
The company shipped 10.1 million smartphones in the quarter with net new subscribers of 4.4 million. This also exceeded expectations of 9.5 million in shipments with 4.1 million new subscribers.
To top off the earnings report, RIMM raised guidance for the upcoming quarter to sales of $4.2 billion to $4.4 billion, up from prior guidance of $4.0 to $4.03 billion. This is also ahead of analysts' expectations of $4.1 billion.
Profits was guided to $1.21-$1.31, also ahead of prior guidance of $1.00-$1.08 and also ahead of analysts' expectations for $1.12 in earnings.
Let's take a look at the longer-term results as reported on the Morningstar.com "5-Yr Restated" financials page on RIMM. Here we can observe the steady growth in sales from $1.35 billion in 2005 to $11.1 billion in 2009 and $13.2 billion in the trailing twelve months (TTM). Earnings have also steadily grown from $.36/share in 2005 to $3.30 in 2009 and $3.55/share in the TTM.
Outstanding shares have been stable and actually have declined due to company buy-backs. In 2005, there were 587 million shares which dropped to 574 million by 2009. Free cash flow has been positive and has increased from $482 million in 2007 to $1.05 billion in the TTM.
Looking at the balance sheet, we can see that RIMM has $1.08 billion in cash and $4.13 billion in other current assets. This total of $5.21 billion in cash and other current assets, when compared to the $2.17 billion in current liabilities works out to a Current Ratio of 2.4. The company has almost no long-term liabilities with $71.1 million only reported on Morningstar. According to Morningstar, RIMM sells with a forward p/e of 16.1. Fidelity has RIMM with a trailing p/e of 19.8 and the stock does not pay a dividend.
If we examine a 'point & figure' chart on Research in Motion (RIMM) from StockCharts.com, we can see that the stock price is very volatile.The stock traded as high as $148 in June, 2008, only to dip as low as $36 in December, 2008 through March, 2009. The stock is still trading below resistance lines but appears to be moving bullishly higher from its prior lows.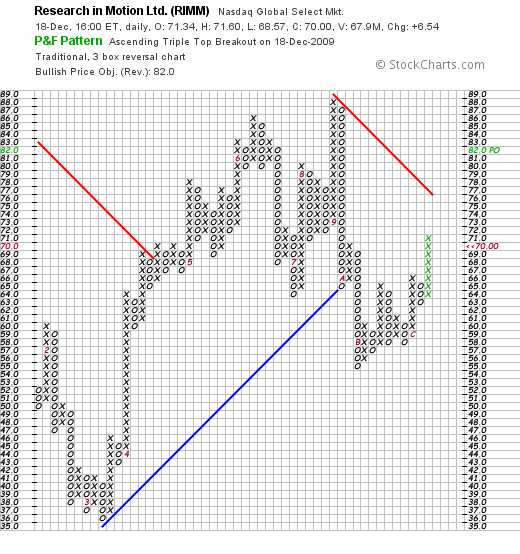 To summarize, Research in Motion (RIMM) reported a very strong earnings report with both strong growth in revenue and earnings with numbers that both exceeded analysts' expectations. To top it off, the company raised guidance for the upcoming quarter also above analysts estimates.
Longer-term, the company has steadily and rapidly grown earnings, revenue, and free cash flow while maintaining and reducing outstanding shares. However, they do not and haven't paid cash dividends. Their balance sheet is solid with a current ratio of over 2 and nominal long-term debt. The stock chart demonstrates the high volatility of this stock which appears to trade with a high beta. Valuation does not appear excessive in the high teens with the incredible record of growth this company has reported.
Perhaps a better question is the performance of the RIMM smartphone platform with the iPhone from Apple (AAPL), and the Google Droid phone by Motorola (MOT) sponsored by Verizon (VZ). Apparently all three of these platforms have been taking share from Windows Mobile-based phones. With smartphones representing only 18% of all cell phones, there appears to be room for growth for all three major platforms.
RIMM deserves a spot in my blog if not eventually a spot in my own trading portfolio! For now, I shall wait for my own holdings to either reach an appreciation target allowing me to purchase a new holding or dip so that they need to be sold completely. I continue to utilize my own portfolio to literally direct my actions in the market.
Thanks again for visiting! If you have any comments or questions, please feel free to leave them right on the website or email me at bobsadviceforstocks@lycos.com.
Yours in investing,
Bob