ResMed (RMD) "An Update on a Recent Stock Pick"
Hello Friends! Thanks so much for stopping by and visiting my blog, Stock Picks Bob's Advice! As always, please remember that I am an amateur investor, so please remember to consult with your professional investment advisers prior to making any investment decisions based on information on this website.

In the midst of the recent market correction, there was a stand-out that defied the market decline, and moved strongly higher closing at $54.90, up $3.97 to close at $54.90 on the back of good news. That company was ResMed (RMD) an 'old favorite' that I recently reviewed on September 20, 2009. I do not own any shares of ResMed but it still is the kind of stock that belongs in my portfolio and certainly on this blog.
On February 4, 2009, after the close of trading, ResMed (RMD) announced results for the quarter ended December 31, 2009. For the quarter, ResMed came in with revenue of $275.1 million 23% higher than the prior year, exceeding analysts' expectations of $259 million. Earnings came in $46 million or $.60/share in the quarter up from $33.9 million or $.44/share the prior year and again exceeding expectations of $.55/share according to Thomson Reuters I/B/E/S.
Wells Fargo responded by upgrading its own assessment of the stock's prospects to "Market Perform" from "Underperform".
I have briefly discussed sleep apnea in my previous entry, needless to say it is widely diagnosed, associated with the much-discussed obesity epidemic, and can be successfully treated with positive airway pressure. For a more detailed review, you may wish to read this Mayo Clinic review of the subject.
ResMed (RMD) is far from a 'one-quarter-wonder'! If we revisit the Morningstar.com "5-Yr Restated" financials from Morningstar.com, we can see that the company has consistently grown its revenue from $426 million in 2005 to $921 million in 2009 and $1.002 billion in the trailing twelve months (TTM). Earnings have steadily improved (except for a dip between 2006 and 2007, from $.91/share in 2005 to $1.90/share in 2009 and $2.24/share in the TTM. No dividends have been paid. Outstanding shares have been stable at 75 million in 2005 increasing to 79 million in 2008 and then decreasing back to 77 million in the TTM.
Free cash flow has grown from $14 million in 2007 to $129 million in 2009 and slightly less at $114 million in the TTM. The balance sheet presented on Morningstar.com is exceptionally strong with the $451 million in cash reported enough not only to pay off the current liabilities of $240.6 million but also the $123.1 million in long-term liabilities as well! The company has an additional $476 million of other current assets beyond the cash on hand.
According to Yahoo "Key Statistics", RMD has a trailing p/e of 26.34 and has a forward p/e (fye 30-Jun-11) of 20.11. With the rapid growth anticipated the PEG comes in at an acceptable 1.34 level. The market cap is $4.12 billion. There are 74.96 million shares outstanding with 69.69 million that float. As of 1/15/10 there were 5.9 million shares out short representing 12 trading days of volume (the short interest ratio), above my own arbitrary '3 day rule' for short-interest significance and suggesting the possibility of some short-covering in yesterday's sharp price appreciation in the face of good news. The fact of a lot of shares out short is quite bullish in a stock like ResMed that reports results exceeding expectations.
Examining the 'point and figure' chart on ResMed from StockCharts.com, we can see that the stock, which traded as low as $29 in October, 2008, has convincingly broken through resistance and is moving strongly higher at its current level which is higher than the $54-55 level hit in March, 2007, and again in December, 2007, before joining the correction that drove down most stocks in the market.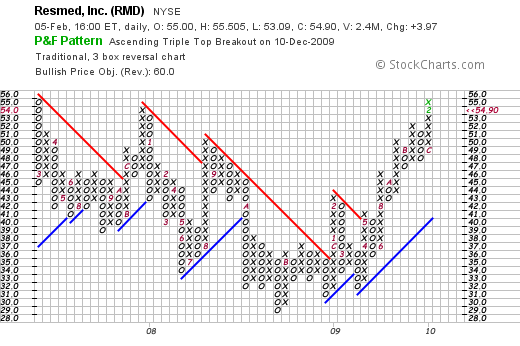 In summary, I too am kicking myself about why I didn't choose to add this stock to my own trading portfolio. Frankly, I have been quite anxious about the market and have been selecting larger dividend-paying stocks with the hope that I could avoid some of the downward pressures in the market. A stock like ResMed (RMD) demonstrates once again that while dividends are helpful, it is wise to emphasize earnings, revenue growth, and financial stability while understanding the product in a Peter Lynch fashion isn't a bad idea either!
Thanks again for visiting my blog! If you have any comments or questions, please feel free to leave them right here on the website or email me at bobsadviceforstocks@lycos.com.
Yours in investing,
Bob