IDEXX Laboratories (IDXX)
Hello Friends! Thanks so much for stopping by and visiting my blog, Stock Picks Bob's Advice! As always, please remember that I am an amateur investor, so please remember to consult with your professional investment advisers prior to making any investment decisions based on information on this website.
I am fully aware of the effects of the debt downgrade by S&P on U.S. Government debt. The downgrade may push the already weakly recovering economy back into recession. As I write, stock futures are strongly negative for the opening tomorrow (Monday). Beyond that, I am wise enough to know that it is a fool's game to predict the market beyond what is immediately seen. It is well known that stocks often climb a wall of worry as the negative news becomes quickly 'baked into the cake' and investors and institutions look beyond the immediate future into longer-term possibilities. That being said, I am being quite cautious and am willing to miss a rebound to avoid a large loss with much of my holdings in my Covestor Healthcare and my Covestor Buy and Hold accounts sitting in cash.
Please consult with your own professional investment adivsers regarding the current market environment to assist you in dealing with the tremendous volatility!
With all of that said, I still remain committed to identifying the highest quality companies that might be considered for investing.
Recently I purchased some shares of IDEXX (IDXX) at $85.79 on 7/22/11 only to sell them just last week on 8/4/11 at a price of $78.02 for a loss of $(7.77) or (9.06)%. As much as possible I try to limit my losses after initial purchases to 8% and also to avoid quickly reinvesting those funds to avoid compounding losses in a market downdraft. I do not currently own any shares of IDEXX (IDXX).
However, I believe that IDEXX (IDXX) is a great company and when the market sorts out, might well be considered for investment once again. Let's take a closer look at this company and see if it is indeed worth a place in my blog and in my portfolio.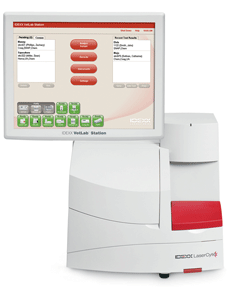 According to the Yahoo "Profile" on IDEXX Laboratories (IDXX), the company
"...develops, manufactures, and distributes products for the veterinary and production animal markets, as well as for the water testing and dairy markets."
Like so many of my amateur stock 'picks' I start with an earnings headline that catches my attention. On July 22, 2011, IDEXX (IDXX) announced 2nd quarter 2011 results. The company reported revenue for the quarter of $317.9 million a 13% increase over the prior year's revenue result. This exceeded expectations of $308 million. Earnings came in at $.83/share up from $.62/share last year. This also exceeded expectations of $.72/share. To top it off the company raised guidance for the full-year to revenue of $1.205 to $1.215 billion and earnings of $2.68 to $2.73/share up from prior guidance of $2.66 to $2.71/share.
Reviewing longer-term results, we can see on the Morningstar.com "Financials" that revenue has increased from $739 million in 2006 to $1103 million in 2010 and $1164 million in the trailing twelve months (TTM). Earnings per share have grown steadily from $1.49/share in 2006 to $2.45/share in 2010 and $2.72/share in the TTM. The outstanding shares have actually been reduced from 66 million in 2006 to 60 million in 2010 and 59 million in the TTM.
Examining a few numbers from the Morningstar.com "Balance Sheet" on IDXX, we can find that the total current assets are listed as $461 million compared to the total current liabilities of $285 million. This yields a current ratio of 1.62.
The Morningstar.com "cash flow" analysis on IDXX shows free cash flow improving from $38 million in 2006 to $140 million in 2010 and $144 million in the TTM.
In terms of valuation, using the Yahoo "Key Statistics" on IDXX, we find that this is a mid cap stock with a market capitalization of $4.23 billion. The trailing p/e is a moderate 28.09, and the PEG also is a tad rich at 1.88.
According to Yahoo there are 56.8 million shares outstanding with 56.28 million of them that float. As of 7/15/11 there were 3.95 million shares out short representing a short interest ratio of 14.5. This appears quite significant as my own arbitrary cut-off on this is 3.0 days.
The company does not pay a dividend and last split its stock November 27, 2007, when it split 2:1.
Reviewing the IDEXX Laboratories 'point & figure' chart from StockCharts.com, we can see that the stock has moved strongly higher since March, 2009, when it was trading as low as $28 to its recent peak at $87 in July, 2011. The stock has recently sold off sharply down to $74.45, breaking through the plotted support line.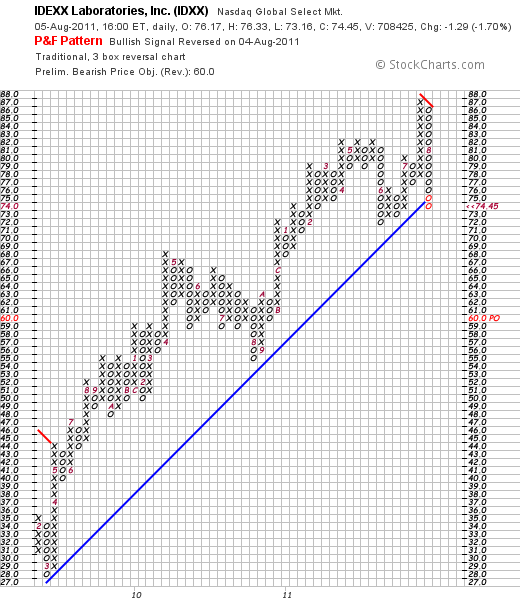 To summarize IDEXX Laboratories (IDXX) recently caught my attention with an outstanding earnings report that beat expectations on both the revenue and earnings side. This veterinary supply/equipment company also raised guidance for the full year. They have a record of steadily growing revenue and earnings for the past five or more years and have a solid balance sheet with growing free cash flow and diminishing outstanding shares.
Value-wise, the p/e ratio is a bit rich at 28 and the PEG is also a bit rich at 1.88. The short-sellers apparently agree as quite a few shares are out short with a short-interest ratio of 14.5. I do believe that as the market settles down from its recent volatility, this might be a good place to revisit for a possible investment. Meanwhile, I also am battening the hatches waiting for this financial storm to pass by.
Thank you again for stopping by and visiting my blog! If you have any questions or comments, please feel free to leave them right here on the website.
Yours in investing,
Bob