Danaher (DHR)
Hello Friends! Thanks so much for stopping by and visiting my blog, Stock Picks Bob's Advice! As always, please remember that I am an amateur investor, so please remember to consult with your professional investment advisers prior to making any investment decisions based on information on this website.
Before I go much further I would like to apologize for my hiatus from blogging on this website. For those of you who regularly stop by, I am sure it is a disappointment to see a lack of activity on this website. For those of you new to the blog, thank you for stopping by! I shall work to keep this blog up to date.

On May 13, 2011, I purchased shares of Danaher (DHR) at $54.44 in my own Trading Account. As part of my effort at trading transparency, I would like to share with you some of my own observations and things that made this stock attractive to me. Danaher closed at $53.99 on 5/16/11 up $.13 or .24% on the day.
According to the Yahoo "Profile" on Danaher (DHR), the company
"...designs, manufactures, and markets professional, medical, industrial, commercial, and consumer products in the United States and internationally. It operates in four segments: Professional Instrumentation, Medical Technologies, Industrial Technologies, and Tools and Components."
Looking at the latest quarterly report, Danaher (DHR) reported 1st quarter results on April 21, 2011. Earnings came in at $429.4 million or $.63/share compared with $300.2 million or $.45/share the prior year. From my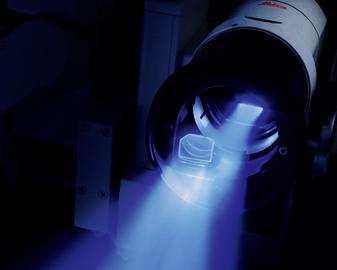 perspective, besides the solid earnings report, the company exceeded expectations of $.57/share according to Thomson Reluters. In addition, the company also beat expectations by reporting revening of $3.35 billion an 11% increase over the prior year.
In that same report, the company optimistically raised guidance for analysts and increased its estimate of 2011 profits to $2.65 to $2.75/share up from prior range of $2.55 to $2.70. As reported, analysts are currently looking for $2.69/share.
An earnings report that reveals solid results that beat expectations and finds management raising guidance is about my equivalent for an earnings "Nirvana". What else could an investor want from a news announcement?
Reviewing the Morningstar.com 'Financials' on Danaher, we can see that revenue has grown from $9.6 billion in 2006 to $13.2 billion in 2010 and $13.5 billion in the trailing twelve months (TTM). Earnings have increased from $1.74/share in 2006 to $2.64/share in 2010 and $2.80/share in the TTM. Both revenue and earnings dipped between 2008 and 2009 and have rebounded since that time. Outstanding shares have increased during this time from 651 million in 2006 to 683 million in 2010 and 685 million in the TTM.
Morningstar reports that Danaher (DHR) has $5.7 billion in 'Total Current Assets' as of 12/10, compared with a total $3.3 billion in 'Total Current Liabilities' yielding a healthy Current Ratio of 1.73.
Free Cash Flow has increased from $1.4 billion in2006 to $1.87 billion in 2010 and $1.90 billion in the TTM.
In terms of valuation, reviewing the Yahoo "Key Statistics" on DHR, we find that the company is a large cap stock with a market capitalization of $35.85 billion. According to Yahoo, the company has a trailing p/e of 19.15, a forward (fye Dec 31, 2012) p/e of 17.42, and a PEG ratio (5 yr expected) of 1.22. From my perspective, a PEG of under 1.5 demonstrates reasonable valuation.
The company has 664 million shares outstanding with a float of 547 million. As of 4/29/11, there were 10.9 million shares out short, slightly ahead of my own '3 day rule' for short interest ratio, suggesting some bullish potential of these short shares.
The company pays a small dividend of $.08 yielding 0.2%. There is a lot of room for dividend increases as this represents a payout ratio of only 3%. The company last had a stock split June 14, 2010, when it declared a 2:1 stock split.
In terms of technical performance, we can examine a Point & Figure chart from Stockcharts.com on Danaher (DHR). This stock has shown tremendous strength since breaking out in May, 2003, at the $17 level and climbing into the mid $40's. After pulling back to the $25 range in 2008, the stock once again broke out in March, 2009 and has climbed to its current levels after peaking in April, 2011, in the $56 range.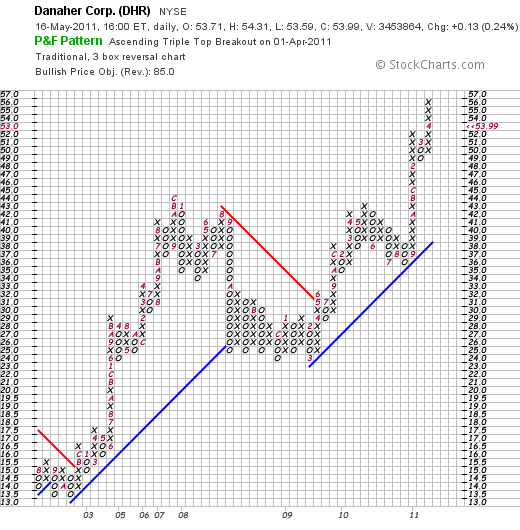 In conclusion, Danaher (DHR) represents an investment opportunity reflecting the continued American economic recovery. Even though the stock has already performed quite well this year, valuation-wise the company is selling at a PEG of just over 1.2, and just reported revenue and earnings that exceeded expectations while raising guidance for the near future. All of these facts and especially the solid earnings results encouraged me to add this stock to my own portfolio.
Thank you again for stopping by and visiting my blog. Your loyalty, especially with my own neglect of this website, is appreciated. If you have any comments or questions, please feel free to leave them on the blog.
Yours in investing,
Bob