West Pharmaceutical Services (WST)
Hello Friends! Thanks so much for stopping by and visiting my blog, Stock Picks Bob's Advice! As always, please remember that I am an amateur investor, so please remember to consult with your professional investment advisers prior to making any investment decisions based on information on this website.

This is a stock I have been trying to write up since Friday! It is graduation party time around this town. While I don't have any high schoolers graduating this year, we do have a lot of friends with sons and daughters that do. In fact, it isn't very good for my diet either, but that is a whole different story :). Anyhow, it is now early Sunday morning and it is very quiet around my house so I could get on the computer undisturbed and maybe finish this one up!
I always get a lot of questions about how I go about picking stocks. This method that I use is something I am quite willing to share with all of my readers. There isn't anything magical about this technique. But it does seem to work to identify lots of great companies.
First of all, I start out with the top % gainers list. In this case, West (WST) had a nice day, and made the list of top % gainers on the NYSE. WST closed at $50.77, up $2.05 or 4.21% on June 8, 2007. I like to use the lists of top % gainers to start out my search. I have linked to the current Money.CNN.com web page where all of these top % gainers from the NYSE are listed. You will note at the top of the page that there are links to the top % gainers on the NASDAQ and AMEX as well.
There are many different ways to identify great stocks for my investment. This is my own peculiar strategy. It isn't necessarily the best way. It isn't necessarily a way that will work long-term. Currently, I have found it successful, so I continue to use this strategy. As I have written many times on this blog, I have been inspired by William O'Neil, the publisher of the Investor's Business Daily, who wrote about he CAN SLIM method of investing. O'Neil suggest scanning the list of New Highs for candidates for inclusion. Instead of new highs, I have chosen to look at the list of stock gainers. This difference may appear to be nuanced. However, from my perspective, I am more interested in buying stocks today with strong price momentum, rather than the fact that they are now trading in new high territory. It isn't that what O'Neil is doing is wrong or even less helpful than what I am doing. It is just that it is different.
I do not own any shares or options in West Pharmaceutical Services (WST). Because of the fundamental information discussed in the following review,
WEST PHARMACEUTICAL SERVICES (WST) IS RATED A BUY
Let me continue this discussion while explaining in a little more than usual detail my methodology in selection of stocks. After scanning the list of top % gainers for stocks over $10 (I have occasionally written up and purchased stocks under $10, but due to my 8% loss limit---another technique also shared by the CAN SLIM technique---I have often found myself "shaken-out" of investments that otherwise are of good quality), I am interested in finding out the latest quarter results. Again, this latest quarterly result was inspired by CAN SLIM (I am happy to credit others for those ideas that I have also found helpful). This is the "C" in CANSLIM for "current quarterly results".
What exactly does this company do?
According to the Yahoo "Profile" on West Pharmaceutical, this company
"...manufactures components and systems for injectable drug delivery and plastic packaging, and delivery system components. It operates in two segments, Pharmaceutical Systems and Tech Group."
How did this company do in the latest quarter?
On April 26, 2007, West Pharmaceutical reported 1st quarter 2007 results. The company's consolidated sales grew 15.6% to $257.6 million from $222.8 million in the first quarter of 2006. Earnings were even stronger, with $.77share reported, up $.34, or greater than 75% from the $.43/share reported last year.

The company maintained full year sales guidance of approximately $1 billion, but went ahead and raised guidance on earnings to between $2.27 to $2.37/share, from prior guidance of $2.20 to $2.35/share.

Besides raising guidance, as WST did, the other thing an earnings report can do to attract investors is to exceed guidance. In fact, as noted in another news report, the two analysts reporting to Thompson Financial had expected profit of $.65/share. The company beat expectations handily coming in at $.77/share.

As I go through the headlines on West, I can see that I haven't discovered this stock before other "wiser investors" :). I do not mind this. You can see that The Street.com likes West. If you don't know the connection, Jim Cramer was a co-founder of TheStreet.com giving this stock a big B-BOOYAH. :). The bottom line of any stock selection, is that while it is truly good to be early with any idea, it is helpful knowing that an idea has other 'sponsors' behind it. And certainly finding a stock that Jim Cramer likes isn't a bad thing.
How about longer-term?
Again, this is one place where my strategy coincides with CANSLIM. The "A" in CANSLIM is the annual earnings. I have taken this a bit further, using the Morningstar.com website for a bit more information. In particular, I would like to take a closer look at the Morningstar.com "5-Yr Restated" financals page on West Pharmaceutical Services (WST).

Here we can see that revenue has steadily been increasing from $412.8 million in 2002 to $913.3 million in 2006 and $948.1 million in the trailing twelve months (TTM).

Earnings have been a bit erratic, although profitable, with $.65/share in 2002, increasing to $1.11 in 2003, but dipping to $.65/share in 2004. However, in 2005, the company rebounded with $1.42/share in earnings, increased it to $2.00/share in 2006 and $2.22/share in the TTM. I don't know what happened in 2004, but the company quickly rebounded as if that dip never occurred.

While dividends are not critical to me. I am attracted by companies that can do everything. Why not? If you can find a great company with superb revenue and earnings growth AND it pays a dividend, well, to avoid being too chauvinistic, this is like meeting a wonderful girl (or guy) with a great personality AND they are drop-dead gorgeous as well.

So if they do pay a dividend and they can also raise that dividend regularly, well I am practically smitten if not in love :).

West paid $.39/share in dividends in 2002, and has raised that dividend every year with $.49/share paid in 2006 and $.50/share paid in the trailing twelve months (TTM). Is that beautiful or what?

I like to see a company that increases its shares very minimally if at all, and West, which had 29 million shares in 2002, increased to 32 million in 2006 and 33 million in the TTM. This 14% increase in outstanding shares, occurred during a time in which revenue increased me than 100%, and earnings were up more than 200%. I can live with these types of increases!

What about free cash flow? I have been around plenty long :) and remember the tech bubble in the 90's when the burn rate was discussed. These were companies that had recent IPO's. They had loads of cash but weren't making any money. In fact, they were consuming their funds and this was the 'burn rate' that was calculated. People were calculating how long they had to start making money before they ran out! I have chosen to find companies to discuss that are not only profitable but are generating money, thus the positive and hopefully growing free cash flow!

In West's case, they reported $24 million in free cash flow in 2004, $32 million in 2005, $49 million in 2006 and $40 million in the TTM. While not perfectly linear, the trend is positive and the results are positive.

Looking at the balance sheet on Morningstar.com, I like to see a few basic things (I am not an accounting kind of person and approach this with an amateur perspective as I do the rest of the information). Simply put, I want to see more cash and other current assets than current liabilities. This ratio of current assets to current liabilities is called the current ratio. I have found that a minimum of 1.25 is acceptable, but more knowledgeable sources suggest that a current ratio closer to 2.0 or higher is what we should be looking for.

Think of your current assets as the cash and other things you own that could be turned into cash within the next twelve months (like CD's coming due), and your current liabilities are your stack of bills to be paid that are due within the next twelve months. Obviously, we would all prefer to have an abundance of cash and current assets and a paucity of bills to be paid.

In West's case, per Morningstar.com, the company has $156.6 million in cash and $275.6 million in other current assets for a total of $432.2 million in total current assets, which when compared to the $153.3 million in current liabilities yields a current ratio of 2.82. By anyone's definition, this is a healthy and encouraging statistic.
What about some valuation numbers?
Reviewing the information on Yahoo "Key Statistics" on West, we find that this company is a mid cap stock with a market capitalization of $1.68 billion.

The trailing p/e is only 22.77 with a forward p/e (fye 31-Dec-08) estimated at 18.53. Trying to determine how 'rich' or 'lean' this valuation really is, it is helpful to look at the PEG ratio. Simply put, this is a comparison between the price/earnings ratio and the growth rate in earnings. In general investors are willing to pay a premium in stock price if earnings are expected to be much higher in the future. As with other investors, I prefer to have a stock trading with a PEG ratio between 1.0 to 1.5 if not lower.

West Pharmaceutical Services (WST) sells with a PEG ratio of 1.33, quite acceptable to me.

Another ratio to consider is the Price/Sales ratio. Paul Sturm, who writes for Smart Money Magazine (a great magazine for amateur investors like myself!), wrote a wondereful article on the importance of Price/Sales ratios and comparing them to similar companies in the same industry. I have been using the Fidelity website for this information.

According to the Fidelity.com eresearch website, WST has a Price/Sales (TTM) of 1.75, well under the industry average of 4.97. In terms of profitability, the company is nearly at the industry average of 18.98% Return on Equity (TTM), coming in at 18.33%. Thus, West is profitable as the average company in its industry but sells at a sharp discount in terms of price relative to sales.

Finishing up with Yahoo, we can find that there are 32.99 million shares outstanding with 28.77 million that float. As of May 10, 2007, there were 2.49 million shares out short representing 7.8% of the float or 8.6 trading days of average volume (the short ratio). Using my own arbitrary '3 day rule' for the short ratio, I find this to be a significant factor, that is likely bullish for the stock, and has the potential to involve this stock in a short squeeze. (Of course that is only my amateur assessment, looking at stocks with large short interest and yet what appears to me to be strong underlying fundamentals and earnings is encouraging to me!)

As I noted above, the company dos pay a dividend, with $.52 the 'forward annual rate' yielding 1.10%. The company last split its stock, according to Yahoo, on September 30, 2004, when it had a 2:1 stock split.
What does the chart look like?
Like everything else, I am an amateur when it comes to looking at charts. After multiple presentations to my own stock club by a great broker and technician who presented Point & Figure charts at meeting after meeting, I started appreciating the 'ebb and flow' of the price movement so well demonstrated by these graphs. Since 2003, when I started this blog, I have been posting these great charts from StockCharts.com for which I am grateful.

Looking at the "Point & Figure" chart on WST, we can see that this stock, after dipping from $15 to $8.00 between June, 2002, and February, 2003, has been rising strongly without any evidence of significant weakness to its current level of $50.77. The chart looks very strong to me.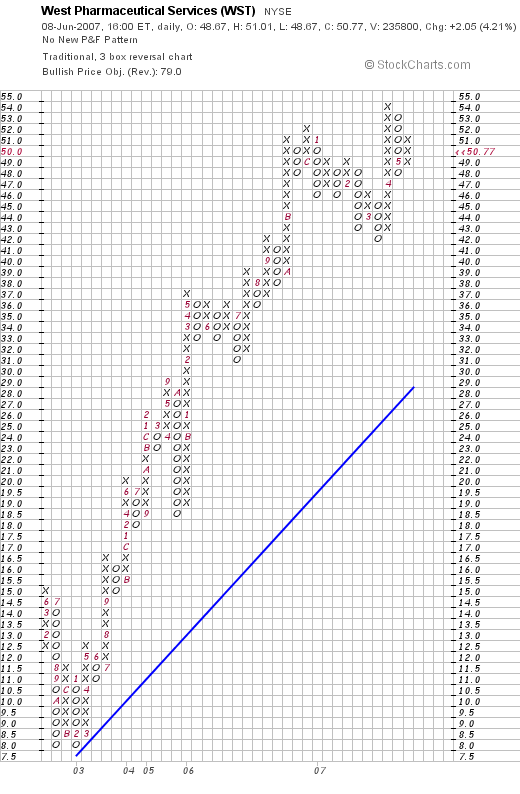 Summary: What do I think?
I really like this stock! Let me try to touch on some of the highlights of this little more extensive review. First of all the stock moved strongly higher Friday making the top % gainers list. They had a great quarterly report which came out about six weeks ago, with strong earnings and revenue growth. They beat expectations of analysts and raised guidance.

Longer-term, they have been raising revenue the past 5 years, increasing earnings (except for one down year), and they pay a dividend which they have been regularly increasing. They have maintained their share number with only moderate increase in outstanding shares and they are generating ample free cash flow. Their balance sheet is solid with lots of current assets and moderate current liabilities.

Valuation-wise, they are cheap on a PEG and Price/Sales ratio basis. Their profitability is reasonable in terms of return on equity, and their absolute p/e is only in the low 20's. There are lots of shares out short suggesting the potential of a squeeze, and the graph looks very strong.

Bottom-line, this is my kind of stock and if I were buying shares today, this would be the stock I would be buying. However, I don't have a 'signal' to buy anything and am already at my maximum of 20 positions. Meanwhile, I shall keep this in my vocabulary and monitor this stock!
Thanks so much for stopping by and visiting! If you have any comments or questions, please feel free to leave them on the blog or email me at bobsadviceforstocks@lycos.com. If you get a chance be sure and visit my Stock Picks Podcast Website where you can hear me discuss some of the many stocks I write about on the blog.
Have a great weekend everyone!
Bob