A Reader Writes "What do you consider a comfortable amount of debt?"
Hello Friends! Thanks so much for stopping by and visiting my blog, Stock Picks Bob's Advice! As always, please remember that I am an amateur investor, so please remember to consult with your professional investment advisers prior to making any investment decisions based on information on this website.
One of the great things about writing a blog is the opportunity to interact with other investors who also are interested in learning about what you are writing. With that in mind, if you have any comments or questions, always feel free to leave them on the blog or email me at bobsadviceforstocks@lycos.com. I read all of the comments and emails and try to respond to as many as possible. Please do remember, as I write so many times, that I truly am just an amateur investor who enjoys writing about stocks and managing my own portfolio. So do remember to consult with a professional before acting on any of my writing.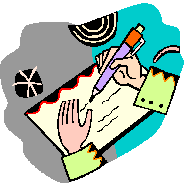 I had a couple of additional comments from my loyal reader Eric N. who writes from Boston, Massachusetts about more questions on margin. Eric writes:
"Hi Bob,

Thanks for the response. I always appreciate your thoughts and opinions.

As you mentioned, your year to date net is about $12,300 (which is great! congrats!), including about $3,000 in short-term gains and $9,250 in long-term gains. Could you comment on the differences between short-term and long-term gains? I am not familiar with the terminology.

Thanks!

Eric"
and also:
"Hi Bob,

I may be missing something, but when you say, "Currently, my own Trading Account, even after the big rally and my latest sale, sits at $53,853.72. I have $66,205.55 in margin debt. My total holdings stand at $120,059.27. Thus, I am sitting at a 44.85% margin level. Way too much debt..." Doesn't that translate into 56% ($66,502.55)of margin debt rather than 44% ($53,853.72)?

How are you able to have more debt than your trading account is worth? Are you aiming to get your margin debt down to 30%? What do you consider a comfortable amount of debt? Do you think there is a certain percentage that someone should try to remain around when it comes to margin debt?

Thanks,

Eric"
Thanks so much for writing Eric! I hope that my efforts are in some way aiding you in understanding investing and some of the risks and opportunities associated with selecting and managing those investments.
Let me try to tackle your first question about the difference between short-term and long-term gains. These terms separate investment sales for the purpose of tax reporting. These gains are treated differently by the IRS in the United States (those of you in other countries will need to research your own tax laws), depending on the duration that the equity has been held. Short-term gains are those realized when the stock has been held less than a year. Long-term gains are those held for longer than a year.
As explained in this article:
"With holding period defined, we can say that a short-term gain or short-term loss is a gain or loss on a capital asset that had a holding period of twelve months or less. Similarly, a long-term gain or long-term loss is a gain or loss on a capital asset that had a holding period of more than twelve months."
And what are the consequences of short-term vs long-term profits?
The article continues:
"Short-term gains are taxed as ordinary income. Therefore, the nominal tax rate will be whatever tax bracket you are in. More explicitly, it will be taxed at the federal tax rate (bracket) as determined by your taxable (not gross) income line on your federal tax return.

The tax treatment of long-term gains is somewhat more complicated, and depends on your income. Long-term gains are taxed at 5% if you are in the 10% or 15% federal tax brackets (for tax year 2004, up to about $58K for married filing jointly, and less for others). Long-term gains are taxed at 15% if you are fall in one of the higher income-tax brackets (e.g., 25%, 28%, and so on). The long-term gains are included when figuring out your bracket. However, the 5%/15% rate doesn't apply to all long-term gains. Long-term gains on collectibles, some types of restricted stock, and certain other assets are instead subject to a different rate, which may be as high as 28%. And certain kinds of real estate depreciation recapture are taxed no higher than 25%.

Just to keep up with the history, in 2001 and 2002 the tax man offered low rates on sales of assets held 5 or more years. Those rates were 8% and 18% depending on the taxpayer's income-tax bracket. Those so-called "ultra-long-term gains" were swept away by tax-law changes of 2003."
The article includes a nice table:
Tax bracket

Short-term rate
Long-term rate

10%

10%

5%

15%

15%

5%

25%

25%

15%

28%

28%

15%

33%

33%

15%

35%

35%

15%
The tax implications of sales are a bit more complicated as the article summarizes:
"Now what happens if you have both short-term capital gains and losses, as well as long-term gains and losses? Do short-term losses have to offset short-term gains? Do long-term losses have to offset long-term gains? Well, the rules for computing your net gain or loss are as follows.

You combine short-term loss and short-term gain to arrive at net short-term gain (loss). This happens on Sched D, Part I.
You combine long-term loss and long-term gain to arrive at net long-term gain (loss). This happens on Sched D, Part II.
You combine net short-term gain (loss) and net long-term gain (loss) to arrive at net gain (loss). This happens on Sched D, Part III.

If you have both a short-term loss and a long-term loss, your net loss will have both short-term and long-term components. This matters if you have a loss carryover (see below).
If you have both a short-term gain and a long-term gain, your net gain will have both short-term and long-term components. This matters because only the long-term piece gets the special capital gains tax rate treatment.
If you have a gain in one category and a loss in another, but have a gain overall, that overall gain will be the same category as the category that had the gain. If you have a loss overall, that overall loss will be the same category as the category that had the loss.

If you have a net loss and it is less than $3,000 ($1,500 if married filing separately) you get to take the whole loss against your other income. If the loss is more than $3,000, you only get to take $3,000 of it against other income and must carry the rest forward to next year. When taking the $3,000 loss, you must take it first from the short-term portion (if any) of your loss. The Capital Loss Carryover Worksheet in the Sched D instructions takes you through this.
If you have a net gain, the smaller of the net gain or the net long-term gain will get the special tax rate. This happens on Sched D, Part IV"
So you can see that this is a bit more complicated than it should be. Thus, it is important that you understand the advantages of longer-term holdings for tax purposes. In my investment strategy, with my sales at 8% losses, I am hoping that I shall be able to have enough losses to offset the many gains that I also anticipate realizing. I have chosen to try to maximize my overall return independent of tax consequences. You may find many other investors who may choose to work hard to take taxes into consideration in all of their transactions. You will need to find your own level of comfort in whatever approach you choose.
Let's take a look at your second note on margin.
First of all you are absolutely correct and I believe I mis-spoke on the margin levels. My equity level is at the 44% level and the debt is at 56%. You first asked how I could have more debt than my account is "worth". Actually, my account is worth far more than my debt. As I wrote, what my account is 'worth' is the total value of my stock holdings which is around $120,000. My 'debt' is at $66,000 and the 'equity' is valued at about $54,000. So out of my entire $120,000 holding, you can think of it as my brokerage advancing me back $66,000 from the $120,000 in holding.
If I was buying a house, then if it were a $120,000 home, this would be like having a mortgage of $66,000 meaning that I had $54,000 in equity in that home. I hope that explains the situation better.
Furthermore, where am I aiming for my margin debt? I would like to pay off the whole thing. I really don't want to have any margin debt at all. So even though I am currently more or less 'comfortable' with the large level of debt, I have chosen to limit my portfolio to 20 positions instead of 25 so that I can start using partial sales to pay down the margin debt instead of adding a 21st or 22nd position. In addition, I continue to contribute $300/month automatically into the account.
However, with this $66,000 in debt at a margin interest rate currently at 9.575%, this results in a daily margin interest accrued at $17.96. This is about $500/month just paying the loan. I would rather be starting to earn interest than pay interest for a loan.
Just to explain margin a bit better, I found this article on the net where it was explained:
"Typically, a margin account allows the account holder to borrow up to 50% of the equity in the account for the purchase of new securities. There is also a maintenance requirement that is typically 30% of the equity. If the value of the equity drops below 30% of the total amount, then the broker issues a margin call. The investor either has to send more cash or other equity, or the broker will sell enough of the securities, to increase the total equity above 30%. Thus, if the investor initially deposits $5,000 into a new margin account, he can buy up to $10,000 worth of stocks. If the value of those stocks subsequently declines to below $7,000, then the investor will be subject to a margin call, because $2,000 is what remains of the investor's equity, which is less than 30% of the total amount in the account.

Calculating the Percentage of Total Equity in a Margin Account
Total Equity % =
Market Value - Borrowed Amount
/Market Value
If Total Equity % < 30%
then broker issues margin call.

The margin and the margin maintenance requirement are specified by Regulation T, enacted by the Federal Reserve Board. Currently Regulation T requires an initial deposit of $2,000 or more for a margin account, and, initially, 50% or more in cash or eligible securities as security for any borrowing to buy securities."
One of the things that scares me so much about my use of margin and the discussion on this matter is that I am afrid I may be encouraging others to utilize debt in investing. I believe in a disciplined approach to investing. Starting slow is fine. I have been successful using margin thus far because of the incredible strength of the market. I know that if a large correction ensues, my losses will be magnified due to leverage on the downside. I am also afraid that the current market is 'long in tooth' so to speak and that a significant correction may well be overdue. If I believed strongly in margin, then I would have gone full speed ahead and bought my 21st to 25th postions. But my own comfort level on this has been exceeded.
Here is a comment from another article on the causes of the 1929 crash:
"The Crash of 1929

On September 4, 1929, the stock market hit an all-time high. Banks were heavily invested in stocks, and individual investors borrowed on margin to invest in stocks. On October 29, 1929, the stock market dropped 11.5%, bringing the Dow 39.6% off its high.

After the crash, the stock market mounted a slow comeback. By the summer of 1930, the market was up 30% from the crash low. But by July 1932, the stock market hit a low that made the 1929 crash. By the summer of 1932, the Dow had lost almost 89% of its value and traded more than 50% below the low it had reached on October 29, 1929.

Causes of the Crash:

Overvalued Stocks. Some analysts also maintain stocks were heavily overbought;

Low Margin Requirements. At the time of the crash, you needed to put down only 10% cash in order to buy stocks. If you wanted to invest $10,000 in stocks, only $1,000 in cash was required;

Interest Rate Hikes. The Fed aggressively raised interest rates on broker loans;

Poor Banking Structures. There were few federal restrictions on start-up capital requirements for new banks. As a result, many banks were highly insolvent. When these banks started to invest heavily in the stock market, the results proved to be devastating, once the market started to crash. By 1932, 40% of all banks in the U.S. had gone out of business.

In total, 14 billion dollars of wealth were lost during the market crash."
I hope that this discussion answers your questions on margin. I really believe that most investors would do well avoiding margin entirely. It is far better to start investing slowly, saving regularly, and building your portfolio over time. It will grow quick enough without the added risk of margin and the costs associated with debt.
Thanks so much for writing. I appreciate your loyalty and continued participation on this website and look forward to your and everyone else's comments and questions! If you would like to add a comment or question, please feel free to leave them on the blog or email me at bobsadviceforstocks@lycos.com.
Bob
Posted by bobsadviceforstocks at 5:43 PM CDT |
Post Comment
|
Permalink
Updated: Saturday, 2 June 2007 6:58 PM CDT