Quality Systems (QSII) and Robbins & Myers (RBN) "Trading Transparency"
Hello Friends! Thanks so much for stopping by and visiting my blog, Stock Picks Bob's Advice! As always, please remember that I am an amateur investor, so please remember to consult with your professional investment advisers prior to making any investment decisions based on information on this website.

One of the strongest stocks in my portfolio the past two months has been Quality Systems (QSII). After purchasing this at a cost basis of approximately $38.18 just last month on August 8, 2008, the stock has moved sharply higher. QSII closed today at $44.89, well above my purchase price, but down $(2.15) or (4.57)% on the day.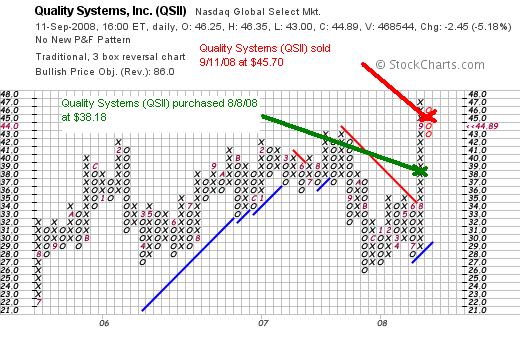 Earlier today, with the market turning higher after a sell-off, I found myself seeing QSII moving sharply lower, lagging the rest of the portfolio.
Although the fundamentals remain sound, I am quite aware of my overall performance and my 'followers' over at the Covestor Website, and my desire to continue to tightly monitor my holdings.
I went ahead and sold my 182 shares of Quality Systems (QSII) at $45.70/share. As I have just written, these shares were purchased 8/8/08 at an average cost of approximately $38.18. Thus, the sale today represented a gain of $7.52 or 19.7% on these shares in just over a month.
I can live with that I guess.
Since I have sold my shares and there are no underlying fundamental change that I can detect to the company itself, I am still reducing my rating but not to a "sell":
QUALITY SYSTEMS (QSII) IS RATED A HOLD
But what to do with the proceeds? I really wasn't entitled to 'sit on my hands' and move it to cash. So needing a new position, I checked the list of top % gainers on the NYSE to see what was moving higher today.

Checking the list of top % gainers on the NYSE, I came across Robbins & Myers (RBN) which appeared to fit the bill. I purchased 210 shares of RBN at $38.169 earlier today. The stock actually sold off a bit after my purchase and dropped off the list of top % gainers. Robbins & Myers (RBN) closed at $37.63, up $2.05 or 5.76% on the day. This was about $.50 below my purchase price.
ROBBINS & MYERS (RBN) IS RATED A BUY
Let me briefly try to share with you my thinking behind this purchase.
First of all what exactly does this company do?
According to the Yahoo "Profile" on RBN, the company
"...and its subsidiaries supply engineered equipment and systems for various applications in energy, industrial, chemical, and pharmaceutical markets worldwide."
Perhaps coincidentally, the company sounds a bit familiar with another company that I recently sold--Graham (GHM).
Was there any news to explain today's move higher?
As reported yesterday:
"BB&T's investment upgrade helped the stock jump up $4.09 per share to $35.72 during Wednesday afternoon trading.

Robbins & Myers (NYSE: RBN) is an industrial equipment maker that had seen its stock raise throughout the summer, to a high of $54.20 per share on July 22, but then plummet to $31.63 as of yesterday."
Apparently, the analysts at BB&T Capital Markets felt that the selling had been 'overdone' so they upgraded the stock on valuation and the stock moved higher yesterday and followed through again today.

(It is interesting that we can see these two stocks (GHM and RBN) trading similarly the past month!)

Anyhow, hoping that this bounce would be a bit longer-lasting than 48 hours, I purchased shares. Wish me luck! I certainly also looked at some of the fundamentals that I like to check before purchasing any shares!
For example,
How did they do in the latest quarter?
On June 30, 2008, Robbins & Myers (RBN) reported 3rd quarter 2008 results. Sales for the quarter grew 17% to $201 million compared to $171.4 million in the same period the prior year. Third quarter earnings before one time benefit from product line sales, came in at $40 million, up 47% over the prior year. This worked out to $.76/diluted share, up from $.39/share last year.

The company also beat expectations for the quarter and also raised guidance for the fiscal-year profit outlook.
What about longer-term results?
Checking the Morningstar.com '5-Yr Restated' financials, we can see that revenue has steadily increased from 2003 when the company reported $561 million in sales to 2007 at $695 million and $766 million for the trailing twelve months.

Earnings have been much more erratic dipping from $.51/share in 2003 down to a low of a loss of $(.66)/share in 2006, reverting to a profit at $1.48/share in 2007 and $2.19/share in the TTM.

The company paid $.11/share in dividends in 2003, increased it to $.13/share in 2007 and now has paid $.14/share in the TTM.

Outstanding shares show mild dilution with 28 million reported in 2003, increasing to 34 million in 2006 where they remain. Free cash flow has been increasing recently from $6 million in 2005 to $49 million in 2007 and $87 million in the TTM.

The balance sheet appears adequate with $92 million in cash and $294 million in other current assets. This total of $386 million in current assets, when compared to the $196.5 million in current liabilities yields a current ratio of 1.96. The company has an additional $155.5 million in long-term liabilities according to Morningstar.
What about some valuation numbers on this stock?
According to the Yahoo "Key Statistics" on RBN, this stock is a mid cap stock with a market capitalization of $1.3 billion. The trailing p/e is a moderate 17.15 with a forward p/e (fye 31-Aug-09) even nicer at 14.93. With rapid growth in earnings, the PEG (5 yr expected) works out to an even nicer level of 0.62.

Examining the Fidelity.com eresearch website for some valuation numbers, we find that the Price/Sales (TTM) is a bit rich relative to its peers, coming in at 1.60 with an industry average currently indicated at 1.07. Also, when measured by the Return on Equity (TTM), the company is valued a bit steeply relative to its peers with a ROE of 16.97% compared to the industry average of 20.79%.

Finishing up with Yahoo, we can see that there are only 34.62 million shares outstanding with 33.71 million that float. Currently (8/12/08) there are 2.23 million shares out short representing 3.8 trading days of volume. This is just slightly higher than my own '3 day rule' for short interest.

Yahoo indicates that the stock is paying a 12 month $.15/share dividend yielding 0.5%. The company last split its stock February 29, 2008, when they split 2:1.
What does the chart look like?
Looking at the 'point & figure' chart on RBN from StockCharts.com, we can see the steady appreciation from a low of $6.50 in April, 2003, to a recent high of $55 in July, 2008, only to see the stock dip as low as $32 this month. The stock is currenly rebounding from the recent low. The overall upward move of this stock appears intact.

Summary: What do I think?
First of all, I exercised impatience with Quality Systems (QSII) which has already moved nicely higher this past month. I still like that stock, but wanted to see if I could avoid the apparent sell-off and instead hop onto a stock moving higher.

Time will tell if this particular strategy will be successful. It is not exactly part of my usual portfolio strategy, but is something I have been incorporating into my approach the past few months.

Regarding Robbins & Myers, it has suffered the same fate as Graham (GHM) which is the decline that is related most likely to the sharp correction in the oil market. If those prices continue to decline further, I may find myself with another declining stock like Graham. That probably is the biggest risk to this particular move.

Otherwise, I like the stock upgrade, the recent quarterly report that beat expectations and found the company raising guidance. Furthermore, I like the 5-Yr Restated financials showing the steady revenue growth, the recent return to profitability, the fact that the company pays a dividend and has been increasing it recently and the nice results for free cash flow growth. The balance sheet appears solid and valuation is reasonable if not terrific. The PEG is well under 1.0. And the chart shows that the sharp recent correction may well be overdone.

Beyond that, I shall certainly limit any downside on this stock or any of my purchases to (8)%. Hopefully, I shall be able to miss that decline and instead particiapate in the rebound in price.
Thanks again for visiting. I apologize for not blogging more, but I shall do my best to continue to post on a timely basis. If you have any comments or questions, please feel free to leave them on the blog or email me at bobsadviceforstocks@lycos.com.
If you get a chance, be sure and visit my Covestor Page, my SocialPicks page, and my Podcast Page. Hopefully I shall be able to get another podcast up soon. Life as an amateur can be hectic :).
Yours in investing,
Bob