"Looking Back One Year" A review of stock picks from the week of November 24, 2003

Hello Friends! Thanks so much for stopping by and visiting my blog,
Stock Picks Bob's Advice
. This is the entry that I like to do to review in a methodical fashion all of the stock picks I have posted on this Weblog. Please remember, like always, that I am an amateur investor. So consult with your professional investment advisor before making any investment decisions based on information on this website! If you have any questions, comments, or words of encouragement, please feel free to email me at bobsadviceforstocks@lycos.com .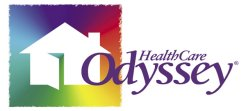 The first stock I posted on Stock Picks that particular week was Odyssey Healthcare (ODSY). I
posted Odyssey (ODSY)
on November 24, 2003, at a price of $35.94. ODSY closed at $12.11 on 1/14/05, for a loss of $(23.83) or (66.3)%.
On November 1, 2004
ODSY reported 3rd quarter 2004 results
. Net patient revenue for the third quarter of 2004 ended September 30, 2004, actually jumped 23.1% to $87.5 million, compared to $71.0 million the prior year. Net income for the quarter was $9.0 million, a 14.7% increase over the $7.8 million the prior year. On a per diluted share basis, this came in at $.24, a 14.3% increase over the $.21 in the same quarter in 2003. Overall, not too bad results.
However, if we look at the ODSY
Point & Figure chart from Stockcharts.com
, the graph still looks awful.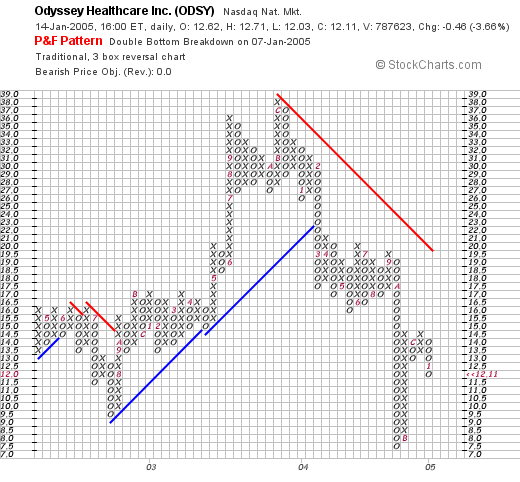 The stock broke down in February, 2004, when it broke through a support level at around $23 and has traded lower since. It actually is significantly off its lows of $7.50 which it reached in October, 2004. I would like to see the stock above $19.50 to feel it might be reversing its downward trend.



On November 26, 2003, I made the second post of the week and posted H&R Block (HRB) on Stock Picks at a price of $53.41. HRB closed at $47.34 for a loss of $(6.07) or (11.4)%.

On November 23, 2004, HRB reported 2nd quarter results. Revenues for the quarter ended October 31, 2004, came in at $539.3 million a 5.2% drop from the second quarter of 2003. In addition they reported they lost $(52.2) million or $(.32)/share compared to a loss of $(10.4) million or $(.06)/share last year. To top off this dismal report, HRB lowered its expectations for earnings for the year to $3.50 to $4.00/share from $4.00 to $4.25/share previously provided as guidance.

You can imagine how the stock responded! Looking at a Point & Figure on HRB from Stockcharts.com, we can see how the stock seemed to be moving higher from its lows in December, 2002, at around $29.00 to a high of $60 in February, 2004. However it broke through support in October 2004, and has been under the support line since.
Overall, a fair chart, but not very encouraging to me!

So how did we do? In a word, lousy. The week of November 24, 2003, I picked two stocks on this blog: ODSY which is now down (66.3)% and HRB which is down (11.4)% for an average loss of (38.85)%. So what does this prove? First of all, that this "system" of picking stocks is no less fallible than the next one and that is why you should consult with your advisors! Next, it shows the importance, imho, of NOT letting your losses run, and instead, cutting them short. I use an 8% stop in my trading and I would suggest that every investor have some sort of loss limit when they make a decision to buy a stock.

We have had many outstanding weeks on Stock Picks, but this one I would rather forget!

Thanks so much for stopping by! Please leave your comments right here on the blog or drop me a line at bobsadviceforstocks@lycos.com if you have any questions or comments.

Bob


Posted by bobsadviceforstocks at 10:20 AM CST |
Post Comment
|
Permalink
Updated: Saturday, 15 January 2005 10:23 AM CST