January 10, 2005 Pilgrim's Pride (PPC)
Hello Friends! Thanks for stopping by and visiting my blog,
Stock Picks Bob's Advice
. Maybe I am just getting "chicken" today after all of the sell-off's in the NASDAQ, but I have got a poultry producer to present!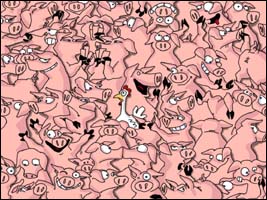 (If things are slow today for you, maybe you can "find the chicken"...a twist on the "find Waldo" series my kids grew up with.) As always, please remember that I am an amateur investor, so please consult with your professional investment advisors prior to making any investment decisions based on information on this website. If you have any questions or comments, please feel free to email me at bobsadviceforstocks@lycos.com.

Pilgrim's Price (PPC) is having a great day today in the market, trading at $32.52, up $3.32 or 11.37% as I write, and making it to the
list of top NYSE % gainers
. According to the
Yahoo "Profile"
, PPC "...is a producer of poultry in both the United States and Mexico. In the United States, the Company produces both prepared and fresh chicken and turkey, while in Mexico it produces fresh chicken."
What drove the stock higher, was the
report from PPC
in which it raised earnings estimates for the 1st quarter 2005. Upward revisions of earnings are a very bullish indicator imho!
On November 8, 2004, Pilgrim's Pride
reported 4th quarter 2004 results
. For the quarter ended October 2, 2004, net sales came in at $1.5 billion, up from $709 million the prior year. Net income per diluted share climbed to $1.09/share, up from $.61/diluted share in 2003. These results are NOT "chicken-feed"!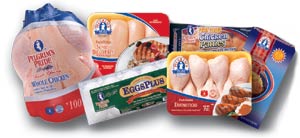 How about longer-term? Taking a look at the
"5-Yr Restated" financials from Morningstar
, we can see the steady revenue growth from $1.5 billion in 2000 to $5.4 billion in the trailing twelve months (TTM).
Earnings, however, have been a bit erratic, dropping from $1.27 in 2000 to a low of $.35 in 2002. However, they have climbed steadily since, with $2.05 reported in the TTM.
Free cash flow has also been growing nicely with $18 million reported in 2002, increasing to $193 million in 2004.
The balance sheet is basically solid imho, with $38.2 milion in cash and $979.1 million in other current assets, balanced against $633.5 million in current liabilities and $689.5 million in long-term debt.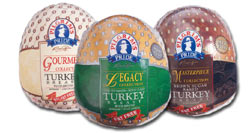 How about valuation? This is a "large" mid-cap stock with a market cap of $2.18 billion. The trailing p/e is nice at 16.58, and the forward p/e is even prettier at 11.24 (fye 2-Oct-06). The PEG (5-Yr estimated) is 1.25, and the Price/Sales is even more reasonable at 0.36.
Yahoo reports 66.56 million shares outstanding with 40.60 million that float. Of these, there are 3.31 million shares out short as of 12/8/04, representing 8.16% of the float. These are significant, with a short raio of 4.359. The number of shares out short dropped by a million between November and December...so many of the short sellers are covering their previously based bets on a decrease in the stock price!
How about "technicals"? If we take a look at a
Point & Figure Chart from Stockcharts.com
, we can see what appears to be a very stong chart since about March, 2003, when PPC was trading at around $7.00/share, until today, where it currently trades at $32.61.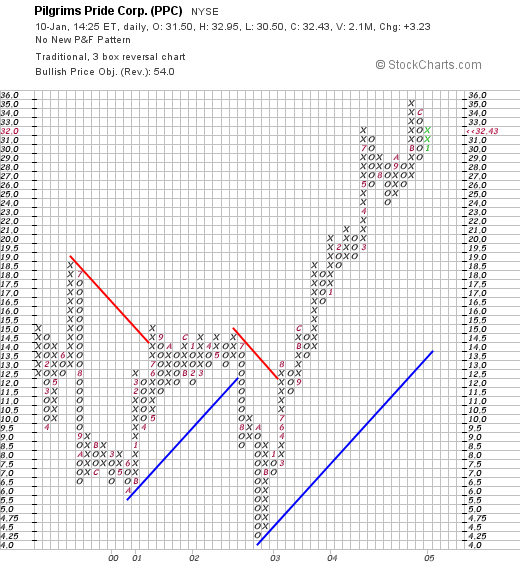 The stock chart looks quite strong to me if not a little overextended.

So what do I think?
I think this stock is a very interesting proposition if you want to "play chicken". Ugh. Terrible pun. But seriously, the latest quarterly report was strong, the company is raising estimates, the earnings have been solid the last few years, the balance sheet is great, and valuation is reasonable. And while we are at it the chart looks quite strong. By the way, I do not own any shares of PPC nor do I have any options. Now, if I could just GET a signal from my portfolio to add a position....well you know how that goes!

Thanks again for stopping by! Please feel free to email me at bobsadviceforstocks@lycos.com or leave a message right here on the blog if you have a question or comment.

Bob