Introducing a New Discussion: "Weekend Trading Portfolio Analysis"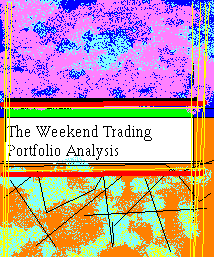 Hello Friends! Thanks so much for stopping by and visiting my blog,
Stock Picks Bob's Advice
. As always, please remember to consult with your professional investment advisors prior to making any decisions based on this website as I am just an amateur investor who likes to write and share ideas about stocks!
Much of my time spent on this blog is devoted to presenting ideas on stocks, most of which I never have purchased. Alongside this, I like to tell you about the stocks that I actually buy, sell, hold, make money and lose money on! Since I spend some time each weekend looking at past ideas, I thought it might be helpful to review what has
actually
happened in my own trading account, which consists of stocks I have selected from the vast numbers discussed here.
What I would like to try to do is to go alphabetically through my trading account, discussing one stock each week, reviewing my trading history, looking at current charts, and noting what action I may soon be taking. This will help you understand what I actually own and what I am just discussing.

The first stock to be discussed is Alliance Data Systems (ADS) which I acquired 200 shares of in my trading account on 6/16/05 at a cost basis of $39.10. ADS closed on 8/25/05 at a price of $41.79, for an unrealized gain of $2.69/share or 6.9%. I have not sold any portion of this stock, and am waiting either for a 30% gain on the upside, or an (8)% loss on the downside to be selling. I shall sell the entire position on the downside, but only 1/4 of my shares (50 shares) at that first sale point.
I first
posted Alliance Data Systems (ADS) on Stock Picks
on 8/1/03 when it was trading at $28.45. Thus, the stock has appreciated $13.34/share or 46.9% since I first mentioned it on the blog, but actually only 6.9% since I purchased it only a little over two months ago.
According to the
Yahoo "Profile" on ADS
, the company "...and its subsidiaries provide transaction services, credit services, and marketing services in North America."
On July 20, 2005, ADS
announced 2nd quarter 2005 results
. For the quarter ended June 30, 2005, revenue increased 24% to $370.6 million compared with $299.7 million last year. Net income climbed 23% to $34.4 million or $.40/diluted share up from $28.0 million, or $.33/diluted share the prior year. In addition, the company guidance for 2005 for earnings from $1.87-$1.90 to $1.92-$1.95/share.
Checking the
Morningstar "5-Yr Restated" financials
, we can see a picture of steady revenue growth from $0.7 billion in 2000 to $1.4 billion in the trailing twelve monts (TTM). Earnings have increased from $.31/share in 2002 to $1.34 in the TTM.
Free cash flow has been solid if not consistently increasing, but has increased from $80 million in 2002 to $242 million in the TTM.
The balance sheet looks good with $100.4 million in cash and $508.5 million in other current assets, easily covering the $475.7 million in current liabilities and making a small 'dent' in the $753.0 million in long-term liabilities.
Looking at
Yahoo "Key Statistics" on ADS
, we find that this is a large cap stock with a market capitalization of $3.49 billion. The trailing p/e is a little rich at 31.30, but the forward p/e (fye 31-Dec-06) as estimated is nicer at 18.66. The PEG (5 yr expected) is a bit over 1.0 at 1.37.
Looking at Fidelity.com for research, I found that ADS is in the "Information/Delivery Svcs" Industry, and the Price/Sales ratio at 2.5 is priced midway in the group with FactSet Research (FDS) top at 5.5, Jupitermedia (JPM) also at 5.5, followed by ADS at 2.5, PROQUEST (PQE) at 2.0, and DST Systems (DST) at 1.7. Thus, valuation related to this parameter is also reasonable.
Looking at other statistics from Yahoo, we find that there are 83.6 million shares outstanding. As of 5/10/05 there were 2.35 million shares out short, representing 2.90% of the float or 2.5 trading days.
No cash dividend and no stock dividends are reported on Yahoo.
What about a chart? Taking a look at an updated
"Point & Figure" chart on ADS from Stockcharts.com
: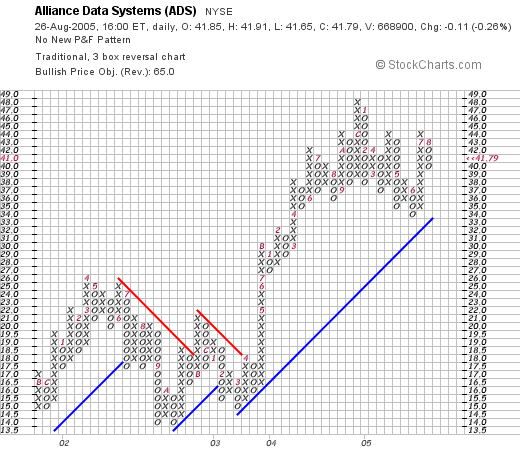 The chart looks strong, having broken through resistance in April, 2003, and has headed higher since passing through this $17 level. The chart appears to be moving higher without being 'over-extended'. (imho).
So what do I think? Well, this is a stock in my trading portfolio that I actually own. Latest quarter was strong with raised guidance. The Morningstar.com also looks strong, and valuation is reasonable if not cheap. The chart also looks steady.
Thus, I shall be holding on to this stock until it hits that 30% target on the upside (around $50.83), or I shall be unloading all of my shares at the (8)% loss level (around $35.97). Hopefully it is the former!
I hope this new review is helpful to you in knowing both what the stocks I actually own are, and hearing about so many other possibilities equally worthwhile!
Drop me a line at bobsadviceforstocks@lycos.com or leave your comments or questions right here on the blog!
Bob
Posted by bobsadviceforstocks at 9:52 AM CDT |
Post Comment
|
Permalink
Updated: Sunday, 28 August 2005 10:43 AM CDT