June 28, 2004 Aeroflex, Inc. (ARXX)
Hello Friends! I had a very busy Monday, so am getting around to updating the blog this evening. I sure am glad you all stopped by to visit. Please remember that while I may give you some ideas as "food for thought", I am an AMATEUR investor, so please do your own investigation on all investments discussed on this website, and PLEASE consult with your investment advisors to make sure that any investment decision you may make is appropriate and timely for you!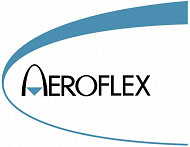 For those of you who are NOT familiar with my techniques, I will try to review what I am doing as I post this new stock idea. My first step, usually while the market is open, is to peruse the list of greatest percentage gainers. I have found, as you can see from the previous post on NOIZ, that stocks over $10 work best for me and that lower-priced stocks are too volatile to hang onto...at least with what I am doing. Today, I came across Aeroflex (ARXX), which IS a bit of a low priced stock, and which closed at $13.66, up $.85 or 6.64% on the day. According to the
Yahoo "Profile"
, Aeroflex "...uses its advanced design, engineering and manufacturing abilities to produce microelectronic and testing solutions. Its products are used in the aerospace, defense and broadband communications markets." I really do NOT know a lot about this particular industry....and I do NOT own any shares of Aeroflex at this time....and I cannot BUY any shares because I just sold a stock at a LOSS, so with my system, I am waiting to sell a portion of a stock at a gain...before I add to my portfolio to get back to 24 positions.
O.K., so the stock went up nicely today. "What do you do next?" you are asking. One of the first places I like to check is the latest quarterly result. This gives me an idea of the CURRENT financial health of the company. Two things that I look for is revenue growth AND earnings growth. I can usually find the latest earnings report on Yahoo...but sometimes have to search through the company's own website to get the story.
So how does Aeroflex look in regards to the latest quarterly report? Well, on May 12, 2004, ARRX
reported 3rd quarter 2004 results
. Quite frankly, the heavy use of "pro forma" and "GAAP" and "non-GAAP" qualifiers DOES make me a bit concerned. Using GAAP numbers (Generally Accepted Accounting Practices), is preferable to me. These are the tougher numbers to report. For ARRX, for the quarter ended March 31, 2004, revenue or "Net sales" as they report came in at $116.8 million compared to $72.5 million the prior year. That's great! Net income came in at $5.9 million vs $2.9 million the prior year. That's great too. And on a fully diluted basis, the important way to look at per share results, this came in at $.08/share this year vs. $.05/share in 2003. This is also terrific results in my opinion. So ARRX has "passed" the latest quarter results test as I put it!
Next, my routine is to go over to
Morningstar.com
and check out the "5-Yr Financials" which give me some important fundamental data on each stock.
The
ARXX 5-Yr Restated financials
give me information on stocks with views on revenue growth, earnings growth, dividend payments, free cash flow, and the balance sheet. ARXX shows nice, if not perfect, numbers in these departments.
First revenue growth history. This is visually apparent by looking at the series of bar graphs which show an almost uninterrupted growth in revenue (except for the dip of 2002) from $160.4 million to the $386.5 million in the TTM (trailing twelve monts.)
Earnings have been quite inconsistent dropping from $.20/share in 1999 to $.07/share in TTM. No dividend is paid.
Next step is cash flow. I like to review the "Free cash flow" which as Morningstar shows, is calculated by subtracting "Capital Spending" from the "Operating Cash Flow". For ARXX, we can see that they had $34 million in free cash flow in 2001, $10 million in 2002, $15 million in 2003, and $18 million in the TTM. It is important for me to see that the recent free cash flow is positive and it is an added plus, in my opinion, if the TREND of the cash flow is positive as well...that is that the cash flow is GROWING. ARXX passes this review nicely.
How about the balance sheet? "What do you do with that?" you are asking. I am NOT an accountant. In a simple fashion, which IS the level that I understand a lot of these numbers, I think it is important to see MORE assets than liabilities. And breaking this down into current and long-term amounts, it is crucial that the current assets...those that are readily available, are greater than current liabilities. Thus for ARXX, the $9.9 million in cash and the $210.7 million in "other current assets" greatly outweighs the $81.1 million in current liabilities, and actually is enough to pay off the moderate $52.3 million in long-term debt as well.
Thus, except for the income figure, which was just fine in the latest quarter, the numbers look very good on Morningstar.com to me.
"What do you check next?" you may be asking. Usually at this time I like to look a little at "valuation". O.K., I am not EXACTLY a value investor am I? But why not look at value when thinking about a stock? For this, I usually turn to "Key Statistics" on Yahoo.com. The
"Key Statistics" on Aeroflex
show that the "Market Cap" is currently at $1.01 billion. I have to admit that I often have to look up
"Market Capitalization Defined"
, which from the Investopedia.com website, defines "Micro Cap" as between $50 to $300 million, "Small Cap" between $300 million and $2 billion, "Mid Cap" between $2 billion to $10 billion, "Large Cap" between $10 and $200 billion, and "Mega Cap" (a new term to me!) as over $200 billion.
So we can see that at $1.01 billion, according to this source, ARRX is a "Small Cap" stock.
What about the p/e? For ARRX this comes in at 76.31, which is pretty darn high...but the forward p/e, estimating the p/e based on current price and future earnings, is much better at 23.15 for the fiscal year ending 30-Jun-05. This is reflected in the PEG which at 1.45, isn't really too high. A good number is in the 1.00 range, meaning that the ratio of the p/e and the growth rate was about 1.0. The PEG is a nice way to value a growth stock...but it IS based on future estimates, which can be only as good as the analyst that provides the estimate.
At this point, I usually check the number of shares outstanding and the number that float. ARRX has 74.21 million shares outstanding and 72.20 million of them float. I also am interested in the "Shares Short" which as of 5/10/04 was standing at 2.37 million shares. Is that a lot? Well, in my humble opinion, the important number for this question is the "Short Ratio" which as of 5/10/04 was standing at 2.442. This means that it would take 2.442 days worth of current daily trading volume for the short sellers to "cover" their shorts, that is to buy back the borrowed shares that they have sold. When the short interest starts getting over 3.0, in my opinion, this means that there is an increased chance of seeing a "short squeeze" that is an almost panic to purchase shares to cover the shorts in the face of good news (!) and a climbing stock price. (Both of these events are bad as a rule for short-sellers.)
Finally, I like to see if there is a dividend (no), and if the stock recently split. Here Yahoo reports that ARRX last split 2:1 in November, 2000.
Lately, I have been using graphs to get me a picture of the trading activity. I like to use Point and Figure charts on
Stockcharts.com
. Over the last couple of years, I have grown to like these charts...if you would like you can read or order a GREAT book by Thomas J. Dorsey on this subject:
"Point and Figure Charting: The Essential Application for Forecasting and Tracking Market Prices, 2nd Edition" by Thomas J. Dorsey
. Anyhow, this is the ARRX chart: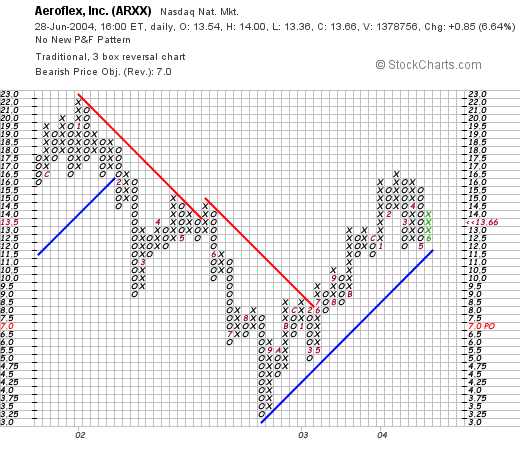 Here we can by the columns of "climbing x's" and "descending O's" that the stock was trading lower between January, 2002, and September,2002, after which it has steadily been rising from the $3.00 range to the current $12.00 level. The graph looks reasonably strong to me as long as it stays above it's "support level" which is outlined in blue. That is my simple understanding of graphing :).

So what do I think, now that I have perused all of this data? Well, the stock made a nice move today, its latest quarterly report was very strong, the 5-yr results on Morningstar are impressive, except for the earnings which have been erratic, the free cash flow is positive and improving and the balance sheet looks quite clean.

Valuation-wise, the p/e is steep but the stock is expected to grow so quickly that the PEG is only about 1.5. There are a lot of shares out but not many are sold short. And the technicals look encouraging.

This IS the kind of stock I might buy....but as I have said many times, I am limited in my trading strategy to 25 positions, have 23 so room for two more, but am waiting to ADD a new position until such time as I SELL a portion of a position at one of my set goals. That is my strategy, you may choose to do something completely different!

I hope all of this discussion is helpful to you! Please let me know if you like it, by emailing me at bobsadviceforstocks@lycos.com with your comments and questions!

Thanks again for stopping by and please come back and visit again!

Bob


Posted by bobsadviceforstocks at 3:05 PM CDT |
Post Comment
|
Permalink
Updated: Monday, 28 June 2004 9:47 PM CDT