Williams-Sonoma (WSM)
Hello Friends! Thanks so much for stopping by and visiting my blog Stock Picks Bob's Advice! As always please remember that I am amateur investor, so please remember to consult with your professional investment advisers prior to making any investment decisions based on information on this website.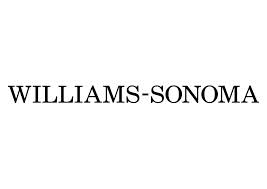 On May 21, 2014, I purchased shares of Williams-Sonoma at $63.80/share for my Covestor Growth and Momentum model. WSM closed at $71.87 on June 27, 2014 for a nice gain in a relatively short holding period.
This stock is an 'old favorite' of mine here on this blog as I first wrote it up on August 25, 2004, nearly ten years ago (!) when it was trading at $34.64. In retrospect it might appear that I had made a brilliant selection, but in reality the stock nearly collapsed into the 2008 financial mess bottoming at approximately $4.00/share November, 2008 as the following StockCharts.com 'point and figure' chart shows.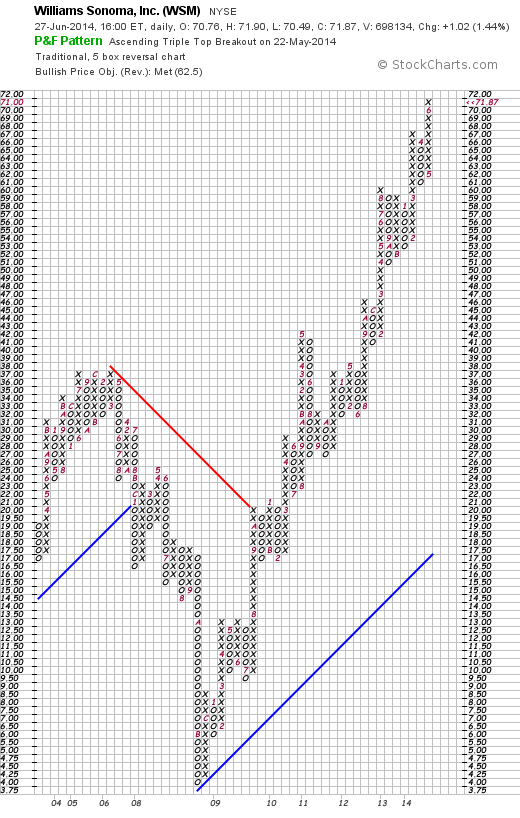 Most of us are quite familiar with Williams-Sonoma (WSM) which may be found in many high-end malls with their clever and expensive gadgets that make Espresso or Waffles or process food with the many clever devices and utensils. They also operate the Pottery Barn brand. As the Yahoo.com profile describes them, the company
"...operates as a multi-channel specialty retailer of home products. The company operates in two segments, Direct-to-Customer and Retail. It offers cooking, dining, and entertaining products, including cookware, tools, electrics, cutlery, tabletop and bar, outdoor, furniture, and a library of cookbooks essentials under the Williams-Sonoma brand; furniture, bedding, bathroom accessories, rugs, curtains, lighting, tabletop, outdoor, and decorative accessories under the Pottery Barn brand; and products designed for creating magical spaces where children can play, laugh, learn, and grow under the Pottery Barn Kids brand. The company also provides an assortment of products, including furniture, bedding, bathroom accessories, rugs, curtains, lighting, decorative accessories, dinnerware, kitchen essentials, and gifts under the West Elm brand; and a line of furniture, bedding, lighting, decorative accents, and others for teen bedrooms, dorm rooms, study spaces, and lounges under the PBteen brand. In addition, it offers lighting and home-goods product lines, including lights, hardware, furniture, and home décor that span periods back to the 1870s; and women's and men's accessories, small leather goods, jewelry, key item apparel, paper, entertaining and bar, and home décor, as well as seasonal items under the Mark and Graham brand. The company markets its products through e-commerce Websites, direct mail catalogs, and specialty retail stores."
What really grabbed my attention wasn't the gadgets, the stores, the Peter Lynch part of investing, but simply the outstanding fundamental and technical performance of the stock. On May 21, 2014, WSM announced 1st quarter 2014 results. First quarter revenues increased 9.7% to $974 million vs $888 million in the prior year same period. Operating income increased 16.5% to $74 million and operating margin increased to 7.6% compared to 7.2% the prior year same period. Earnings for the quarter increased 20% to $.48/share. Expectations for the quarter of $.44/share were easily surpassed.
Total same-store sales growth increased by 10% in a somewhat anemic retail environment. For the full year WSM guided to same-store sales growth in the 5% to 7% range---still an impressive number.
I do not believe that stocks should be purchased on the basis of a single great quarter if everything else isn't also 'in line'. It is important to identify those companies that perform well quarter after quarter IMHO. Let's take a look at the Morningstar.com '5 Years Financials' on Williams-Sonoma (WSM). Revenue has steadily increased from $3.1 billion in 2010 to $4.39 billion in 2014 and $4.47 billion in the trailing twelve months (TTM). Net income has also steadily increased from $77 million in 2010 to $279 million in 2014 and $286 million in the TTM. Diluted earnings per share have also steadily increased from $.72/share in 2010 to $2.82/share in 2014 and $2.92/share in the TTM. Meanwhile outstanding shares, which did increase from 107 million in 2010 to 110 million in 2011 have subsequently been decreasing each year to 99 million in 2014 and 98 million in the TTM.
Taking a quick look at the Balance Sheet on Morningstar, we can see that Total current assets total $1.42 billion, with Total current liabilities coming in at $861 million for a healthy current ratio of 1.65. Free cash flow remains positive but has fluctuated with $418 million in 2010 dipping to $159 million in 2013 with $259 million reported in the TTM.
What about valuation? Is Williams-Sonoma (WSM) still priced at a level worth considering a new committment of funds?
According to the Yahoo "Profile" on WSM, this company has a market cap of $6.76 billion making it a 'mid cap' stock. The trailing P/E is a moderate 24.49, not what I would call 'cheap' but then again not bad considering its current financial performance. Thus the Forward P/E (fye Feb 2, 2016) is estimated at 19.69 with a PEG Ratio (5 year expected) a tad rich for me also at 1.63 but really not excessive from my amateur perspective.
According to Yahoo WSM has 94.1 million shares outstanding with a float of 81.8 million. As of May 31, 2014, there were 4.00 million shares out short, a bit of a significant short interest ratio--using my own arbitrary 3 day rule for significance. The company pays a forward dividend of $1.32/share (up from $1.26 in the trailing 12 months--in itself a positive finding) with a forward estimated yield of 1.9%. The company has a payout ratio of 43%. The company has been increasing its dividend regularly for at least the last 8 years. Williams-Sonoma last split its stock with a 2:1 split back on May 10, 2002.
To summarize, there are so many different reasons I find this stock very attractive. Besides the intuitive delight in visiting their main chains of Pottery Barn and Williams-Sonoma stores, the company reported a solid quarter and raised guidance for the year (although it did express cautious guidance for the 2nd quarter), they have been executing well for the past five years. Valuation isn't cheap but it is reasonable. Technically the stock is firing on all cylinders. To top it off I love their waffle irons :).
Thanks so much for stopping by and visiting my blog! If you have any comments or questions, please feel free to leave them here.
Yours in investing,
Bob