Skyworks Solutions (SWKS)
Hello Friends! Thanks so much for stopping by and visiting my blog, Stock Picks Bob's Advice! As always please remember that I am an amateur investor, so please remember to consult with your own investment advisers prior to making any investment decisions based on information on this website.
Five years ago, on April 15, 2009, I have been managing the Growth and Momentum Model on Covestor. Since inceptiion, this model has returned 11.4% on an annualized basis as of May 1, 2014. 2013 was a strong year for the model as it appreciated 37.8% vs 32.4% for the S&P 500. However, 2014 has not been as generous to the Covestor Growth and Momentum portfolio as it has declined (5.7)% since the first of the year. This model is composed of stocks that I have chosen that represent what I believe to be holdings that can continue to produce sustained financial results that can result in above average gains. I hold up to 20 positions in the Model and generally sell them rather quickly if they incur losses for me.

Currently, one of the stronger holdings in the portfolio is Skyworks Solutions (SWKS) that I acquired for the Model on February 12, 2014, at a cost of $30.47. SWKS closed at $41.43 on May 2, 2014, up $.18 or .44% on the day.
According to the Yahoo "Profile" on Skyworks, the company
"...together with its subsidiaries, provides analog semiconductors worldwide. Its product portfolio includes amplifiers, attenuators, battery chargers, circulators, DC/DC converters, demodulators, detectors, diodes, directional couplers, front-end modules, hybrids, infrastructure radio frequency subsystems, isolators, LED drivers, mixers, modulators, optocouplers, optoisolators, phase shifters, phase locked loops/synthesizers/VCOs, power dividers/combiners, power management devices, receivers, switches, voltage regulators, and technical ceramics. The company also offers MIS silicon chip capacitors and transceivers. It provides products for supporting automotive, broadband, cellular infrastructure, energy management, GPS, industrial, medical, military, wireless networking, smartphone, and tablet applications."
On April 22, 2014 Skyworks (SWKS) reported 2nd quarter 2014 results. As Zacks reported, they came in at $76.9 million or $.40/share in net income up from $61.7 million or $.32/share the prior year same period. Adjusted earnings were $.62/share compared to $.48 last year exceeding Zacks estimates of $.51/share.
Revenue for the period came in at $481.0 million, up 13.1% over the prior year and exceeding estimates of $470 million. In addition, the company initiated a dividend of $.11/share during the quarter and reported that they had repurchased approximately 2 million shares of stock during the period.
In addition they provided strong guidance for the 3rd quarter 2014 period in which they now expect revenue growth of 23% year-over-year and diluted earnings to show growth of 35% to $.73/share.
Interestingly, the company has a strong 'green' manufacturing effort and reported in the 2013 Sustainability Report that during the year they reduced carbon dioxide emissions by 32% and improved water efficiency by 8%.
Reviewing the Morningstar.com "5 Yrs Financials" on Skyworks, we can see that the company has been growing its revenue quickly with $803 million reported in 2009 increasing to $1.79 billion in 2013 and $1.84 billion in the trailing twelve months (TTM).
Diluted earnings per share have increased rapidly, but not quite as consistently, from $.55/share in 2009 to $1.45/share in 2013 and $1.60/share int he TTM. Outstanding shares have increased from 170 million in 2009 to 192 million in the TTM.
Morningstar, as of 9/2013 reports Skyworks Solutions with $1.07 billion in current assets as compared to $180 million of current liabilities, generating a current ratio of 5.94. Free cash flow has also been growing nicely with $171 million reported in 2009 increasing to $376 million in 2013 and $397 million in the TTM.
In terms of valuation, looking at the Yahoo "Key Statistics" on SWKS, we can see that this stock is a Mid Cap Stock with a market capitalization of $7.83 billion.
The stock is moderately priced with a trailing P/E of 25.89. However, the forward P/E drops sharply (fye Sep 27, 2014 est) to 12.99 due to rapid growth in earnings expected in the near future and thus the PEG ratio is reported at 0.87---for me a reasonable value is 1.0 to 1.5.
Yahoo reports 188.93 million shares outstanding with 187.79 million that float. As of March 31, 2014, there were 5.28 million shares out short, representing a short interest ratio of 1.60 (I personally use a 3 day short ratio to determine significance). The company, as reported above, just initiated a quarterly dividend of $.11/share--assuming a $.44/share annual rate this would result in a dividend of just over 1%. The stock last split its stock with a 2:1 split 14 years ago on April 20, 2000.
Looking at the SWKS "Point & Figure" chart from StockCharts.com, we can see that the stock price has been quite volatile with the stock trading at $14 in May, 2010, climbing to $38 in February, 2011, only to slip back to $14/share in December, 2011. Since that time, the stock has climbed, albeit somewhat unsteadily, to its current level of $41.43, exceeding the prior high with what appears to be a very bullish break-out.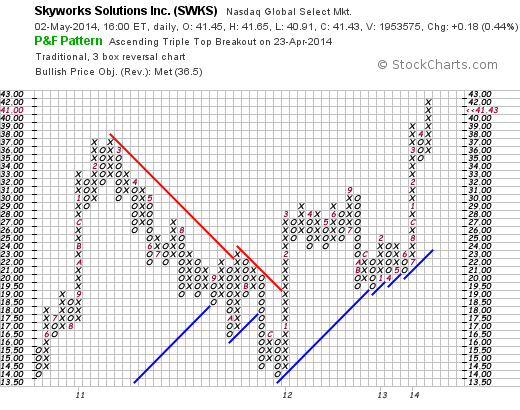 While this is certainly not a Peter Lynch style of investment, with something that I can easily understand or something my daughter might buy in the local mall, this still is a terrific stock to consider. However, with the company providing some of the 'guts' in the form of electronic components for smartphone manufacturers including Apple (AAPL) and Samsung, the intuitive part of this investment decision becomes more obvious.

Skyworks (SWKS) reported strong earnings that beat expectations. They guided to a strong quarter and they have at least a five year record of rapidly growing revenue and earnings while producing strong free cash flow and their balance sheet is impeccable. The valuation of this stock is reasonable with a forward P/E in the low teens and a PEG under 1.0. Finally the stock price is encouraging as this stock is moving higher in a relatively anemic market environment. What is there not to like?
I recently purchased shares in Skyworks Solutions (SWKS) for my Covestor Growth and Momentum Model and thus far it is working out for me. I cannot predict the stock performance or even the company performance for the future, but thus far all of the ingredients appear to be present to see this 'cake' rise a little higher!
Thank you again for stopping by and visiting my blog! If you have any comments or questions, please feel free to leave them right here.
Yours in investing,
Bob