Liquidity Services (LQDT)
Hello Friends! Thanks so much for stopping by and visiting my blog, Stock Picks Bob's Advice! As always, please remember that I am an amateur investor, so please remember to consult with your professional investment advisers prior to making any investment decisions based on information on this website.

One of the top performing stocks in my "Buy and Hold" Model on Covestor is Liquidity Services. And I believe I owe it to you the readers of this blog a few words about this holding. Liquidity Service (LQDT) closed at $46.23 today, down $(.07) or (.15)% on the day. Liquidity is a top-ranked stock on the IBD 50 published each Monday by Investor's Business Daily.
According to the Yahoo "Profile" on LQDT, the company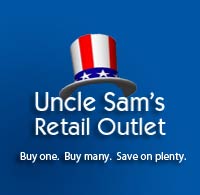 "... operates various online auction marketplaces for surplus and salvage assets in the United States. Its auction marketplaces include liquidation.com, which enables corporations and selected government agencies located in the United States to sell surplus and salvage consumer goods and capital assets...."
Recently Zacks ranked Liquidity Services as a "Buy" based on outstanding earnings reports but pointed out that the stock is far from a 'cheap' selection with PE's in the mid 30's above the industry average in the low teens.
On February 1, 2012, Liquidity Services reported that in the fiscal 2012 first quarter net income came in at $9.1 million or $.28/share, up 550% from $1.4 million or $.05/share the prior year. Revenue climbed 35% to $106 million from $.75.5 million the prior year. The company beat expectations on revenue that was expected by eight analysts polled by S&P at $102.6 million. Similarly the company beat the $.27 expected by analysts for earnings.
Reviewing the longer-term results from Morningstar.com, we can see that except for a dip between 2008 and 2009, revenue has grown strongly from $199 million in 2007 to $327 million in 2011 and $358 million in the trailing twelve months (TTM). Earnings have been erratic with $.39/share reported in 2007, climbing to $.41/share in 2008 before dipping to $.21 in 2009. Earnings rebounded to $.44/share in 2010, dipped to $.29/share in 2011 and climbed again sharply to $.54/share in the TTM. Dilouted shares outstanding has been relatively stable at 28 million shares in 2007 and 30 million in the TTM.
Morningstar reports the company with $171 million in total current assets and $60 million in total current liabilities resulting in a current ratio near 3. Free cash flow has grown nicely from $2 million in 2007 to $35 million in 2011 and $41 million in the TTM.
Looking at Yahoo "Key Statistics" on LQDT for some valuation numbers we first can see that this is a small cap stock with a market capitalization of only $1.42 billion. The stock has a very rich p/e of 86.74 but it so quickly growing that the forward p/e (fye Sep 30, 2013) is estimated at only 28.54. Thus, with the rapid growth in earnings expected, the PEG (5 yr expected) works out to a reasonable value of 1.34 despite the rich current trailing p/e!
Yahoo reports 30.65 million shares outstanding with 21.37 million that float. Currently there are 1.7 million shares out short (as of 2/29/12) yielding a short ratio of 2.90---just under my own 3 day rule for significance of short interest. The company does not pay a dividend and no stock splits are reported.
What is so attractive to me is the price chart of this stock. Like many investors who work hard to identify potential 'winners' I have come to appreciate the beauty of a stock chart like this one that shows a 3 year price appreciation from a low of $4.75/share in February, 2009, to its current levle of $46.23 with nary a correction in the movement. Here is the 'point and figure' chart on Liquidity Services from StockCharts.com: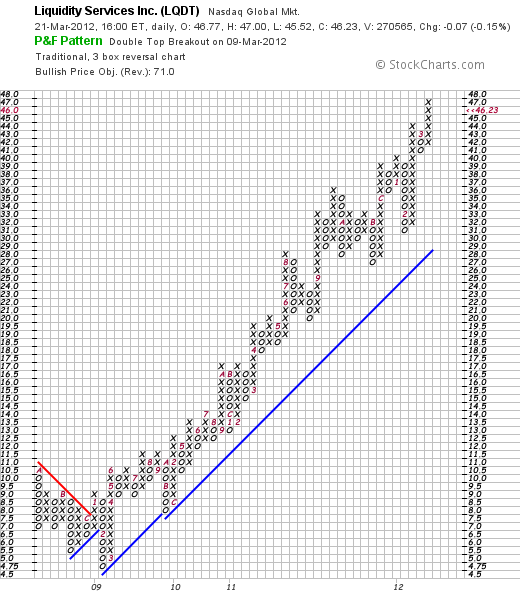 Liquidity Services (LQDT) is a star holding in my portfolio. It is richly priced in terms of trailing p/e but the PEG ratio under 1.5 suggest reasonable valuation for the sharply increasing earnings reported. The balance sheet is sound with the company reporting growing free cash flow and revenues while earnings have been less than consistent. Technically the chart is gorgeous with a 45 degree line that I like to see that starts low on the left side of the chart and higher on the right side!
Thank you again for visiting my blog! If you have any comments or questions, please leave them here. I do not post as often as I would like. But I haven't forgotten about all of you and I appreciate your continued loyalty.
Yours in investing,
Bob