AutoZone (AZO) "Revisiting a Stock Pick"
Hello Friends! Thanks so much for stopping by and visiting my blog, Stock Picks Bob's Advice! As always, please remember that I am an amateur investor, so please remember to consult with your professional investment advisers prior to making any investment decisions based on information on this website.

There have been many stocks that have been reviewed on this blog. Some of them have been purchased by me in my 'trading account' or more recently into either my Covestor "Buy and Hold Value" model or my Covestor "Healthcare" model that has allowed me to share actual trading strategies and portfolios with my readers. The rest of the posts are either about stocks that didn't do very well since writing them up (yes I have lots of those too) and the stocks that I report on, never purchase, and then later review that they like the great fish on the line, are ones that 'got away'. Autozone (AZO) is definitely a stock that has eluded me and that currently I do not own any shares.
I wrote up AutoZone (AZO) on December 4, 2007, when it had closed at $128.80. AutoZone closed at $324.02 on 10/7/11, up $1.65 on the day.
Let's take a closer look at this stock and see if it still worth including in this blog and possibly adding to an actual portfolio even after this incredible price appreciation!
According to the Yahoo "Profile" on AutoZone (AZO), the company
"...retails and distributes automotive replacement parts and accessories. The company's stores offer various products for cars, sport utility vehicles, vans, and light trucks....The company also offers commercial sales program that provides the delivery of parts and other products to local, regional, and national repair garages, dealers, service stations, and public sector accounts. In addition, it sells the ALLDATA brand automotive diagnostic and repair software through the Website, alldata.com; and automotive hard parts, maintenance items, accessories, and non-automotive products through the Website, autozone.com. As of May 7, 2011, the company operated 4,467 stores in the United States and Puerto Rico, and 261 stores in Mexico. AutoZone, Inc. was founded in 1979 and is based in Memphis, Tennessee."
As I have written and we all certainly are aware of, the economy in the United States and indeed globally is weak as we all work to get out of the worldwide slowdown. News stories abound how Americans are holding their cars longer and repairing them instead of looking for a replacement vehicle. As expected this bodes well for auto parts stores like AutoZone (AZO).
On September 20, 2011, AutoZone reported 4th quarter 2011 results. For the quarter ended August 27, 2011, the company had a 12.1% increase in profit from $268.9 million the prior year to $301.5 million. Earnings per share grew 26.9% to $7.18 from $5.66 last year exceeding analysts expectations of $6.98.
Revenue for the quarter increased 8.1% to $2.64 billion, ahead of analysts expectations of $2.61 billion. Same store sales in the U.S. increased 4.5% during the quarter.
Reviewing the Morningstar.com financials on AZO, we can see that revenue has steadily increased from $5.95 billion in 2006 to $7.36 billion in 2010 and $7.88 billion in the trailing twelve months (TTM). Earnins have also steadily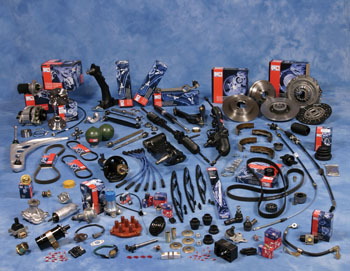 increased with $7.50/share reported in 2006 increasing to $14.97/share in 2010 and $18.18/share in the TTM. During this time outstanding shares have decreased from 76 million in 2006 to 49 million in 2010 and 45 million in the TTM.
Briefly examining the Morningstar.com balance sheet figures, we see that the latest numbers find AutoZone with $2.6 billion in current assets as opposed to $3.064 billion in current liabilities a ration under 1.0. However 'free cash flow' has been improving from $559 million in 2006 to $1.02 billion in the TTM suggesting that this deficit in current assets over current liabilities is easily managed. However, I do prefer to see companies with an excess of current assets over current liabilities and maybe AZO would be better off building its balance sheet a bit over the continued share buy back (?).
In terms of valuation, Yahoo "Key Statistics" on AutoZone shows us that the company is a large cap stock with a market capitalization of $13 billion. The trailing p/e is a moderate 16.64 but with solid growth the forward p/e (fye Aug 27, 2013) is estimated at 12.53. The dynamic growth expected from AZO results in a very reasonable PEG of 0.96.
Yahoo reports currently the company has only 40.11 million shares outstanding with a float of 27.96 million. There are 1.47 million shares out short yielding a short interest ratio of 3.70, slightly higher than my own arbitrary '3 day rule' for significance. No dividends are paid and the company last split its stock 4/21/94 when a 2:1 split was distributed.
Reviewing the 'point & figure' chart on AZO from StockCharts.com, we can see that the stock declined to a low of $136 in November, 2009, before starting its virtually meteoric climb to its current level of $324.02. If anything the fast rise of this stock suggest that it is 'overextended' but it shows remarkable strength!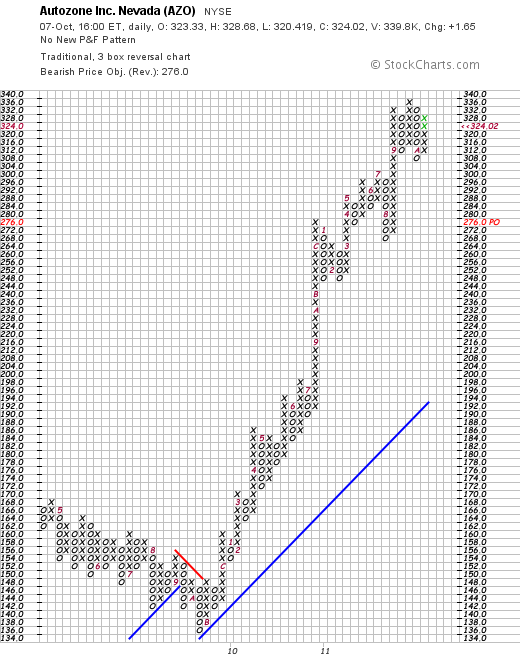 To summarize, AutoZone (AZO) has been a terrific stock (if you owned shares) the past couple of years. It may well be a retail area (auto parts) that is recession resistant. It continues to do well with a strong recent quarterly report that exceeded expectations, the stores are reporting sustainable same-store sales growth, and they are buying back shares steadily supporting the per share results as well as the stock price.
On the negative side, the company seems to have a slight dearth of cash vis a vis the current assets vs current liabililties. However, the strong free cash flow growth is easily handling this. Otherwise, technically, I am a bit afraid that I may be a bit late to the party here and would rather see this stock pull back a bit before stepping in myself. Of course, I probably said the same thing back in 2007!
Valuation isn't bad at all with a trailing p/e in the mid-teens and a PEG ration under 1.0.
Thank you again for stopping by and visiting! If you have any comments or questions, please feel free to leave them right here on the blog!
Yours in investing,
Bob