A Reader Writes "...I'm trying to figure out where to look....."
Hello Friends! Thanks so much for stopping by and visiting my blog, Stock Picks Bob's Advice! As always, please remember that I am an amateur investor, so please remember to consult with your professional investment advisers prior to making any investment decisions based on information on this website!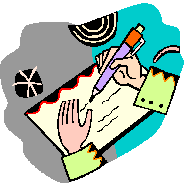 After writing about the terrible market conditions that we have been experiencing, especially the last week or two, it is nice for a change to answer a question from a new investor, a reader who also happened to visit my stock club this past month.
Mike A. is trying to figure out how I go about 'picking' stocks and where he can find the information both about my process as well as the actual data underlying my decisions.
He wrote:
"Hey Bob,

I was looking at GHM, and I'm trying to figure out where to look to
find the number of shares outstanding? That's what you look at
right? Of course that'd in addition to the other criteria
(increasing positive free cash flow, increasing dividend).

-Mike A."
Thanks so much Mike! As you may know, I have been in and out of shares of Graham (GHM) several times now. I am currently a shareholder, but with the volatility of the market, that could well change!
Let me try to briefly answer your questions. There are just a few places that I tend to go to get the information you are asking about. I shall give you the links which will be 'hyperlinked' so you just need to 'click' on the words which should be in blue or purple to get you to these pages for the information.
Let me review again with you (and the rest of the readers) some of the key things that go into my selection of a stock for inclusion in this blog and possible inclusion into my own trading account.
First of all, I start looking for stocks on the top % gainers lists. I generally stay with stocks near $10 or higher so as to avoid getting stuck with the inherent volatility (in these volatile times) of lower priced stocks. (As I got stock with Servotronics (SVT)).
From there, I check the latest quarterly results. I have personally found Yahoo Finance to be the most helpful. (Other people might prefer Google Finance which also is rich in information.)
Working with Yahoo, I enter the symbol for Graham which is the three letters GHM into the box for the "get quotes". That will get you here. To find the latest quarter, I go to the "Headlines" link along the left side of the page which is below the section head of "News & Info". Clicking on that gets you here.
Scrolling down the list of headlines, you can see the headline titled on "Fri, Aug 1, 2008" "Graham Corporation Reports Net Income More Than Doubles on 38% Increase in Sales for First Quarter Fiscal 20009"....a Business Wire story which is found here. It certainly was a strong report from my perspective. You can peruse it further to see if there is anything in that story that should have drawn my attention.
Going back to your question. I then look for data. Most of the data can come from my longer-term view which I find on Morningstar.com. If you click on the "Direct to Morningstar.com" or simply wait, it will open up a page that looks like you need to register. You don't.
Up towards the upper left on the page under the Morningstar logo, is an empty field where you can enter symbols for "Quotes". Enter GHM there and you will get to this page. (You can close the annoying pop-up for the Economist Magazine).
Now head over to the "Financial Statements" section by clicking on those words along the left side of the page in the box of terms headed up by "Snapshot". If you click on "Financial Statements" it should get you here.
You should be looking at the "10-Yr Income" for Graham (GHM). I find the "5-Yr Restated" the easiest to utilize....at least for me. You can find that page by looking at the tabs above the blue bargraphs with the yellow background titled "5-Yr Restated". If you click on that page, it should get you here.
This page is really helpful imho. Here we can get the data that really provides me with the bulk of my analysis: the revenue growth, earnings growth, dividends--which I don't require but like and if they do pay dividends, I like it even more, like you say, if they raise them on some regular basis--outstanding shares....which here have been 4 million 2004 to 2005, and 5 million since then---relatively stable. I also look at free cash flow, which for Graham is positive and growing, and the balance sheet, checking the cash and current assets relative to the current liabilities and then inspecting the long-term liabilities. Graham checks out just fine in this regard.
Returning back to the Yahoo Finance Page for Graham, I usually like to loook at the Yahoo "Key Statistics" which is found along the left side under the section in bold called "Company". For Graham (GHM), it is located here.
On that page, I can get some basic 'value numbers' like the Market Cap, the p/e ratio, the PEG ratio, the Price/Sales ratio (which I like to compare to other companies utilizing my Fidelity.com page, the outstanding shares, the short interest----indicating the number of shares out short relative to the daily trading volume, and the latest stock split and yield.
If you look at a few of my past write ups of stocks, you can follow along as I link to this information and discuss it over and over again.
Finally, I like to look at a chart.
I utilize Stockcharts.com which may be found here. Again, if you enter "GHM" in the light blue box titled "Easy as 1-2-3. Create a Chart Now!", and choose "point & figure" you will get here. And see a chart which looks like this company's price has totally broken down:
Mike I hope that answers your questions about finding information on stocks. If you talk to some other investors, I am sure you will find and identify other sources of similar information. This is just what I like to do. Many people like to look at other pieces of information that are probably equally important including insider buying and selling and other technical charts.
Explore some of these other approaches as well, utilize anything I do to your own advantage, and with time you will easily pass my own simple grasp of stocks without too much effort or time on your own part!
Thanks for inquiring. Let me know if you would like me to discuss my portfolio management strategies or my general and idiosyncratic rules for buying and selling portions of stocks at varying price levels.
If you have any comments or questions, please feel free to leave them right here on the blog or email me at bobsadviceforstocks@lycos.com.
Yours in investing,
Bob
Posted by bobsadviceforstocks at 10:39 PM CDT |
Post Comment
|
Permalink
Updated: Saturday, 11 October 2008 10:45 PM CDT