September 9, 2005 Global Payments (GPN)
Hello Friends! Thanks so much for stopping by and visiting my blog,
Stock Picks Bob's Advice
. As always, please remember that I am an amateur investor so please consult with your professional investment advisors prior to making any investment decisions based on information on this website.
Before I talk about stocks, I want to continue to celebrate New Orleans. Some have you may arrived to this blog looking for Katrina hurricane-related stock picks. But more importantly, we need to remember the things that made New Orleans special, and to work to support the people, the place, and the culture of the City.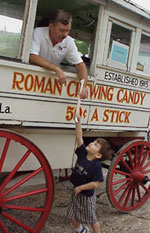 I spent three years of my life in New Orleans. I met my wife there and my first son was born at Ochsner Clinic, the only Hospital/Clinic functioning through the hurricane.

One of the sites seen throughout New Orleans, especially in the Uptown area, was the Roman Candy Truck. For 50 cents you could get a long stick of this taffy candy. Just something Special I guess.

The story of the Roman Chewing Candy truck follows:
The Roman Candy Company began as a family treat with a recipe that dates back at least four generations. My great grandmother, Angelina Napoli Cortese, made the candy for family and friends at social and special events like Christmas and St. Joseph's Day. Her son, Sam Cortese, who was a street vendor by trade since the age of 12, would on occasion bring the left over candy on his fruit and vegetable wagon to sell the next day.

Roman Candy always sold very well and people began to ask for it, so Sam decided to try to sell candy on a regular basis. The problem however was that his mother didn't have time to make candy everyday and still tend to her other children and do all the things that mothers do.

Sam realized he would have to find a way to make his Roman Candy as he rolled along and sold it. In 1915, he went to a wheelwright named Tom Brinker and together they designed the wagon that is still used today.

The Roman Candy gourmet taffy initially sold for 5 cents a stick and stayed at that price until 1970. After his death in 1969, Sam's grandson took over the business and it continues to this day. The wagon and mule can be seen rolling through the streets of New Orleans, uptown, downtown and occasionally even in the suburbs on an almost daily basis.


Let us celebrate the small special things about New Orleans!
Now back to stocks!

The stock market is continuing to rally today, after the small profit-taking session yesterday. Looking through the
list of top % gainers on the NYSE
today, I came across Global Payments (GPN) which is trading at $68.89, up $3.89 or 5.98% on the day. I do not own any shares nor do I have any options in this company.
According to the
Yahoo "Profile" on Global Payments
, the company "...provides electronic transaction processing services to consumers, merchants, independent sales organizations, restaurants, universities, financial institutions, government agencies, and multinational corporations in the United States, Canada, Latin America, and Europe."
On July 20, 2005, GPN
announced 4th quarter 2005 results
. Revenue climbed 14% to $207.7 million, up from $181.8 million for the same quarter last year. Net income grew 44% to $25.9 million, up from $18.0 million last year. Diluted eps climbed 39% to $.64/share, up from $.46/share in the same period last year.
Looking longer-term at the
"5-Yr Restated" financials on Morningstar.com for GPN
, we can see a pretty picture of steady revenue growth from $340 million in 2000 to $759 million in the trailing twelve months (TTM).
Earnings are reported since 2002 at $.63/share, climbing steadily to $2.13/share in the TTM.
In addition, the company pays a small dividend of $.16/share.
Free cash flow has been positive but has fluctuated with $138 million reported in 2002, dropping to $11 million in 2003 and coming in at $174 million in the TTM.
The balance sheet is fair with $58.2 million in cash and $107.4 million in other current assets. This is outweighed slightly by the current liabilities of $179.2 million and the $96.5 million in long-term liabilities. With the $174 million in free cash flow, this shortfall should not (imho) be a problem.
Looking at
Yahoo "Key Statistics" on GPN
for some valuation parameters, we can see that the company is a large cap stock with a market cap of $2.7 billion. The trailing p/e is a tad rich at 29.63 with a better forward p/e (fye 31-May-07) of 21.91. The PEG ratio is a bit high at 1.45.
Using
Fidelity brokerage
for information, I found that this company is in the "Business Services" industrial group. Within this group, the price/sales ratio of GPN puts it near the top. Leading the group is Equifax (EFX) at 3.3 price/sales, followed by Global Payments (GPN) at 3.2, Cintas (CTAS) at 2.2, Certegy (CEY) at 1.9 and IPAYMENT (IPMT) at 1.2.
Other statistics from Yahoo reveal that there are only 39.12 million shares outstanding with 6.97 million shares out short (as of 7/12/05) representing 18.10% of the float or 25.6 trading days. This is a
LOT
of shares out short (I use 3 trading days of volume as my own cut-off for this statistic), and may explain the upward pressure of the stock as short-sellers scramble to cover.
As noted earlier, the company pays an annual dividend of $.16/share yielding 0.20%. No stock splits are reported on Yahoo.
What about the chart? Taking a look at the
"Point & Figure" chart on GPN
:
We can see that the stock traded sideways between 2001 and 2002 between a trading range of $20 and $39. In November, 2002, the stock broke through resistance at the $30 level, and has traded higher since to the current $69 level. The stock looks quite strong to me.

So what do I think? Well, I am not in the market for any stocks sitting on my full complement of 25 positions. However, this stock looks nice with a strong recent quarter, a good five year record of earnings and revenue growth, and a strong chart. Valuation is a tad rich and the balance sheet could show a little more in the current assets department. Otherwise, things look nice for this stock!

Thanks again for stopping by! If you have any comments, or questions, please feel free to email me at bobsadviceforstocks@lycos.com, or leave your thoughts right here on the blog!

Bob