July 6, 2004 Cal-Maine Foods (CALM)
Hello Friends! Thanks so much for stopping by!....please excuse the organization of this blog if you are a new visitor...I have hundreds of ideas to consider...but you will need to learn how to navigate around the website. Best place is to start here with recent posts and go backwards...if you like go to the
main website for Bob's Advice
and along the left side you will see the links for the
"Current Trading Portfolio" and "Stock Picks 2003".
Also, just below that you will find the link for
"Stock Picks 2004"
where I have listed my picks for this year (2004)...and try to on occasion update current prices. If you find any particular stocks you wish to see the initial write-up, use those lists to get the date...I do NOT have it linked at this time, but then manually look at the lists of dates to the left side of this blog, and you can click on those dates and navigate that way....ok I hope that was helpful!
As always please remember that I am an amateur investor, I try to always share with you what I am doing and what I own, but please consult with your professional investment advisors prior to making any investment decisions. I CANNOT be responsible for the actions you take after reading what I write. There, I hope that disclaimer explains my thoughts on this website clearly!
Today, I was meeting with my "Investnut" buddies, and presented Cantel Medical (CMN). As you may realize, I
posted Cantel
on March 2, 2004, when it was trading at $18.40. Cantel closed today at $24.68...so it has had a nice ride since my post. I also purchased some of these shares earlier this year....(6/4/04)...and have had a nice appreciation in share price as well!

I first heard about Cal-Maine (CALM) after it was mentioned in the Investors Business Daily (IBD)...some weeks ago. I believe it was in the "New America" section. I do NOT own any shares nor do I have any options on this stock. As close as I get to an EGG stock, lol, is Sanderson Farms (SAFM) that has been listed here, and I do own some shares of SAFM. Somehow, the old joke about which came first "the chicken or the egg"....well in my case, I have invested in chickens first but am ready for eggs now! I think much of the interest in these stocks is related to the ever-discussed "low-carb" phenomenon in which eggs which used to be "bad" are now "good" and "high-protein." This results in all of us who struggle with reducing carbohydrates, I confess I am among the many....taking another look at eggs (No yolk, I am serious!). sorry.
Excuse me for "scrambling" up this post....but CALM had a great day today closing at $15.09/share up $1.53 or 11.28% in an otherwise mediocre market.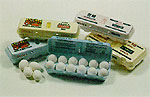 According to the
Yahoo "Profile"
, Cal-Maine "...is primarily engaged in the production, cleaning, grading and packaging of fresh shell eggs for sale to shell egg retailers. The Company had sales of approximately 571 million dozen shell eggs during the fiscal year ended May 31, 2003." Now THAT is a LOT of french toast!
I found the 3rd quarter 2004 results on the
company website
. These results were released March 29, 2004, and for the quarter ended February 28, 2004, net sales came in at $165.7 million compared with $106.8 million the prior year! Net income was $23.9 million or $1.98/basic share (?), compared with net income of $7.6 million or $.65/basic share the year earlier. CALM DID have a 2:1 split in April, 2004, shortly after this stock report, but STILL, the company earned, even adjusting for the split, nearly $1/share in a 3 month period. And the stock is currently trading at about $15/share. You do the math.
If we look longer-term at
"5-Yr Restated"
financials on Morningstar.com, we can see that revenue came in at $288.0 million in 1999, was flat at $287.1 million in 2000, and then grew fairly steadily, with another pull-back in 2002, then to $533.4 million in the trailing twelve months.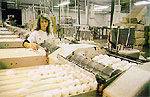 Earnings have been very erratic, going from profits in 1999, to losses in 2000, profit in 2001, loss in 2002, and has improved subsequently. Consistency in earnings has NOT been a strength of this company! The company does pay a small dividend of $.03/share.
Free cash flow has also been a bit erratic dropping from $16 million in 2001 to $(15) million in 2002, back to $18 million in 2003, and now up to $73 million in the trailing twelve months. The balance sheet on Morningstar looks just fine with $55.1 million in cash and $84.1 million in other current assets, plenty to cover the $66.3 million in other current liabilities and to make a large "dent" in the $100.1 million of long-term liabilities.
What about Valuation? For this, I like to check
"Key Statistics"
on Yahoo. Here we can see that this is a small cap company with a market cap of only $347.21 million. The trailing p/e is 6.85. No forward p/e is noted, and no PEG. You can just imagine what the p/e will do if the current results persist!
This stock HAS performed quite well and is actually up 393.09% the last 52 weeks! Are we late? That can only be told by what happens the NEXT 52 weeks...but we have missed out the portion of the rise that has already occurred.
There are 23.01 million shares outstanding and ONLY 4.00 million that float. There are 4.32 million shares out short representing 107.98% (!!) of the float. Or 11.306 trading days. With the stock moving UP today, I can only speculate that there are a LOT of short sellers scrambling, and I mean scrambling (no pun intended lol) to cover their shorts (before they LOSE their shorts!). Talking about a SQUEEZE!
The company as I noted does pay a small dividend yielding 0.37% and DID split 2:1 in April, 2004.
What about Technicals? If we look at a Point and Figure chart from Stockcharts.com: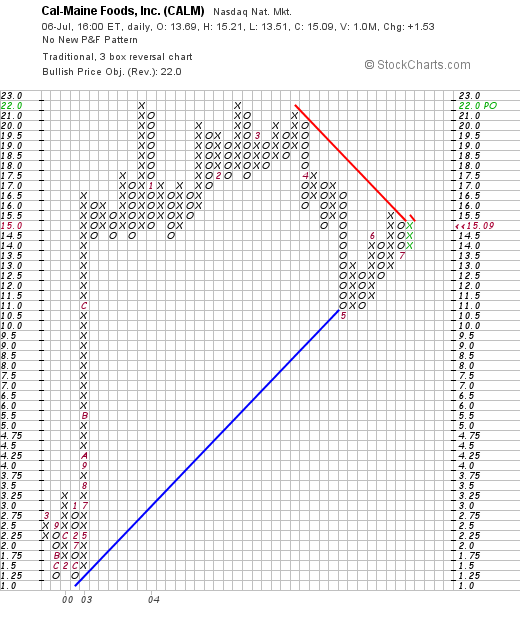 we can see that the stock has pulled back to its support level, but appears to be moving upward once again! I guess all of those short sellers ASSUMED the stock was a GREAT short because it had climbed so far. That is the error of looking at the past to determine its future fate. That is, just because it moved up TREMENDOUSLY does NOT MEAN that it should NECESSARILY retrace its price action. The move upward, with the P/E UNDER 10 currently, suggests was competely based on the stock being TERRIBLY UNDERVALUED....heck that is at least my take on the matter.

What do I think...I think I will take my eggs "Sunny-Side Up!"...o.k. seriously, this stock really DOES look interesting to me...the valuation is great, the revenue growth is terrific, the earnings consistency however is AWFUL...but they did earn $1 in the last quarter. If they could earn the same the next three quarters....well the stock would be selling for about a p/e of 4! The free cash flow and balance sheet are just fine. And I would love to be buying shares when all of those short-sellers are hanging out....sorry fellows....but why would you sell short in a stock with such a low float?

Thanks so much for stopping by! If you have any comments, questions, or words of encouragement, please feel free to email me at bobsadviceforstocks@lycos.com

Bob