September 6, 2005 Nordstrom (JWN)
Hello Friends! Thanks so much for stopping by and visiting my blog,
Stock Picks Bob's Advice
. As always, please remember that I am an amateur investor, so please remember to consult with your professional investment advisors prior to making any investment decisions based on information on this website.
Some of you have come to this blog in search of the best hurricane stock picks. Looking to profit from the Katrina disaster. I do think some stocks will prosper with the tremendous need for reconstruction that the City of New Orleans will face. However, as we think of the profit we are earning, let us all remember to
contribute
to the Red Cross and other worthy organizations helping to put the City and the lives of the families so terribly disrupted back together.
One thing I have been enjoying here on the blog is taking a moment to highlight some of my own personal favorite spots in New Orleans with all of my readers.
If you have other favorites, well post them here and I will try to expand on them as well.
Being a bit of a shopper, I will often visit the
Jackson "Jax" Brewery
: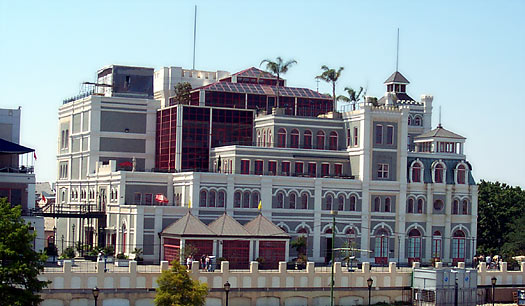 This is a great shopping mall on the Mississippi, in the French Quarter. Housing stores and restaurants in a converted brewery building, it is a "must-see" for the first-time New Orleans visitor!


But back to stocks!


My selection today is a favorite shopping place for my family whenever we are on vacation. Unfortunately, we don't have a Nordstrom in our own town, but that doesn't stop any of us from racking up our charges for shoes and clothing in this upscale retail outfit. I don't have any shares or options in this stock although I did own a few shares at least five years ago for a short while.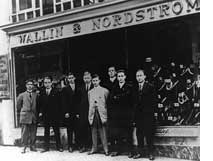 The Nordstrom story is one of the great histories in retail in America. As noted on their homepage:
In 1887, a 16-year-old boy left his home country of Sweden for the promise of New York City. He arrived with only five dollars in his pocket, unable to speak a word of English. His name? John W. Nordstrom.


The first years in the land of opportunity were hard. To make ends meet, young John labored in mines and logging camps as he crossed the United States to California and Washington. Then one morning in 1897, he picked up a newspaper and read the front-page headline "Gold Found in the Klondike in Alaska." The very next day, he made plans to head north.


Things were no easier in the Klondike. The labor was hard, the terrain difficult, and there was an over-supply of eager workers. But within two years, John had earned $13,000 in a gold mine stake and returned to Seattle.


Back in the Northwest, John was eager to invest his money. He had befriended a man while in Alaska, Carl Wallin, who owned a shoe repair shop in downtown Seattle. It wasn't long before the two decided to go into partnership and open a shoe store together.


In 1901, the two opened their first shoe store, Wallin & Nordstrom, in downtown Seattle. This was the start of what would become the retail legend of Nordstrom, Inc.
Today, Nordstrom is a high-end retail firm, with stores located coast-to-coast.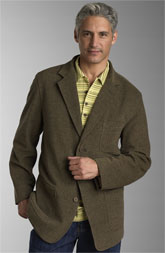 Looking through the
list of top % gainers on the NYSE
today, I came across Nordstrom (JWN), which closed at $35.01, up $1.91 or 5.77% on the day.
On August 16, 2005, Nordstrom
reported 2nd quarter 2005 results
. Total sales for the quarter ended July 30, 2005, increased 7.8% to $2.1 billion, compared to the sales of $2.0 billion in the prior year same quarter. Perhaps more importantly, during the quarter same-store sales increased 6.2%.
Earnings increased 39% to $148.9 million or $.53/diluted share, up from $106.9 million, or $.37/share for the same quarter last year. In another positive note, the company
raised
guidance for earnings per share to $1.80 to $1.90 for the year, up from prior estimates of $1.70 to $1.75. I always enjoy seeing strong earnings reports
along with
raised guidance!
Looking longer-term at the
"5-Yr Restated" finances on Morningstar.com
, we can see revenue growing steadily from $5.5 billion in 2001 to $7.3 billion in the trailing twelve months (TTM).
Earnings per share have been a little
less
consistent with earnings dropping from $.78/share in 2001 to a low of $.33/share in 2003. However, since then the earnings have been growing steadily again with $1.52/share reported in the TTM.
In addition, the company has a dividend and has been
growing
the amount. Nordstrom paid $.18/share in 2001, and has increased it to $.25/share in the TTM.
Free cash flow which was a negative $(45) million in 2003, has improved, with $404 million in free cash flow reported in the TTM.
The balance sheet, as reported by Morningstar, also looks good with $796.7 million in cash and $1,814.5 million in other current assets. This is balanced against $1,236.4 million in current liabilities and $1,490.2 million in long-term liabilities.
What about some "
Key Statistics on JWN
"?
Here we can see that this is certainly a large cap stock with a market capitalization of $9.56 billion. The trailing p/e isn't too bad at 20.88 (imho) with a forward p/e of 16.59 (fye 29-Jan-07). The PEG is a bit rich but not bad at 1.26. (Fair valuation is usually at a PEG of 1.0).
What about the price/sales ratio? Using my Fidelity Brokerage for research, I found that Nordstrom is in the "Apparel Stores" industrial group. Within this group, JWN is fairly reasonably priced. Abercrombie & Fitch (ANF) tops the list with a price/sales ratio of 2.2, American Eagle (AEOS) next at 2.0, PacSun (PSUN) follows at 1.3, then Nordstrom (JWN) at 1.2, Gap (GPS) at 1.0 and the Limited (LTD) at 0.9.
Other statistics from Yahoo show that JWN has 273.12 million shares outstanding. 8.39 million are out "short" as of 7/12/05, representing 6.00% of the float or 3.9 trading days of volume.
The company pays a dividend of $.34/share yielding 1.00%. The last time the stock split was just a couple of months ago (7/1/05) when a 2:1 split was carried out.
How about a chart?
Looking at a
"Point & Figure" chart from Stockcharts.com
: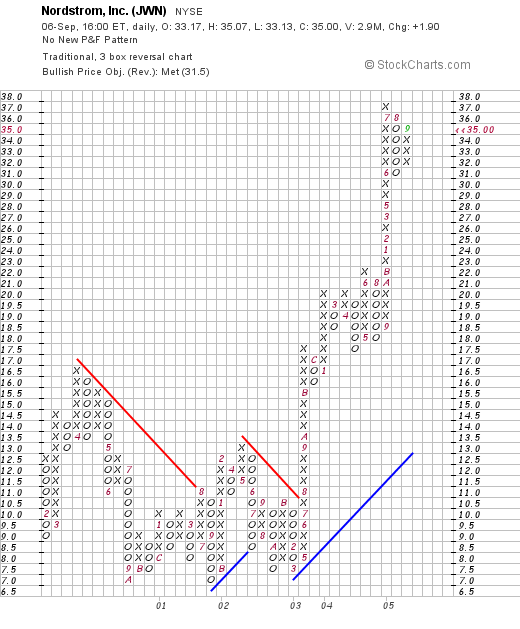 We can see that the stock was trading sideways between February, 2000, and July, 2003, when it was trading in a range between $7.50/share and $16.50. The stock broke through resistance in July, 2003 at $10.50 and has traded strongly higher since!

So what do I think? Well lets review: the stock made a nice move higher today, the same store sales figures are solid, the last quarter was very nice and the past five years, especially the past three years have been very strong in terms of earnings and revenue growth. In addition the company pays a growing dividend!

Free cash flow has been positive and growing, and the balance sheet looks nice if not spectacular. Value is reasonable with a p/e just over 20, a PEG just over 1.0, and a price/sales in the middle of its industrial group. In addition, the chart looks nice too. Most everything is nice, except for one fact, I don't own any shares :(. And with 25 positions in my portfolio, I don't have any 'room' even if I were interested!

Thanks so much for stopping by and visiting my blog! If you have any comments or questions, please feel free to leave them right here on the blog or email me at bobsadviceforstocks@lycos.com.

Bob