April 29, 2005 CNS (CNXS)
Hello Friends! Thank you very much for stopping by and visiting my blog,
Stock Picks Bob's Advice
. As always, please remember that I am an amateur investor and that you need to consult with your professional investment advisors prior to making any investment decisions based on information on this website. I shall not ask for any part of any gains that you may accrue using this website nor shall I be responsible for any losses that may result!
Sometimes I am afraid that some readers may use stocks posted here as indications that they may be good investments and go on to lose money. I certainly lose money on some of my picks. What I am trying to emphasize here is that the stocks listed might be useful as part of a larger portfolio of stocks that when managed responsibly might result in a successful investment plan. I will try to keep you posted on what I personally do with the different investments I have made!

As I have pointed out elsewhere, the first place I go to look for new candidates for the blog, is the list of top % gainers, for the NYSE, the NASDAQ, and the AMEX. I haven't found too many stocks on the AMEX that interest me though.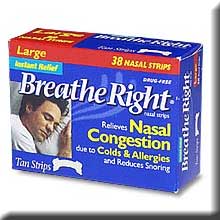 Today, while looking through the
list of top % gainers on the NASDAQ
, I came across CNS, Inc. (CNXS) which as I write is trading at $18.09, up $1.79 or 10.98% on the day. I do not own any shares of CNXS nor do any members of my family.
According to the
Yahoo "Profile" on CNXS
, this company "...is engaged in the business of developing and marketing consumer healthcare products, including Breathe Right nasal strips, Breath Right Snore Relief throat spray, Breathe Right Vapor Shot! personal vaporizer and FiberChoice chewable fiber tablets."
I strongly subscribe to the belief that there is a very strong relationship between stock price performance and underlying earnings performance for any particular stock. My evaluations are heavily biased towards this orientation.
Thus, the first place I like to go is to look at the very latest quarterly report which I believe influences the stock price the strongest. For CNXS, they
reported 4th quarter 2004 results yesterday
after the close of regular trading. For the three months ended March 31, 2005, net sales came in at $28.4 million, up 27% from last year's $22.5 million. Net income grew to $4.1 million or $.28/diluted share, up from $.3 million or $.02/diluted share the prior year same quarter.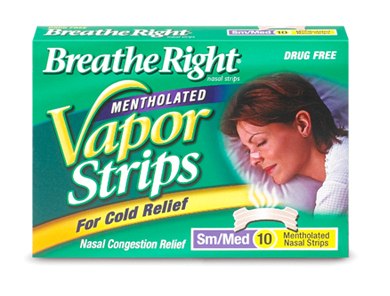 Usually, this far in the analysis, if the latest quarter result was good, as it was, I am interested in seeing whether a longer trend of positive results can be found. Basically, this amounts to a belief that a past record of strong revenue and earnings growth is likely to result in continued positive results. Sometimes this philosophy has been described as "earnings momentum".
I would encourage all of you to become familiar with the
Morningstar website
. By entering the stock symbol in the "quotes/reports" box, you can access a lot of very good information that may help you make an investment decision. I like to review the section called "Financial Statements" along the left side of the page. In particular, I like the "5-Yr Restated" financials which for CNXS is located
here
.
First piece of information is the revenue growth. On this page, we can see that CNXS' revenue grew from $46.1 million in 1999 to $87.8 million in the trailing twelve months (TTM).
How about "earnings"? Has there been progression? For CNS, they reported a loss of $(1.09) in 2000, then subsequently improved earnings each year from $.01 in 2001, to $.67/share in the TTM.
Free cash flow? As I have discussed elsewhere, this, imho, gives an investor the information as to whether cash is actually being created or consumed. For CNXS, we can see that although slightly erratic, the company had a negative $(3) million in free cash flow in 2001 which basically improved to a TTM of $14 million.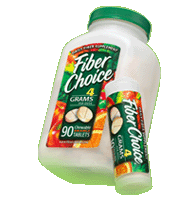 Looking to the bottom of the same page on Morningstar.com, we can look at the balance sheet. Again, I am not an accountant, or an expert on this, but in my simple understanding assets are certainly better than liabilities, and current assets are the best of all!
For CNXS, this company has $58.2 million in cash which is enough to pay the current liabilities over three times over. (Current liabilities total $18 million.) The company has NO long-term liabilities. In addition, CNXS has $22.6 million in other current assets. In other words the balance sheet looks great! imho.
O.K. what next? Well, we have had a look at the latest quarter earnings, a five year review of earnings, free cash flow, revenue growth, and a balance sheet. How about "valuation", and some statistics on the company.
For this I have been turning to
"Key Statistics" on CNXS from Yahoo
. Here we can see that this is a SMALL cap stock with a market capitalization of only $261.87 million. The trailing p/e is reasonable at 19.85, and the forward p/e is suggested at 22.02, but with the GROWTH in earnings, I am having a hard time figuring this number out.
The PEG (5 yr expected) is 1.34. And the Price/Sales is at 2.63. Now comparing CNXS to other companies in the same industry (Medical Appliances/Equipment), we find that they are at the low of the range with companies like Zimmer (ZMH) with a P/S of 6.7, Medtronic (MDT) at 6.3, St. Jude (STJ) at 5.8 and Biomet (BMET) at 5.3.
Yahoo also shows that there are only 14.16 million shares outstanding with 11.50 million of them that float. Currently, as of 4/8/05, there are 173,000 shares out short representing 1.505 of the float or 1.50% of the float.
The company does pay a small dividend of $.24/share yielding 1.47%, and the last stock split was a 2:1 split in June, 1995.
Finally, in respect to those who like a "technical" review, I have been including "point & figure" charts with these analyses.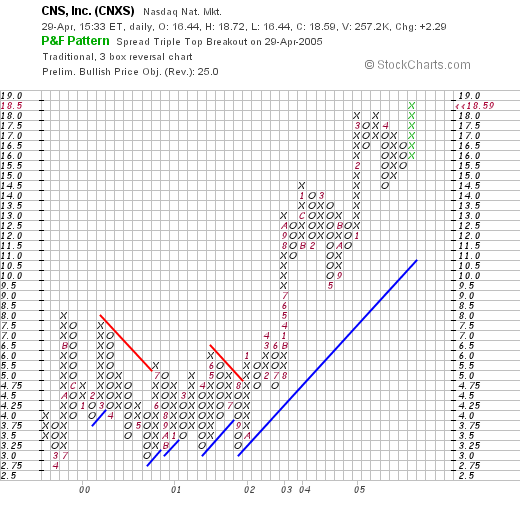 Again, I am not a technician, but I like to look at these graphs, especially the "point & figure" charts, which give me a feel for the "price momentum". In this case, this stock was trading sideways between February, 1999, and January, 2002, between a range of $2.75 on the low, and $8.00 on the high side. In January, 2002, the stock broke through a resistance level of $5.00 and then continued to trade higher through 2002, 2003, 2004 and now 2005, to its current level of $18.59.
The chart actually looks quite strong to me!

So what do I think? Well, the stock moved nicely today on a great earnings report. Morningstar shows earnings to be growing steadily the past five years along with revenue reported. Free cash flow is positive and growing, the balance sheet is gorgeous, and valuations appear reasonable. The chart is also quite strong.

Perhaps a downside (?) is the small number of shares and the small capitalization of this company. This could also serve as a positive if earnings results stay positive.

I hope this discussion was helpful and not too long-winded. I would be buying some shares if I had a buying signal from my own portfolio. However, I am once again sitting on my hands....and waiting!

If you have any comments or questions, please feel free to leave them right here on the blog or email me at bobsadviceforstocks@lycos.com.

Bob