Anika Therapeutics (ANIK)
Hello Friends! Thanks so much for stopping by and visiting my blog, Stock Picks Bob's Advice! As always, please remember that I am an amateur investor, so please remember to consult with your professional investment advisers prior to making any investment decisions based on information on this website.

On May 5, 2014, I purchased shares of Anika Therapeutics (ANIK) for the Covestor Healthcare Model at a cost of $47.19. Anika (ANIK) closed at $45.94 on 5/7/14 for a gain on the day of $.76 or (1.68)%
This model has been a terrific performer for me and for those on Covestor who are following along. Over the last 365 days the Model is up 34.3% and since its inception (October 6, 2010), the Covestor Healthcare Model has experienced an annualized appreciation of 18.6% exceeding the S&P 500 which during the same period appreciated 16.7% annually but lagging the S&P 500 Healthcare Index which averaged a 21.7% gain. Unfortunately, this Model also pulled back during the rather severe March and April Biotech correction.
At the same time that the Biotech Correction was developing, the so-called 'momentum stock correction' also kicked in taking its toll on many of my same holdings. From my own perspective, I do not think it is really possible that momentum stocks will fail to rise. It is simply that the stock market experienced a rotation out of old momentum names into other names that hadn't appreciated to quite as lofty of levels. As one of my favorite stock market commentators Jim Cramer would say, "There is always a bull market somewhere!"
With some cash within the model from prior sales of correcting healthcare stocks, I purchased shares of Anika (ANIK), a fast-growing company which according to the Yahoo "Profile":
"...develops, manufactures, and commercializes therapeutic products for tissue protection, healing, and repair in the United States, Europe, and internationally. The company's products are based on hyaluronic acid (HA), a naturally occurring biocompatible polymer found in the body. Its orthobiologics products comprise ORTHOVISC, ORTHOVISC mini, and MONOVISC for the treatment of osteoarthritis of the knee and joints; Hyalofast, a biodegradable support for human bone marrow mesenchymal stem cells that is used in connection with soft tissue regeneration; Hyalonect, a woven gauze used as a graft wrap; Hyaloss used to mix blood/bone grafts to form a paste for bone regeneration; and Hyaloglide, an ACP gel used in tenolysis treatment. The company's dermal products include wound care products that comprise Hyalomatrix and Hyalofill, for treatment of complex wounds, such as burns and ulcers; Hyalograft 3D and Laserskin scaffolds for use in connection with the regeneration of skin; and ELEVESS, an aesthetic dermatology product. Its surgical products comprise Hyalobarrier, a post-operative adhesion barrier for use in the abdomino-pelvic area; INCERT, a HA product for the prevention of spinal post-surgical adhesions; Merogel, a woven fleece nasal packin; and Merogel Injectable, a viscous hydrogel. The company's ophthalmic products include AMVISC, AMVISC Plus, STAARVISC-II, Optivisc, AnikaVisc, and AnikaVisc Plus that are injectable HA products used as viscoelastic agents in ophthalmic surgical procedures, including cataract extraction and intraocular lens implantation; and veterinary product comprise HYVISC, an injectable HA product used for the treatment of joint dysfunction in horses."
On April 29, 2014, Anika (ANIK) reported 1st quarter 2014 results. Revenue for the quarter came in at $34.0 million, up 124% from the $15.2 million in the same quarter the prior year. Net income for the quarter came in at $15.0 million or $.97/share up 378% from $3.1 million or up 362% from the $.21/diluted share the same quarter last year. Needless to say these are phenomenal growth numbers for this company.
A highlight for the company during the quarter was the FDA approval of Monovisc which is an injection into the knee to treat people with osteoarthritis who might benefit from this hyaluronic acid which acts as a supplement to the synovial fluid lubricating the knee joint. It is estimated that 80% of Americans over the age of 65 have knee osteoarthritis. Clearly this is a very big market as all of us baby boomers age!
In terms of longer-term results, examining the Morningstar.com "5 Years Financials" on Anika, we can see that revenue has grown steadily from $40 million in 2009 to $75 million in 2013 and $94 million in the trailing twelve months (TTM). Diluted earnings per share have literally sky-rocketed from $.32/share in 2009 to $1.39/share in 2013 and $2.15/share in the trailing twelve months. Outstanding shares have increased from 12 million in 2009 to 15 million in the TTM.
Some of the highlights from the Morningstar.com report on the balance sheet shows that as of 12/2013 ANIK had $95 million in total current assets balanced against $9 million in total current liabilities and NO long-term debt. Free cash flow has improved from $(1) million in 2009 to $25 million in 2013 and $32 million in the TTM.
According to the Yahoo "Profile" on Anika (ANIK), the company's stock should be considered a Small Cap stock with market capitalization calculated at $664.34 million. The trailing P/E is reported at 21.28. (The forward P/E, according to Yahoo is 27.84, but I suspect this estimate is lagging the latest quarter and the spectacular growth in revenue and earnings just reported.) In fact, the PEG Ratio, utilizing the estimated 5 year growth, comes in at a very reasonable 0.68.
Yahoo reports 14.46 million shares outstanding with 14.09 million that float. As of 4/15/14 there were 670,860 shares out short representing a short interest ratio of 2.3 trading days. No dividends are paid and no stock splits are reported.
In terms of the technical performance of the stock price, looking at a 'point & figure' chart on Anika (ANIK) from StockCharts.com, we can see that the stock has appreciated sharply from $5.00/share in July, 2011 to a high of $52 in February, 2014. The stock has been consolidating at that level and is trading below the high but overall the chart still appears quite strong from my amateur perspective!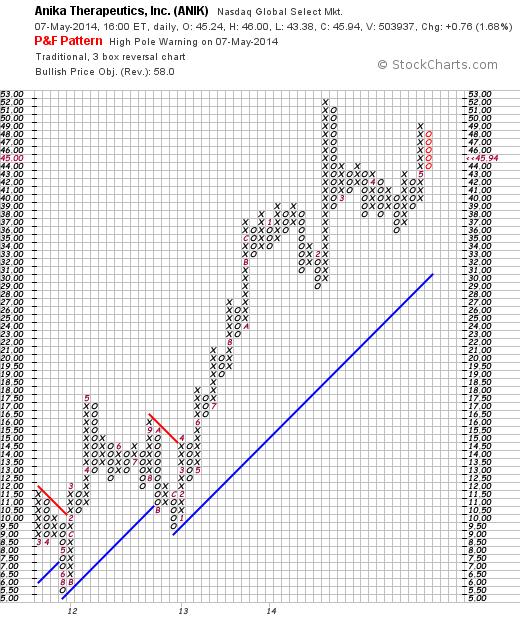 To summarize, I recently purchased shares of Anika Therapeutics (ANIK) in my Covestor Healthcare Model. This is a small company with a rapidly growing product line based around Hyalonic Acid product in Orthopedic, Dermatologic, Ophthalmic and Neurosurgical procedures among other uses. They recently reported what I could only describe as phenomenal quarterly results and they have been growing rapidly for at least the past five years. Their financials are gorgeous as they are cash rich and have no long-term debt and little current liabilities. In fact, they are growing their free cash flow rapidly as well. The valuation is modest with a P/E only at about 21 and a PEG well under 1.0. The chart is equally impressive. In fact, there is little I can find to criticize if only that the company is concentrated around a variety of products conncected to the Hyaluronic Acid material.
Thank you again for stopping by and visiting. If you have any comments or questions, please feel free to leave them here on this website.
Yours in investing,
Bob