Alexion Pharmaceuticals (ALXN)
Hello Friends! Thanks so much for stopping by and visiting my blog, Stock Picks Bob's Advice! As always, please remember that I am an amateur investor, so please remember to consult with your professional investment advisers prior to making any investment decisions based on information on this website.
On December 9, 2013, I purchased shares of Alexion Pharmaceuticals (ALXN) for my Covestor Healthcare Model at a cost of $126.24. ALXN closed Friday, 12/13/14 at $123.69, up $1.34 or 1.10% on the day yet is still trading at a couple of dollars below my own purchase price. Let's take a closer look at this stock and see if it remains a promising investment for my portfolio.
According to the Yahoo.com "Profile" on Alexion, the company is
"...a biopharmaceutical company, engages in the development and commercialization of life-transforming therapeutic products. The company offers Soliris (eculizumab), a therapeutic product for the treatment of patients with paroxysmal nocturnal hemoglobinuria (PNH), a blood disorder; and atypical hemolytic uremic syndrome (aHUS), a genetic disease. It also conducts Phase IV clinical trails on Soliris for its usage for the treatment of PNH registry, and aHUS for pediatric and adult; and various Phase II clinical trails for its usage for the treatment of PNH pediatric trial, cold agglutinin disease, MPGN II/C3 nephropathy, hemolytic uremic syndrome, presensitized renal transplant, delayed kidney transplant graft function, ABO incompatible renal transplant, neuromyelitis optica, and myasthenia gravis. In addition, the company develops Asfotase alfa that is under Phase II clinical trail for the treatment of metabolic disorders, including hypophosphatasia; ALXN 1102/1103, which is in Phase I trial for PNH; and ALXN 1007, a novel humanized antibody for treating inflammatory disorders. Further, the company conducts preclinical trails on cPMP for treating metabolic disorders."
As you can see, there is little "Peter Lynch" about an investment in Alexion (ALXN) or other similar biotech companies. Investors are dependent on other analysts who may well be able to measure the potential of drugs like eculizumab unlike a company like Coca-Cola (KO) in which an investor could at least try a little over ice!
It is true that Alexion (ALXN) just entered into a voluntary recall of a couple of lots of its Soliris medication. However, this appears to be a short-term blip in this drug's sales. Recently, additional clinical evidence for the utility of Soliris for patients with atypical hemolytic uremic syndrome (aHUS) was presented at the American Society of Hematology. Alexion plays a key role in this rare but life-threatening disorder.
In terms of the latest quarterly results, Alexion (ALXN) reported third quarter 2013 results on October 24, 2013. Sales for the quarter increased 36% to $400.4 million compared to sales of $294.1 million the prior year. GAAP net income increased to $93.8 million or $.47/share compared to $92.2 million or $.46/share the prior year. These results exceeded expectations on both earnings and revenue as had been forecast by Zacks.
In terms of a longer-term view, we can see from the Morningstar.com 'financials' on Alexion that the company has rapidly grown revenue from $259 million in 2008 to $1.13 billion in 2012 and $1.43 billion in the trailing twelve months (TTM). Diluted earnings which spike from $.20/share in 2008 to $1.63/share in 2009, dipped back to $.52/share in 2010. However, since 2010, they have steadily climbed reaching $1.28/share in 2012 and $1.77/share in the TTM. During this time, Alexion has grown its shares outstanding modestly from 180 million shars in 2008 to 199 million in 2012 and in the TTM.
According to the Morningstar Balance Sheet numbers on Alexion, the company appears extremely solvent with current assets of $1.50 billlion compared to only $360 million in current liabilities, yielding a current ratio of 4.16.
Looking at the free cash flow history on Morningstar, we can see that the company has been generating a growing amount of free cash with $5 million reported in 2008, $389 million in 2012 and $365 million in the TTM.
In terms of valuation, Alexion (ALXN) is a large cap stock with a market capitalization of $24.25 billion according to the Yahoo "Key Statistics" on this stock. The trailing P/E is a very rich 69.96 (compared to the S&P 500 which currently trades with a P/E of 19.9!) However it is always important for an investor to consider what the future holds for a stock not just where it is now. In other words, if we take into consideration anticipated growth of earnings, the PEG ratio is much more down to earth with a level of 1.60 (5-yr expected).
Yahoo reports that the company has 196.3 million shares outstanding with only 1.07% held by insiders. As of October 31, 2013, there were 3.3 million shares out short and with average volume of 1.1 million shares traded, this yields a short interest ratio of 3.00--right at my own arbitrary cut-off for significance. No dividends are paid and the last stock split was on May 23, 2011, when the company declared a 100% stock dividend effecting a 2:1 stock split.
Examining the 'point & figure' chart from StockCharts.com on Alexion, we can see that the stock has demonstrated fairly significant price volatility in 2013 but has climbed from a low of $82 to a high of $128 earlier this month closing 12/13/13 at $123.69. Overall the chart looks strong and heading higher from my own amateur perspective!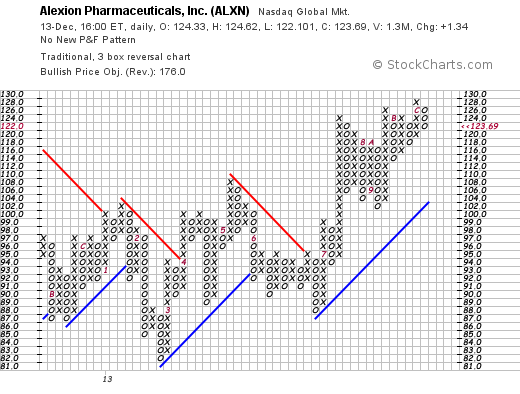 In conclusion, I recently purchased Alexion Pharmaceuticals (ALXN) for my Covestor Healthcare Model that I manage and personally own the portfolio upon which it is based. Alexion has been growing rapidly selling orphan drugs for deadly diseases and has recently demonstrated additional evidence that its treatment is effective. Soliris has the dubious distinction of being one of the world's most expensive medications costing a patient about $400,000/year for treatment. The company has fundamental strength, technical price strength and hopefully will become a strong holding within my own portfolio.
Thank you again for visiting my blog. If you have any comments or questions, please feel free to leave them right here on the website.
Yours in investing,
Bob