August 19, 2005 LaBarge (LB)
Hello Friends! Thanks so much for stopping by and visiting my blog,
Stock Picks Bob's Advice
. As always, please remember that I am an amateur investor and you should always consult with a professional investment advisor before making any investment decisions based on information on this website.

I received a nice email recently from a reader named Willy, who I believe is from Belgium (Willy please correct me if I am wrong!), and who inquired about my stock picking "techniques". With that in mind, let me try to explain my rationale with this stock pick today.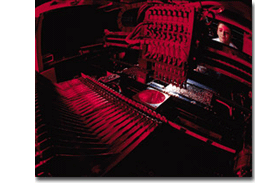 Some years back, during the go-go years of the internet stock boom, I noticed that stocks that were making large moves, as recorded on the top % gainers lists available in multiple places, often went on to make substantial gains.
Thus, I spend a lot of time in an initial search for stocks by scanning the list of top gainers. Today, I found a prospect on the
AMEX list of top % gainers
. (Another of my "picks" American Vanguard (AVD) is also on the list but I have already reviewed this stock on this blog
here on December 29, 2003
and
here on May 31, 2005
).
So, on the 'look-out' for something that I
hadn't
reviewed, I came across LaBarge, Inc. (LB) which closed today at $15.91, up $1.19 or 8.08% on the day. I do
not
own any shares nor do I have any options on this stock.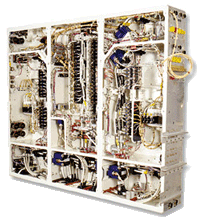 I am a big user of the
Yahoo Finance
website, and looking at the
Yahoo "Profile" on LaBarge
, we can see that LB "...engages in the design, engineering, and production of electronic systems and devices, and interconnect systems on a contract basis in the United States. It manufactures printed circuit card assemblies, cables and harnesses, box-build assemblies, and electronic/electromechanical systems."
My next step was to find the latest quarterly report. Usually, this is easily found on Yahoo in the "Headlines" section, but sometimes, with the smaller companies, it is easier to locate the information on the company website.
On April 28, 2005, LaBarge
reported 3rd quarter 2005 results
. Net sales for the third quarter ended April 3, 2005, rose 41% to $44.8 million, compared with $31.8 million the prior year. Net earnings increased 77% to $3.0 million or $.19/diluted share, compared with $1.7 million, or $.11/diluted share in the same quarter a year ago!
My next stop in a review of a stock for possible inclusion here is to take a bit of a longer-term view using
Morningstar
. In particular, I like the
"5-Yr Restated" financials
.
First of all, looking at the sales numbers, we can see that revenue has been climbing, slightly irregularly but growing from $79.6 million in 2000 to $178.1 million in the trailing twelve months (TTM).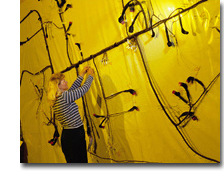 Although I prefer to see consistency, it is not uncommon to find some fluctuations in all the numbers in these small companies. Overall the trend is still positive. Taking a look at the earnings numbers, we find (continuing operations) that earnings per share improved from a loss of $(.11)/share in 2000 to $.69/share in the TTM.
Free cash flow is also small but positive with $4 million reported in 2002, and $3 million in the TTM.
The balance sheet, as represented on Morningstar, looks good with $600,000 in cash and $68.2 million in other current assets, balanced against $42 million in current liabilities and $27.9 million in long-term debt. I prefer to see a larger multiple of assets over liabilities, but the excess of current assets over current liabilities is still about 1.5, and with the positive free cash flow, this appears just fine imho.
Generally, my next step in looking at a stock is to review the "key statistics". These are numbers that give us a feel for what may be called "valuation". Things like price/earnings, price/sales, PEG (price/earnings compared to the growth rate), and the like. The lower all of these parameters are, the better the "value" the stock represents.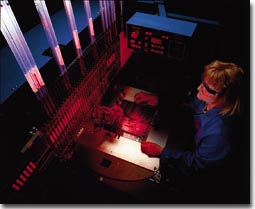 For this purpose, I again return to Yahoo and look at the page on
"Key Statistics"
. Here we can see that this is a very small company, a "small cap" stock with a market capitalization of only $239.29 million.
The price/earnings ratio is very reasonable at 23.92 (imho), the forward p/e (fye 27-Jun-06) is reported at 19.40, even a nicer number. Thus, the PEG ratio (5 yr expected) is under 1.0 at 0.97. For GARP (Growth At a Reasonable Price) investors, PEGS at or under 1.0 are considered reasonable and a good value.
For the Price/Sales ratio, I have taken to look at Fidelity Brokerage for their research. One of the things I like to do with the Price/Sales ratio is
not
to take it out of context but to view this number in relation to other similar stocks, stocks that are in the same Industry Group. This is something I have picked up from
Paul Sturm from SmartMoney.com
.
In this particular group, "Scientific/Tech Instruments", we find that LaBarge is very reasonably valued with a price/sales ratio of 1.2. In fact, Garmin (GRMN) tops the list at 6.8, followed by Flir (FLIR) at 4.6, Agilent (A) at 2.1, Fisher Scientific (FSH) at 1.5 and Beckman Coulter (BEC) at 1.4. The stock appears to be a great value by this particular parameter as well!
Jumping back to Yahoo for some other numbers, we find that the company has only 15.04 million shares outstanding with 10.68 million that float. As of 7/12/05, there were 249,970 shares out short, representing 2.90% of the float or 1.3 trading days of volume (the "short ratio"). I have personally chosen three days of short interest to cover these "pre-sold" shares of speculators betting against the stock, as a level of significance. Thus, the short sales don't appear to be very large.
Yahoo reports no stock dividend and no cash dividend on this company.
Finally, I like to take a look at the chart and share this with my readers. I have for the last few years started getting very comfortable with "point & figure" charts that display the tides of the stock price with the columns of 'x's' indicating a rising price, battling against the columns of 'o's' which represent a declining stock price. The 45 degree lines super-imposed on the chart represent "support" lines if they are moving higher, and "resistance" lines if they are moving lower. Trends that stay above the support line are considered by me to be "bullish" and the those struggling below the declining resistance line are "bearish".
Let's review a
chart on LB from Stockcharts.com
: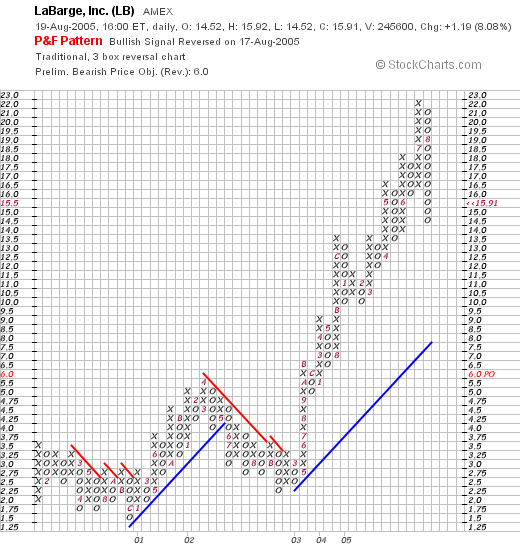 I am not a technician on stock charts nor do I claim any expertise. I just like to look at a chart and try to see if it looks like the price is moving higher, sideways or lower! Here we can see a price chart that from February, 2000, until December, 2000, was struggling under a resistance level around $3.00. The stock broke through this in early 2001, hit resistance at the $6 level in April, 2002, retraced back to $2.00/share in February, 2003, and then has been climbing strongly since then. The stock has recently pulled back slightly from what appears to be an "over-extended" price move on the upside (what I call the faster than the support line move higher), and appears to be poised to move higher yet!

So what do I think? Except that the stock appears to be a military contractor, which might be a cyclical type business, I like a lot about what I see on this stock. Let's review. The stock made a strong move higher today with the background of a very sloppy trading day. The latest quarter report was superb with very strong growth in both revenue and earnings. The past five years show impressive growth in both revenue and earnings. Free cash flow, while small, is consistently positive as the company grows its cash. The balance sheet is solid if not spectacular with valuation being very reasonable both with a p/e in the low 20's with a PEG under 1.0, and even the Price/Sales ratio is the lowest in its industrial group. On top of this the chart looks strong if a bit over-extended.

Now, if I only had sold some stock so I could buy a little of this one :). But I shall be sitting on my hands waiting for a signal to add back that 25th position! One of my concerns on this stock is the small cap size, which could add some volatility. But this can also work for you on the upside especially if the soon to be announced earnings are positive. However, watch out below if the company disappoints!

Thanks so much for stopping by. I hope I wasn't too wordy this evening (is that even a word?), but wanted to explain once again in a little more detail how I pick stocks! If you have any questions or comments, please feel free to email me at bobsadviceforstocks@lycos.com. Have a great weekend everyone!

Bob