August 22, 2005 Moody's Corp (MCO)
Hello Friends! Thanks so much for stopping by and visiting my blog,
Stock Picks Bob's Advice
. As always, please remember that I am an amateur investor so please consult with your professional investment advisors prior to making any investment decisions based on information on this website.

I was looking through the
list of top % gainers on the NYSE
this morning and came across Moody's (MCO) which as I write is trading at $49.37, up $1.88 or 3.96% on the day. I do not own any shares in Moody's nor do I own any options.
According to the
Yahoo "Profile"
, Moody's "...provides credit ratings, and research and analysis covering debt instruments and securities in the capital markets worldwide, as well as credit assessment services, credit training services, and credit process software to banks and other financial institutions."
On July 29, 2005 Moody's
reported 2nd quarter 2005 results
which showed revenue growing 25% to $446.8 million for the quarter ended June 30, 2005, up from $357.6 million the prior year same quarter. Net income came in at $145.4 million, up from $103.5 million last year, or $.47/diluted share, up from $.34/diluted share the prior year.
Looking at the
"5-Yr Restated" financials from Morningstar
, we can see a beautiful picture of revenue growth, with revenue growing steadily from $600 million in 2000 to $1.6 billion in the trailing twelve months (TTM).
Earnings per share have also
consistently
been growing, increasing from $.49/share in 2000 to $1.58/share in the TTM. The company does pay a small dividend which has been a bit erratic but is a nice feature on a stock in any case.
Free cash flow has been solid and growing from $317 million in 2002 to $611 million in the TTM.
The balance sheet is also solid if not overwhelming with $930.8 million in cash, almost enough to pay off
both
the $843.2 million in current liabilities and the $239.0 million in long-term liabilities combined. In addition, MCO has $439.9 million in other current assets per Morningstar.
Looking at
"Key Statistics" from Yahoo
, we find that this is a large cap stock with a market capitalization of $14.82 billion. The trailing p/e is a bit rich at 31.24, with a forward p/e of 25.79 (fye 31-Dec-06) and a PEG (5 yr expected) of 1.82.
Using my Fidelity account for research, we find that the price/sales ratio is also a bit rich for the industrial group. In the "Business Services" group, we find that Moody's (MCO) is top at a price/sales of 9.0. Further down the list is Equifax (EFX) at 3.3, Global Payments (GPN) at 3.3, Cintas (CTAS) at 2.3, Certegy (CEY) at 1.9, and IPAYMENT (IPMT) at 1.2. Thus, in this parameter, once again Moody's is
no
'screaming bargain'.
Looking at some other key statistics, we can see that there are 300.9 million shares outstanding (that is a lot for this blog!). The float isn't listed on Yahoo. There are 8.71 million shares out short (as of 5/10/05) representing 2.90% of the float for a short ratio of 6.4 (meaning 6.4 trading days of average volume to cover). In my view, 3 days is a "cut-off" for significance when I look at stocks so 6.4 is significant. However, these numbers are a bit 'stale' so it would be nice to know the current short interest.
MCO does pay a small dividend of $.16/share yielding 0.33%. The last stock split was a 2:1 just this year in May, 2005.
Reviewing the
"Point & Figure" chart on MCO from Stockcharts.com
: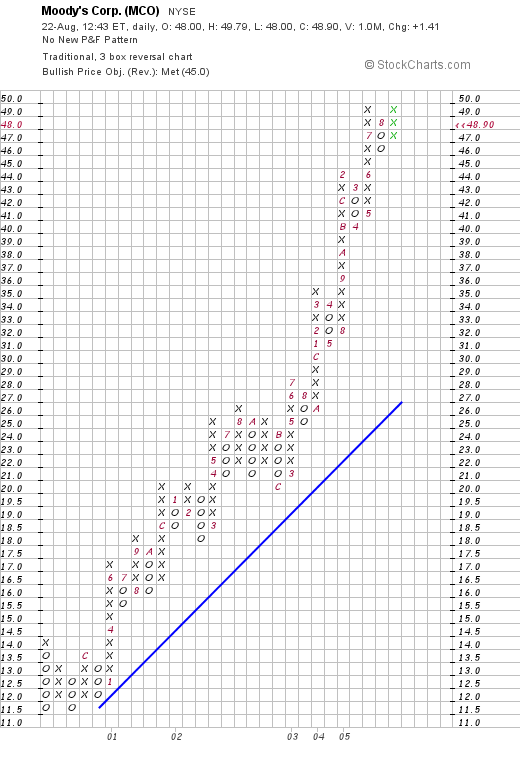 We can see a VERY strong chart with a steady move higher from about $11.50 in late 2000. The chart does appear a bit over-extended with a pull-back to support levels in the mid 30's not unreasonable. But then again, I am not a technician :) so you make the call!

What do I think? Well, I am not even sure whether the stock is on the top % gainers still (I started this post earlier today), but the latest quarter was strong, the past five years have been superb, the free cash flow is impressive and the balance sheet also looks nice. The problem is we aren't the first one to discover this stock :). Valuation is a bit rich, with a p/e over 30, a PEG over 1.5, and a price/sales in the stratosphere in its group. In addition, while the chart looks strong, it is a tad (?) over-extended. So it is a tough sell on this stock in a purely value fashion. I think we are a bit late to this party!

Anyhow, that's my take on the stock which does fit a bunch of the criteria that I use here on the blog. I think we find better value in the smaller cap stocks that aren't as widely known and followed as a large cap stock like Moody's!

Have a great day trading and investing! If you have any questions or comments, please feel free to email me at bobsadviceforstocks@lycos.com or leave them right here on the blog.

Bob

Posted by bobsadviceforstocks at 9:57 AM CDT |
Post Comment
|
Permalink
Updated: Monday, 22 August 2005 12:10 PM CDT