July 1, 2004 Tempur-Pedic Intl (TPX)
Hello Friends! I guess the "street" didn't like that quarter point move...and the jobless numbers up 1,000 weren't that impressive for a booming economy that requires the Fed to tighten...now I am just an amateur as I repeat over and over....but does that old term "STAGFLATION" come to mind to anybody else besides me? Please remember that I am an amateur investor, so please do your own investigation of all investments discussed on this website and consult with your professional investment advisors.

Tempur-Pedic Intl (TPX) had a nice day in an otherwise ugly trading session closing at $14.45, up $.44 or 3.14% on the day. I do not have any shares of TPX nor any leveraged positions.
According to the
Yahoo "Profile"
, TPX "...is a vertically integrated manufacturer, marketer and distributor of premium visco-elastic foam mattresses and pillows that it sells globally in 54 countries, primarily under the Tempur and Tempur-Pedic brands."
On April 22, 2004, TPX
announced 1st quarter results
. Revenue was $153.1 million, up 45.7 from the prior year, and fully diluted earnings per share came in at $.16, up 33% from the $.12/diluted share the prior year.

In addition, TPX increased guidance for the balance of 2004.
Looking longer term, we can examine the
"5-Yr Restated" financials
from Morningstar.com. Here we see the steady growth in revenue from $73.6 million in 1999 to $479.1 million in the trailing twelve months (TTM). Earnings were break-even in the TTM, but clearly are positive and growing from the latest quarterly report.
Free cash flow which was negative at $(16) million in 2001, has improved to $14 million in 2003.
The balance sheet looks o.k., although the long-term debt is a bit steep, the cash is at $14.2 million with $131.2 million in other current assets, enough to cover the current liabilities of $90.5 million and make a small dent in the $407.2 million in long-term liabilities.

What about "valuation?" Taking a look at
"Key Statistics"
from Yahoo, we see that this stock is a mid cap issue with a market cap of $1.41 billion. The trailing p/e is a bit rich at 35.50, but the anticipated growth leads to a forward p/e (fye 31-Dec-05) of 16.06. This rapid growth results in a calculated PEG of 0.80. Price/sales not quite as nice at 2.59.
Yahoo reports 97.41 million shares outstanding with 28.40 million of them that float. 70.85% of the shares are held by insiders...usually a bullish indicator. Only 872,000 shares are out short as of 6/7/04, representing a moderate short ratio of 3.218 trading days.
Yahoo reports no cash dividend and no stock split is noted on Yahoo either.
What about "technicals?" Taking a look at a point & figure chart from Stockcharts.com: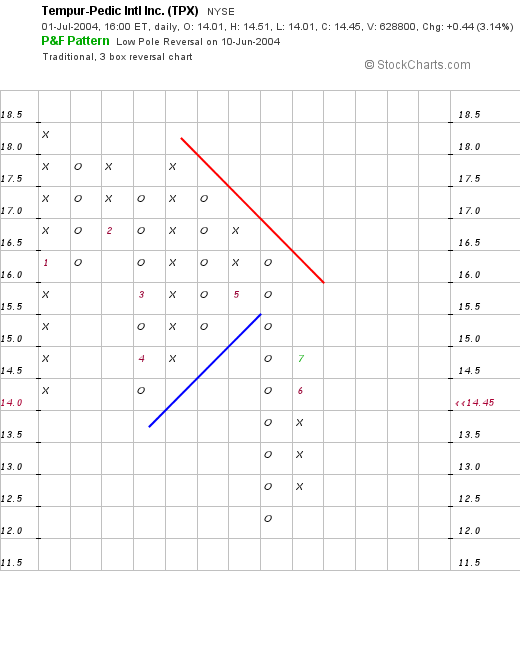 This chart is a bit less than convincing with TPX struggling with a resistance level and actually trading lower. I would like to see the stock break through the resistance level of about $16 to higher territory before calling this graph bullish.

What do I think? The latest earnings result is very nice....as is the record of the past 5 years. The free cash flow is also good to see, however, the company DOES have a good amount of long-term liabilities to deal with. Valuation is nice with a PEG under 1.0...and lots of insiders hold shares. However, the technicals are a bit weak.

In conclusion, I LOVE their material. (I have a Tempur-Pedic pillow I adore), but I do not at this time own any shares, nor am I convinced that this is the BEST opportunity for my limited resources. Thanks so much for stopping by! If you have any comments or questions, please feel free to email me at bobsadviceforstocks@lycos.com

Bob





Posted by bobsadviceforstocks at 11:37 AM CDT |
Post Comment
|
Permalink
Updated: Thursday, 1 July 2004 9:51 PM CDT