Walgreen (WAG) and Abbott Laboratories (ABT) "Trading Transparency"
Hello Friends! Thanks so much for stopping by and visiting my blog, Stock Picks Bob's Advice! As always, please remember that I am an amateur investor, so please remember to consult with your professional investment advisers prior to making any investment decisions based on information on this website.

As part of this blog, I try to share with you my actual trades in my 'Trading Account' and let you know why I made this trade and what I did with the proceeds. Earlier today I sold my position in Walgreen (WAG) and purchased shares in Abbott Laboratories (ABT) in an approximately equal amount. Specifically, I sold my 66 shares of Walgreen (WAG) at $33.71 and purchased 45 shares of Abbott Laboratories (ABT) at $55.37.Walgreen (WAG) closed at $33.94, down $.33 or (.96)% on the day.
My shares in Walgreen were purchased almost exactly a year ago on 3/27/09 at a cost basis of $26.73 so I actually had a gain of $6.98 or 26.1% since purchase. I had actually originally purchased 77 shares but had already sold 11 shares 9/23/09 when the stock hit a price of $34.75 and I had a realized gain of $8.02 or 30% since purchase. My sale today was not based on any appreciation or decline to any specified indicated sale level but rather on my own assessment that Walgreen is currently facing some challenges that may for the short-term hold back the performance of this stock while still believing in the long-term potential of Walgreen in general.
Perhaps my first concern with Walgreen's was in December when they reported that November, 2009 sales while up 8.7%, comparable store sales came in at 3.9% under expectations of 6.1%. On January 6th, 2010, WAG reported their retail numbers and again disappointed with same-store sales declining 0.5% missing expectations again. Proving that this wasn't an isolated set of reports, Walgreen on February 3, 2010, reported that January same-store sales dipped 1.1%. Last week on March 3, 2010, Walgreen did report positive same store sales growth but did report a relatively anemic 0.4% increase again under the 0.5% sales increase expected.
With Duane Reade reporting a loss yesterday, and the impending acquisition by WAG anticipated to close in the next few months and the stock acting weak when other shares were moving higher, my patience was tried to its limit, and I pulled the plug on my Walgreen shares looking for another stock to replace it with.
Quite frankly, if we examine the point and figure chart on WAG, the chart doesn't look like it has truly broken down although it is off from its recent high of $41, it is still trading well above support levels down at the $26 level. I chose to sell this stock due to the above-mentioned retail challenges although I am still a big fan of this company and look forward to a possibly repurchase of these shares in the future.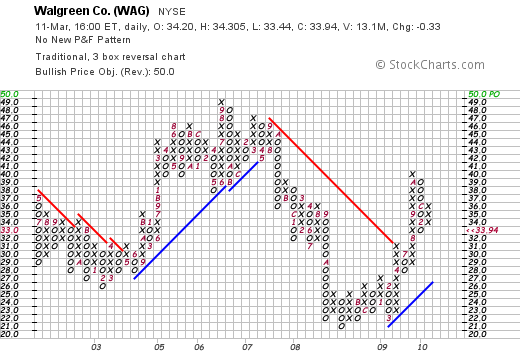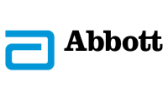 Let's take a closer look at Abbott Laboratories (ABT) and I shall try to explain why I felt more comfortable with this position in my portfolio as opposed to staying with my holding in Walgreen (WAG). ABT closed today (3/11/10) at $55.54, up $.51 or .93% on the day.
According to the Yahoo "Profile" on Abbott, the company
"...engages in the discovery, development, manufacture, and sale of health care products worldwide. It operates in four segments: Pharmaceutical Products, Diagnostic Products, Nutritional Products, and Vascular Products."
If we take a look at their latest quarterly result, Abbott (ABT) reported their fourth-quarter results on January 27, 2010. Their earnings were flat at $1.536 billion or $.98/share compared with $1.536 billion or $.98/share th eprior year. Excluding accounting items, Abbott came in with adjusted earnings of $1.18 vs. $1.06 last year and sales rose 10.6% to $8.79 billion. This was slightly ahead of estimates of $1.17/share on revenue of $8.59 billion.
Reviewing the Morningstar.com "5-Yr Restated" financials on Abbott, we can see that revenue has climbed steadily from $22.3 billion in 2005 to $30.8 billion in 2009. Earnings, after dipping from $2.16/share in 2005 to $1.12/share in 2006, have since climbed steadily to $2.31/share in 2007 and $3.69/share in 2009. Dividends have been increased annually to $1.56/share in 2009 up from $1.09/share in 2005. During this same period, ABT has kept outstanding shares rather stable with 1.56 billion shares in 2005 and 1.55 billion shares in 2009.
Free cash flow has been positive and growing from $3.5 billion in 2007 to $6.2 billion in 2009. The balance sheet also appears solid with $8.8 billion in cash, $14.5 billion in other current assets, and $13.1 billion in current liabilities. This yields a current ratio of 1.79. Abbott does have $16.5 billion in long-term liabilities.
In terms of valuation, looking at Yahoo "Key Statistics" on Abbott, we can see that this is a large cap stock with a market capitalization of $86.23 billion. The trailing p/e is a moderate 15.13 with a forward p/e (fye 31-Dec-11) of 11.64. Thus, the PEG ratio comes in at a very nice 1.12.
Abbott has 1.55 billion shares outstanding with 1.5 billion that float. As of 2/26/10 there were 8.97 million shares out short with a short ratio of only 1.2 (well under my own arbitrary 3 day rule for significance.) Abbott has a forward annual dividend rate of $1.76/share with a forward dividend yield of 3.2%. With a payout ratio of 42%, this dividend appears quite secure. In fact, Abbott is a regular dividend grower and increased its dividend 10% as reported on February 19th.
Examining the "point & figure" chart for Abbott on StockCharts.com, we can see that the stock has really been traveling sideways for the past two years between $41 and $57. Hopefully my purchase will not be at the upper range of a continued trading channel and we shall see Abbott move higher breaking through resistance at $57. In any case, the stock is certainly not over-extended. On the other hand, from my amateur perspective, the stock has not 'broken-out' yet to a higher level.
Looking at the Standard & Poor's Stock Report dated 3/10/10 on ABT, (available to me through my Fidelity account), there is a discussion of S&P's estimate of $33 billion of revenue in 2010 vs. $30.8 billion in 2009. The company is in the midst of a purchase of the Solvay Group. The company also just announced a purchase of Facet Biotech with a 67% premium over the market price. This acquisition extends its drug 'pipeline' with treatments for Multiple Sclerosis. This company is making waves on multiple fronts including announcing yesterday approval of the one-pice Tecnis multifocal intraocular lens implant for cataract patients.

In any case, in this market that is subject to the vagaries of an economy that is far from back to normal, I chose to switch from Walgreen to Abbott. With double the yield, a similar p/e, and what appears to be a more stable stock price, I hope that this decision will work out well for me and for my portfolio. Both companies are great growth stock stories and I could not fault anyone for staying tight with Walgreen. For the time being, I chose to make the switch. Wish me well.
If you have any comments or questions, please feel free to leave them on the blog or email me at bobsadviceforstocks@lycos.com.
Yours in investing,
Bob