January 8, 2004 Constellation Brands (STZ)
Hello Friends! I wanted to get this one out yesterday, but you know how that goes. One thing led to another, and I was calling it a day! I sure am glad you took the time to stop by and visit my blog,
Stock Picks Bob's Advice
. As always, please remember that I am an amateur investor so please consult with your professional investment advisors prior to making any investment decisions based on information on this website. If you have any questions or comments, please feel free to email me at bobsadviceforstocks@lycos.com.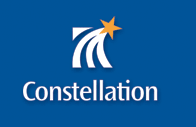 Constellation Brands (STZ) had a nice day yesterday, closing at $49.13, up $2.64 or 5.68% on the day. This was good enough to make the
list of top % gainers on the NYSE
where I found this stock.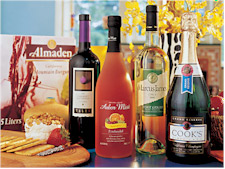 According to the
Yahoo "Profile"
, "Constellation Brands, Inc. is an international producer and marketer of beverage alcohol brands with a portfolio across the wine, spirits, and imported beer categories." Some of the brands that
I
recognized, included St Pauli Girl, Almaden, Inglenook, Black Velvet, Fleischmannis and Schenley. They have many other labels and vineyards as well!
On Thursday, January 6th, after the close of trading, STZ
announced 3rd quarter results
. For the quarter ended November 30, 2004, net sales were up 10% from the prior year at $1.36 billion, up from $1.21 billion the prior year. Net income came in at $96.9 million, up from $82.8 million the prior year, a 17% jump. Earnings per share were up 14% to $.83/share. The street liked these results, and the stock jumped in price in response to the good news!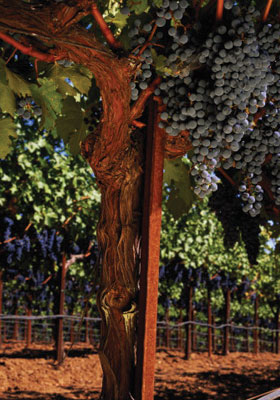 Taking a look at
"5-Yr Restated" financials on Morningstar
, we can see that revenue has grown fairly steadily from $2.3 billion in 2000 to $3.8 billion in the trailing twelve months (TTM). Earnings have also grown from $.52/share to $2.45/share in the TTM.
Free cash flow has been solid and slowly improving from $142 million in 2002 to $196 million in the TTM.
The balance sheet looks solid if not perfect imho, with $9.8 million in cash and $2.28 billion in other current assets balanced against $1.2 billion in current liabilities and $2.07 billion in long-term debt.
What about "valuation"? Taking a look at the
"Key Statistics" on STZ from Yahoo
, we can see that this is a large cap stock with a market cap of $5.30 billion. The trailing p/e is 'nice' at 19.51, with a forward p/e (fye 29-Feb-06) of 16.38. The '5-yr expected' PEG is 1.33, which isn't too high at all. Price/sales also reasonable imho at 1.28.
Yahoo reports 107.92 million shares outstanding with 92.80 million of them that float. Of these, 2.51 million shares are out short as of 12/8/04, representing 2.71% of the float or 5.786 trading days of volume. Using my arbitrary 3 day figure, this short interest is getting a bit significant and might explain the sharp pop in stock price yesterday.
No dividends are paid and the last stock split was a 2:1 split in May, 2002.
How about "technicals"? If we take a look at a
Point & Figure chart from Stockcharts.com
, we can see that this stock has been roaring higher since September 2000. If anything, it is a little over-extended, but certainly, imho, this does not appear to be a weak chart.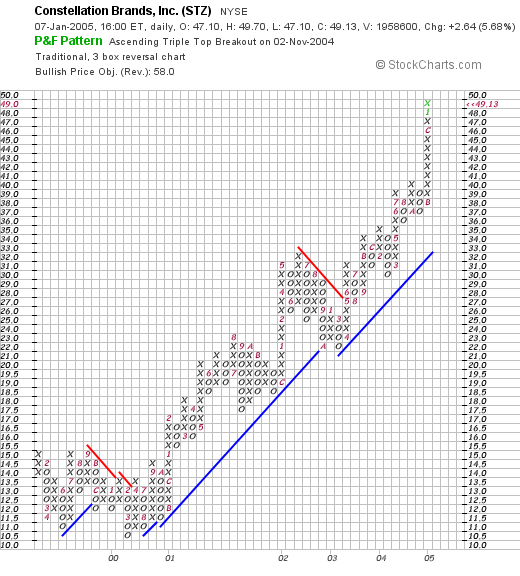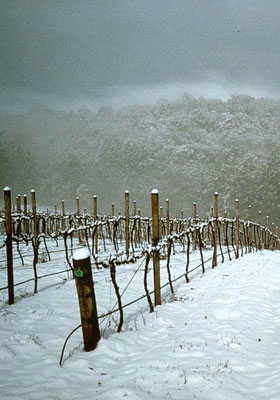 So what do I think? Well, I am posting this here because I like what I am reading. This is a larger capitalization stock than many that I have reviewed previously on Stock Picks. However, the latest quarter is strong, the last five years have been solid, the free cash flow is attractive, the balance sheet is reasonable, and valuation is also at a nice level. Furthermore, this is not a high-tech stock that will fluctuate with boom and bust. This is more of a consumer stock, and who doesn't like a glass of wine on occasion?

Anyhow, I don't have any money to be buying stock now. The NASDAQ has been awful this past week, and I don't think I will be buying anything soon.

Thanks so much for stopping by! If you have any questions, comments, or words of encouragement, please feel free to email me at bobsadviceforstocks@lycos.com!

Bob



Posted by bobsadviceforstocks at 11:15 AM CST |
Post Comment
|
Permalink
Updated: Saturday, 8 January 2005 2:38 PM CST