January 14, 2005 Ask Jeeves (ASKJ)
Hello Friends! Thanks again for stopping by and visiting my blog,
Stock Picks Bob's Advice
. As I always like to remind you, please remember that I am an amateur investor, so please consult with your professional investment advisors to make sure that all investments discussed are appropriate, timely, and likely to be profitable for you, prior to making any investment decisions based on information on this website. As always, please feel free to email me at bobsadviceforstocks@lycos.com if you have any comments, questions, or words of encouragement.

Looking through the
list of top % gainers on the NASDAQ
, I came across Ask Jeeves (ASKJ), the internet company responsible for the search engine of the same name. ASKJ, as I write, is trading at $29.59, up $2.55 or 9.43%. Prior to the opening today, Piper Jaffray
upgraded the stock from "market perform" to "outperform"
. This apparently was enough to lift the stock price in an already strong market today.
According to the
Yahoo "Profile"
, ASKJ "...operates four websites dedicated to search: Ask.com, Ask.co.uk,. Teoma.com, and AJKids.com." Also "Ask Jeeves also delivers or syndicates its search technology and advertising products to approximately 41 third-party Websites as of December 31, 2003."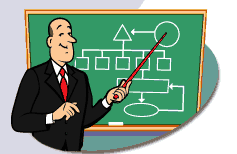 Looking for the latest quarterly report, I found that
ASKJ reported 3rd quarter 2004 results
on October 27, 2004. For the quarter ended September 30, 2004, revenue came in at $75.7 million, a 178% increase over revenues of $27.2 million the prior year.
Using GAAP (Generally Accepted Accounting Practices) income from continuing operations came in at $10.7 million or $.15/share, up from $3.8 million or $.07/share the prior year.

How about longer-term? Taking a look at the
"5-Yr Restated" financials
on Morningstar.com, we can see that revenue HAS been a bit erratic, increasing from $22.0 million in 1999 to $95.7 million in 2000, dropping to $65.0 million in 2002, but then steadily increasing to $207.1 million in the trailing twelve months (TTM).
Earnings dropped from a loss of $(5.51)/share in 2000 to $(11.48)/share in 2001, however, they have improved steadily since then and ASKJ reported a profit of $.67/share in the trailing twelve months.
Free cash flow which WAS negative at $(33) million in 2001 and $(44) million in 2002, turned positive at $20 million in 2003 and $41 million in the TTM.
The balance sheet appears solid. ASKJ has $89.5 million in cash, enough to pay off the $48.3 million in current liabilities, and to pay off a big part of the $1115.9 million in long-term debt. In addition ASKJ has $44.7 million in other current assets.

What about "valuation"? Taking a look at
"Key Statistics" on ASKJ from Yahoo
, we can see that this is a mid-cap stock with a market cap of $1.74 billion. The trailing p/e is 43.88, and the forward p/e (fye 31-Dec-05) is nicer at 21.65. The "5-Yr restated" PEG is only 0.86. Price/sales is a bit rich at 7.61.
Yahoo reports 58.25 million shares outstanding with 54.30 million of them that float. Currently there are 6.44 million shares out short as of 12/8/04. This represents 11.87% of the float, but only 1.505 days of trading volume. Yahoo reports no cash dividend and no stock splits!
What about "technicals"? If we take a look at the
Point & Figure Chart for ASKJ on Stockcharts
, we can see that the stock was moving ahead nicely through 2003 and much of 2004, until breaking through a support level at around $27 in late 2004. The stock does appear to be pushing higher, but it would be nice to see it break through around $32 before feeling like the bullish trend has been re-established.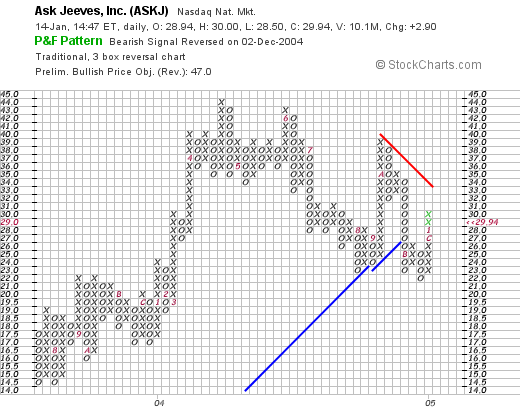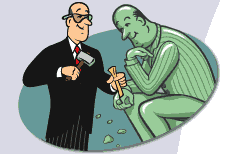 So what do I think? Well the stock is moving higher on a brokerage house upgrade...the latest quarter was quite strong, the last several (if not the last 5) years have been strong, free cash flow is moving positive, the balance sheet is solid, and valuation isn't bad with a 5-Yr PEG under 1.0. It really doesn't look bad to me and I just might add it to the "Trading Portfolio". I haven't made up my mind, now with the EXPO sale, I can feel that nickel "burning a hole in my pants pocket."

Thanks again for stopping by! I hope that my discussions are helpful for you. I know they help me think clearly about stocks and determine why or why not I want to own them!

Bob






Posted by bobsadviceforstocks at 1:53 PM CST |
Post Comment
|
Permalink
Updated: Friday, 14 January 2005 2:00 PM CST