"Revisiting a Stock Pick" Palomar Medical Technologies (PMTI)
Hello Friends! Thanks so much for stopping by and visiting my blog,
Stock Picks Bob's Advice
. As always, please remember that I am an amateur investor so please remember to consult with your professional investment advisors prior to making any investment decisions based on information on this website.
Click
HERE for the PODCAST on PALOMAR MEDICAL TECHNOLOGIES (PMTI)

I was scanning the
list of top % gainers on the NASDAQ
today, and came across an 'old favorite' of mine, Palomar Medical Technologies (PMTI), which is trading as I write at $39.05, up $4.37 or 12.60% on the day. I do not own any shares nor do I have any options on this stock.
I first
reviewed PMTI on Stock Picks Bob's Advice
on June 15, 2004, when the stock was trading at $14.83. Thus, the stock has appreciated an impressive $24.22 or 163.3% since my first post. Too bad I
didn't
buy any shares!
Palomar is on the move today, in part from
Jim Cramer on "Mad Money"
who plugged the stock on Friday. But the stock also has criteria that makes it a great investment without this endorsement. However, when we can find stocks that fit the things I screen for, and somebody influential like Cramer comes along and adds an endorsement, that is only a 'plus' for the future price appreciation imho.
Let's take a closer look at this stock and let me show you why I wrote up this company a year-and-a-half ago and why I still like this stock.
First of all, let's review their business. According to the
Yahoo "Profile" on PMTI
, the company
"...engages in the research, development, manufacturing, and distribution of light based systems for hair removal and other cosmetic treatments. It offers products based on technologies that include hair removal, removal of benign pigmented lesions, such as age and sun spots; tattoo removal; acne treatment; wrinkle removal; pseudofolliculitis barbae or pfb treatment; treatment of red pigmentation in hypertrophic and keloid scars; treatment of verrucae, skin tags, seborrheic keratosis; deep tissue heating for relief of muscle and joint pain; noninvasive treatment of facial and leg veins and other benign vascular lesions, such as rosacea, spider veins, port wine stains and hemangiomas; and other skin treatments."
So basically, they treat skin disease problems with a laser.
What about their latest quarterly result? On October 27, 2005, Palomar
reported 3rd quarter 2005 results
. Revenues for the quarter ended September 30, 2005, came in at $19.3 million, up 44% from the $13.9 million reported in the same quarter a year ago. Net income for the quarter came in at $4.6 million or $.24/diluted share, up about 100% from the $2.1 million or $.12/diluted share reported in the same quarter last year. This was a very strong report imho.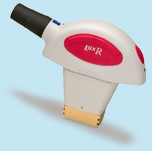 And what about longer-term results? Looking at the
Morningstar.com "5-Yr Restated" financials
, we can see a pretty picture of revenue growth with $13.2 million in revenue reported in 2000, growing steadily to $54.4 million in 2004 and $71 million in the trailing twelve months (TTM).
Earnings have also improved steadily from a loss of $(.97) in 2000, to a profit of $.94 in the TTM. Free cash flow has been improving steadily as well, from $(1) million in 2002 to $11 million in 2004 and $17 million in the TTM.
Morningstar.com shows the balance sheet to be gorgeous with $39.7 million in cash, which by itself can cover the combined $13.6 million in current liabilities and the $-0- of long-term liabilities almost 3x over! In addition, the company has an additional $17.3 million in other current assets per Morningstar. This looks quite solid to me!
And what about valuation? Looking through
Yahoo "Key Statistics" on Palomar
for some numbers on this, we find that this is a mid-cap stock with a market capitalization of $660.26 million. The trailing p/e is a bit rich at 42, and the forward p/e (fye 31-Dec-06) is a bit better at 33.24. The PEG ratio (5 yr expected) is 1.44.
According to the
Fidelity.com eResearch website
, Palomar is in the "Medical Appliances/Equipment" group, and within this group is priced the most expensive in terms of the price/sales ratio. PMTI tops the list with a ratio of 9.3, followed by St. Jude (STJ) at 7.4, Medtronic (MDT) at 6.7, Zimmer Holdings (ZMH) at 5.3, Biomet (BMET) at 4.7, and Edwards Life Sciences (EW) at 2.6.
Going back to Yahoo for a few more numbers, we can see that there are 16.98 million shares outstanding and as of 12/12/05, there were 3.50 million of them out short representing 22% of the float! This is a short ratio of, get this, 21.8 days! (the short ratio). I use a ratio of 3 days for significance, and I really suspect that Cramer's plug of this stock with the huge short interest probably added to a squeeze of the shorts, and there are likely short-sellers who are trying desparately to cover their short-sales rather frantically as the stock climbs today! (Now all of that last part is just speculation on my part, but the large number of shares out short in the face of a sharp rise in the price can only give one pause!)
What about the chart? Looking at the
"Point & Figure" chart on Palomar from Stockcharts.com
, we can see the sharp rise in price from $9.50/share in January, 2005, to the $38.90 level it is trading at today. The graph looks strong except for a mile sell-off in June, 2004, to the $10.50 level.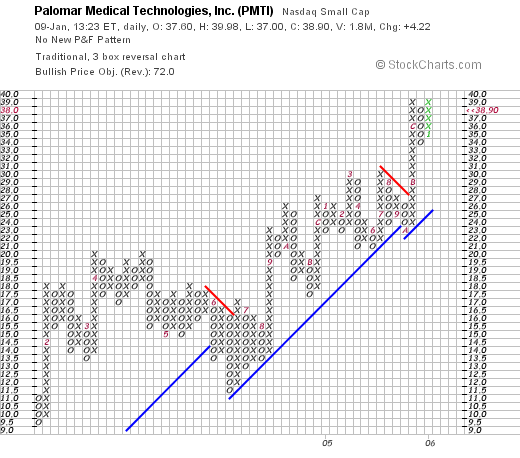 So what do I think? Well, I wish I had bought some shares back in 2004! However, the stock still looks strong with a nice move today with LOADS of short-sellers in the stock, the last quarter was strong with both earnings and revenue growth galore, steadily growing earnings and free cash flow and a very solid balance sheet. Valuation is a bit rich with the stock with a Price/Sales ratio in the top of its group, the P/E in the 40's and a PEG at 1.44. However, except for that, most everything else looks solid!

Thanks so much for stopping by! If you have any questions or comments, please feel free to leave them on the blog or email me at bobsadviceforstocks@lycos.com.

Bob












Posted by bobsadviceforstocks at 1:29 PM CST |
Post Comment
|
Permalink
Updated: Thursday, 12 January 2006 12:49 AM CST