June 15, 2004 Palomar Medical Technologies Inc (PMTI)
Hello friends! Thanks again for stopping by. The market was acting a little healthier today, surviving Greenspan's testimony, and closing with both the NASDAQ and DOW making gains. If you have any questions or comments on this blog, please feel free to email me at bobsadviceforstocks@lycos.com Remember that I am an amateur investor, so my commentary should be taken with a grain of salt, you should do your own investigation on all investments discussed on this website and PLEASE consult with your financial advisors before taking any action. Speaking of the market, IGT took a hit closing down about 10% and pushing my position into the "red". Since I have already sold a portion of this stock at a gain, I shall be watching this stock closely tomorrow and if it isn't rebounding quickly, it shall be sold from the trading portfolio.

Palomar Medical Technologies (PMTI) had a nice day today, closing at $14.83, up $1.31 or 9.69% on the day. Full disclosure, I DO have some shares of Palomar in a managed account that I do not advise regarding trades. According to the Yahoo profile, Palomar "...is a researcher and developer of light-based systems for hair removal and other cosmetic procedures."
On April 29, 2004, PMTI
reported 1st quarter 2004 results
. Revenues for the quarter ended March 31, 2004, were $10.8 million up from $6.8 million in the first quarter of the prior year. Net income was $1.2 million, or $.07/diluted share, compared to net in come of $358,000 or $.03/share the prior year. These are nice results!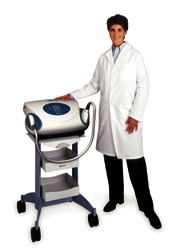 What about longer term? Revenue growth has been erratic over the last ten years; however, over the past five years, the company has been growing fairly steadily as it developed its hair-removal technology. Reviewing the
"5-Yr Restated" financials
on Morningstar.com, we can see that revenue actually dipped from 1999 at $24.3 million to $13.2 million in 2000, but has increased steadily since then with $34.8 million in revenue reported in 2003.
Earnings, which WERE at $2.39/share in 1999, dropped to a loss of $(.90) in 2000, but have been also increasing steadily since.
Free cash flow, which came in at $(9) million in 2001, $(1) million in 2002, turned positive to the tune of $1 million in 2003.
What about the balance sheet? Per Morningstar.com this appears quite solid imho. They report $10.6 million in cash, more than enough to cover the current liabilities of $7.3 million. NO long-term liabilities are reported. In addition PMTI has another $10.4 million in other current assets.
How about valuation? Looking at
Yahoo "Key Statistics"
, we can see that this is a SMALL cap stock with a market cap of $232.37 million. The trailing p/e is steep at 59.08 but a forward p/e (fye 31-Dec-05) comes in at 26.02. With the rapid growth in earnings estimated, the PEG comes in at a moderate 1.41. Price/sales, however, is also rich at 5.46.
Yahoo reports 15.67 million shares outstanding with 12.60 million of them that float. Of these, there are 584,000 shares out short as of 5/10/04, representing 2.413 trading days or 4.64% of the float. This appears to be a moderate amount of short interest...I use 3.0 days as a "cut-off" for significance.
No cash dividend is reported, PMTI had a REVERSE 1:7 split in May, 1999. No other stock splits are reported on Yahoo.
How about technicals?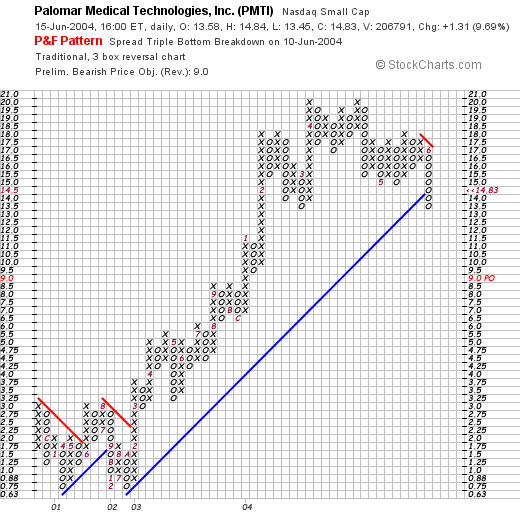 Overall, the stock broke through a resistance level in February, 2003, and has traded higher from $2.25/share to the current level. In the last couple of days, the stock DID break through a support level at about $14.50. However, with the recent Move to $14.83, the stock is now trading back above its support line...so while of some concern, the stock doesn't yet appear to have broken down.

What do I think? Well I am biased towards medicals as I have done well with them. This particular stock has a valuation that is slightly rich p/e wise....but the PEG isn't bad at just over 1.0, the balance sheet is nice, the technicals appear adequate. Well, I do have some shares, and am not in the market for any new positions...will actually likely be shrinking a position tomorrow with the IGT move today...remember, if you have any comments, questions, or words of encouragement, please feel free to email me at bobsadviceforstocks@lycos.com

Bob