A Reader Writes "...do you think hw is a buy?"
Hello Friends! Thanks so much for stopping by and visiting my blog, Stock Picks Bob's Advice! As always, please remember that I am an amateur investor, so please remember to consult with your professional investment advisors prior to making any investment decisions based on information on this website.
One of my favorite things about blogging is getting feedback from my readers. This sometimes comes in the form of comments on entries and other times comes in as questions or comments in emails. If you would like to leave a comment on anything I have written, please feel free to do so. I shall delete spamming and commerical comments but otherwise I am pretty accommodating to other ideas. You can contact me by email at bobsadviceforstocks@lycos.com. I read all of my emails, but can only comment on or respond to just a few of them. Please do leave your first name and your general location when you write.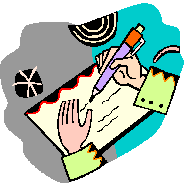 A few days ago I received a nice email from Tony who wrote:
"hello, i hope you are still active i am following hw and i only found your blog online, do you think hw is a buy at these prices or do you see it trending lower a stock club i'm in has recently started buying GD i don't know if you are interested in that stock but you may want to check into it. if you can email me and let me know what you think of hw. thanks and have a great day. tony"
Tony, first of all thanks for writing. I am not currently following Headwaters, Inc. (HW) but did write about it way back on October 22, 2003, when the stock was trading at $17.41. For reference, Headwaters closed yesterday, June 6, 2007, nearly four years later at $18.48/share, which is $1.07 higher than my post or a gain of 6.1% since writing up the stock. I do not own any shares or have options on this company.

Let's take a look at a few basic things on this stock to see whether I can still suggest it deserves a place on this website: the latest quarter, the Morningstar.com report, and the chart.
First of all the earnings:
Headwaters (HW) announced 2nd quarter 2007 results on May 1, 2007. Total revenue for the quarter ended March 31, 2007, came in at $274.1 million, up 2% from $269.7 million in the same quarter last year. Net income for the quarter came in at $27.2 million or $.59/diluted share, up 48% from $18.4 million or $.40/diluted share last year. So far so good.
What about the Morningstar report?
Checking the Morningstar.com "5-Yr Restated" financials on Headwaters, we can see the nice rise in revenue from $119 million in 2002 to $1.12 billion in the trailing twelve months (TTM). However, earnings, which peaked at $2.79/share in 2005, dropped to $2.19/share in 2006 and $2.15/share in the TTM. We know that the latest quarter was quite good, but the last couple of years prior to that weren't.

The company has increased its shares significantly from 24 million in 2002 to 42 million in the TTM. However, during this period, revenue is up over 800% and earnings are up over 100%, so this dilution isn't excessive.

Free cash flow is positive and the balance sheet is acceptable.
What about the chart?
Reviewing the "Point & Figure" chart from StockCharts.com on Headwaters, we can see how the stock climbed strongly from the $17.50 level in 2003 when I first wrote it up to peak at $45/share in August, 2005. Since that time the stock has been trading very weakly and has broken through "support levels" (the 'blue line') and well below "resistance levels" (the 'red line'). It does not look encouraging at all, although I am certainly not qualified as a technician.



Thus, because of the excellent latest quarter, I would not place this as a "sell", but because of the mediocre last couple of years on Morningstar.com and the poor appearance of the chart,
HEADWATERS (HW) IS RATED A HOLD
I haven't looked at General Dynamics (GD) recently, so I haven't any comments on that stock at this time. Thanks so much for stopping by, visiting, and writing. I hope my comments are helpful.
If you have any comments or questions, please feel free to leave them on the blog or email me at bobsadviceforstocks@lycos.com. If you get a chance, be sure and visit my Stock Picks Podcast Website.
Bob
Posted by bobsadviceforstocks at 8:43 AM CDT |
Post Comment
|
Permalink
Updated: Thursday, 7 June 2007 9:56 AM CDT