July 14, 2006 Kinetic Concepts (KCI)
CLICK HERE FOR MY PODCAST
ON KINETIC CONCEPTS

Hello Friends! Thanks so much for stopping by and visiting my blog, Stock Picks Bob's Advice. As always, please remember that I am an amateur investor, so please remember to consult with your professional investment advisors prior to making any investment decisions based on information on this website.
The market continues to back off with the Dow down 98.69 to 10747.60 as I write and the NASDAQ down 16.31 to 2037.80. Not wishing to get too discouraged, I decided to go ahead and scan the list of top % gainers on the NYSE
and came across Kinetic Concepts (KCI), trading as I write at $44.45, up $3.30 or 8.02% on the day. I do not own any shares nor do I have any options on this stock. In fact, I was planning to write this one up yesterday, but you know how that goes....one thing leads to another and pretty soon I haven't written anything at all! I shall try to keep this brief and get the information on this company posted this afternoon!
First of all, what does this company do? According to the Yahoo Profile on Kinectic, the company "...engages in the design, manufacture, marketing, and service of wound care and therapeutic products in the United States and internationally."
On April 25, 2006, KCI reported 1st quarter 2006 results. For the quarter ended March 31, 2006, total revenue increased 14% to $319.2 million. Net earnings increased 31% to $48.5 million and net earnings per share increased 29% to $.66/share.
Reviewing the 5-Yr Restated Financials from Morningstar.com, we can see revenue increasing steadily from $.5 billion in 2001 to $1.2 billion in 2005. Earnings per share increased from $1.67/share in 2005 to $1.82/share in the TTM. Free cash flow is positive with $204 million in 2003, $95 million in 2004 and $144 million in 2005. KCI reported $125 million in free cash flow in the trailing twelve months (TTM).
The balance sheet looks fine with $136.5 million in cash and $365.8 million in other current assets. With $200.6 million in curretn liabilities, this yields a current ratio of about 2.5. Long-term liabilities are not insignificant at $331.0 million, but the current assets are approximately equal to the combined short and long-term liabilities.
Looking at Yahoo Key Statistics on KCI, we can see that this is a large cap stock with a market capitalization of $3.2 billion. The trailing p/e is moderate at 24.45, but the forward p/e is even nicer at 14.78 (fye 31-Dec-07). Thus, with the rapid growth, the PEG works out to 0.91.
Reviewing the Fidelity.com eResearch website, we can see that this company is in the "Medical Appliances/Equipment" industrial group. Within this group, the stock's valuation is quite reasonable as measured by the Price/Sales ratio with this company coming in dead last at 2.4. Topping this group is Medtronic (MDT) with a Price/Sales ratio of 5.1, followed by St. Jude (STJ) at 4.2, Zimmer (ZMH) at 4.2, Biomet (BMET) at 3.9 and Edwards Lifesciences (EW) at 2.9.
Interestingly, looking at profitability, even though this company is the cheapest in valuation it is top in profitability with a return on equity of 73.2%. This is followed by Biomet at 25.9%, Medtronic at 23.8%, Zimmer at 16.6%, St. Jude at 14.4% and Edwards Lifesciences at 13.8%. This is an interesting combination of a cheap stock with great profitability.
Going back to Yahoo for some more numbers, we find that there are 71.68 million shares outstanding wtih 57.9 million that float. Currently, as of 6/12/06, there were 1.64 million shares out short representing 2.8% of the float and only 2.5 trading days of average volume (the short ratio). No dividend is paid and no stock split is reported.
Looking at the StockCharts.com "Point & Figure" chart on KCI, we can see that this stock was trading much higher as recently as December, 2004, when the stock price hit $78/share. The stock has more recently been under pressure, with a drop to $33/share in July, 2005. Since that point, the stock has been trading higher to the current level of $44.65/share. Long-term the graph looks awful in my humble opinion, but short-term looks a little more promising: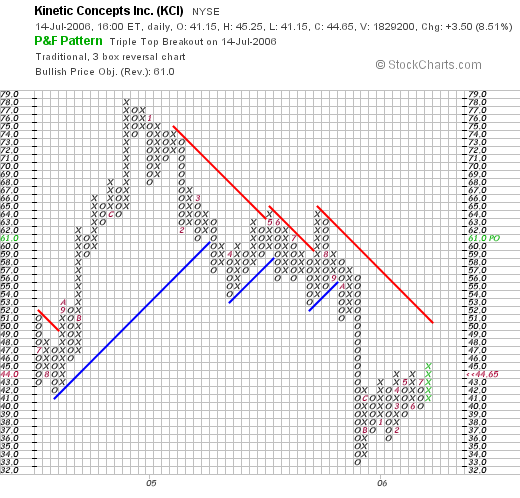 So what do I think about this stock? Well it is an interesting company that has been moving higher the past two days in an otherwise very weak market. I suspect that earnings are due....maybe investors think the news will be strong (?). The last quarter was great, the Morningstar.com report looks nice, and valuation is attractive with a p/e in the low 20's, a PEG under 1.0, a Price/Sales ratio the lowest in its group and the profitability, as measured by return on equity (ROE), the highest in its group. Finally the chart looks interesting....the stock price does appear to be moving higher after a significant correction in valuation.
Anyhow, that's my stock for today! Thanks so much for stopping by and visiting! Please note that although I write up a stock today, I do not recommend purchase of any stock unless one has a "buy signal" generated by your own portfolio....that is one of your stocks is at a partial sale point due to price appreciation. If you have any comments or questions, please feel free to email me at bobsadviceforstocks@lycos.com or just leave them on the blog. Also, please be sure to stop by and visit my Podomatic.com podcast site!
Bob

Posted by bobsadviceforstocks at 3:53 PM CDT |
Post Comment
|
Permalink
Updated: Friday, 14 July 2006 8:42 PM CDT