"Looking Back One Year" A review of stock picks from the week of January 16, 2006

Hello Friends! Thanks so much for stopping by and visiting my blog, Stock Picks Bob's Advice! As always, please remember that I am an amateur investor, so please remember to consult with your professional investment advisers prior to making any investment decisions based on information on this website.
As part of my weekend routine, I have been trying (albeit not always successfully) to review past stock selections to find out how this multitude of stock picks has been turning out. These evaluations assume a buy and hold strategy. In fact, I advice and implement a very disciplined selling strategy for my portfolio where I sell my losing stocks quickly and completely and my gaining stocks slowly and partially at predetermined targeted appreciation levels. This difference in management of stocks will certainly affect performance and this evaluation is no exception. Please take that in mind when assessing this review.
I missed a review last weekend. However, back on June 2, 2007, I did my Weekend Review and reviewed picks from the week of January 9, 2006. Going ahead a week, let's take a look at the pick from January 16, 2006. I am fortunate that during that week I selected only one pick, a great stock that I also now own, Bolt Technology (BTJ).

On January 19, 2006, I selected Bolt Technology (BTJ) for Stock Picks Bob's Advice when the stock was trading at $17.86. Bolt closed at $40.32 on June 15, 2007, for a gain of $22.46 or 125.8% since posting!
Because of the strong latest quarter, "5-Yr Restated" financials on Morningstar, and the strong chart,
BOLT TECHNOLOGY (BTJ) IS RATED A BUY
Let's take a look at the "Point & Figure" chart on Bolt from StockCharts.com. I have added in my 'pick price' and my purchase of Bolt shares a year later at virtually the same price. I have also included my partial sales of Bolt as the stock has quickly climbed from the purchase price.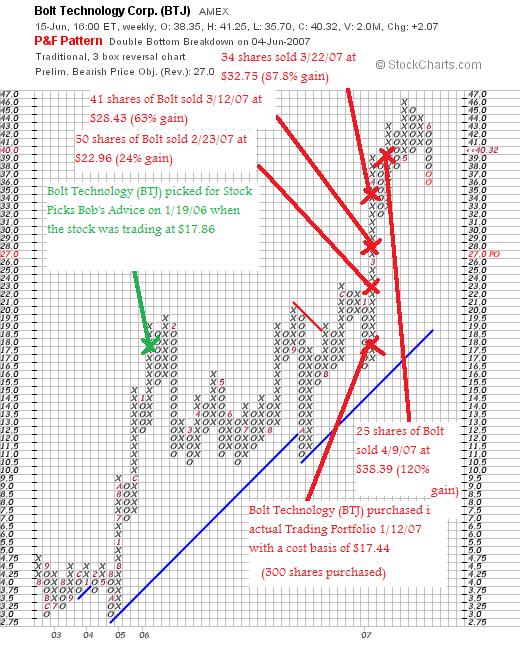 The chart, even after a small pullback recently that I blogged about recently, still looks encouraging.

On April 25, 2007, Bolt (BTJ) announced 3rd quarter 2007 results. For the quarter ended March 31, 2007, sales increased 51% to $12.7 million from $8.4 million last year. Net income was up 118% to $2.8 million or $.50/diluted share compared to $1.3 million or $.23/diluted share in the same quarter the prior year. This was a very strong report.
Since this was the only stock I reviewed during the week, I had a very strong week with a stock pick that has appreciated 125.8% since posting. This is far from typical and I often write about down weeks as well, but it was a pretty nice selection, wasn't it? In addition, I now own the stock and have ridden the stock higher in a very short period of time. I have sold portions of this stock on the way up to 'hedge' my gain, so to speak, and am prepared to sell more on the way up or down.
Thanks so much for visiting! If you have any comments or questions, please feel free to leave them on the blog or email me at bobsadviceforstocks@lycos.com.
Bob
Posted by bobsadviceforstocks at 3:41 PM CDT |
Post Comment
|
Permalink
Updated: Sunday, 17 June 2007 3:42 PM CDT