A Reader Writes "When you are faced with this situation...."
Hello Friends! Thanks so much for stopping by and visiting my blog, Stock Picks Bob's Advice! As always, please remember that I am an amateur investor, so please remember to consult with your professional investment advisers prior to making any investment decisions based on information on this website.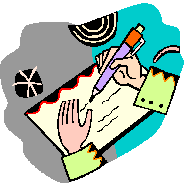 I was delighted to get another letter from Eric N. (no kidding!) who has been an enthusiastic reader of this blog and a frequent correspondent here. Eric wrote with some questions about stock splits.
"Hi Bob,

Thanks for the posts, and for talking about what is going on in your life.

Generally I would wait awhile before asking another question, but I was surprised by something that happened with one of my stocks today. It turns out that one of mine split (2:1). I am hoping this is a good thing.

The only thing that threw me for a loop is the change in price and determining the 8% drop to sell. When you are faced with this situation do you set the sell-all price (assuming no appreciation level has been hit) at 8% lower than half of the original buy price, or 8% lower than the current split price, or something completely different?

Thanks for the thoughts and again I am sorry about the barrage of questions lately, new things are coming at me all the time and you always seem to explain things in a way that just makes sense.

Peace,

Eric N.

Boston, MA"
Eric, first of all don't worry about asking questions :). Your questions have been straight forward and not really so simple as you might think. And they give me the opportunity to review some things which I might think everyone knows and I just take it for granted. So your letters and comments are appreciated. And I hope I don't bore anyone talking about Chinese Food, Ice Cream, and Garrison Keillor.
BTW, I certainly don't receive any money from the places I have mentioned. They are just the places I actually ate at or visited. I don't suspect they will receive any kind of burst of business because I have them on my blog :).
Your first question about the effect of stock splits and whether it is a good thing or not. This isn't very clear to me. I suspect that long-term stock splits are indeed useful but research hasn't necessarily supported this hypothesis. As this article relates:
"Stock splits may seem like a gift to some investors, but there is little evidence that you benefit in any meaningful way when a company splits its stock.

Here's what happens. Amalgamated Kumquats, which is currently priced at $80 per share, announces a 2-for-1 stock split. If you own 100 shares before the split worth $8,000, you will own 200 shares worth $8,000 after the split.

The market automatically marks down the price of the stock by the divisor of the split. The $80 per share price becomes $40 per share.

There are other splits such as 3-for-1 and 3-for-2, however 2-for-1 seems the most common."
However, I found this Morningstar report which suggested a positive effect for shareholders after a split:
"As it turns out, many studies have shown that when companies split their stocks, those stocks subsequently enjoy abnormal returns. In other words, they outperform the market, apparently for no other reason than because they were split. One study finds a one-year abnormal return of 7% and a three-year abnormal return of almost 12%. (For reverse splits, which happen when a company re-denominates its shares to make them more pricey, the abnormal returns are negative--the mirror image of normal splits.)"
From my humble perspective, stock splits are a good sign. Generally it means the stock has been rising significantly and management is 'bullish' about future prospects. That isn't a very scientific assessment, but hey, I am like every other investor, and like to have more shares of stock even if they have just been reduced in price and I am none the richer :).
When you ask about what to do about the 8% loss limit. I can tell you that I don't change anything. That is, after a stock split, for this discussion we will consider a 2:1 stock split, then my basis has also split in half. That is if I purchased 100 shares of a stock at $10 and it splits 2:1 I now have 200 shares at $5. And thus, my new basis is $5. So instead of selling at an 8% loss or at 92% of $10=$9.20, I am now selling at 92% of $5 or $4.60 which you can see is also half of $9.20.
It is important to quickly change your calculations to reflect your new adjusted purchase price based on the stock split. Then you can calculate whatever gain or loss you have incurred properly. Generally, your brokerage account may do it for you if you are fortunate. I know that Fidelity does this for me and that might be a service you might wish to have with your brokerage statement.
I hope this answers your question properly. If not, try again :). There are no bad questions around here.
Thanks again for your comments and if you or anyone else have comments or questions, please feel free to leave them on the blog or email me at bobsadviceforstocks@lycos.com.
Bob