GameStop (GME) "Revisiting a Stock Pick"
Hello Friends! Thanks so much for stopping by and visiting my blog, Stock Picks Bob's Advice! As always, please remember that I am an amateur investor, so please remember to consult with your professional investment advisers prior to making any investment decisions based on information on this website.
Before I get any further, I would like to wish all of the fathers out there a very Happy Father's Day! This is a picture of Winthrop, Massachusetts: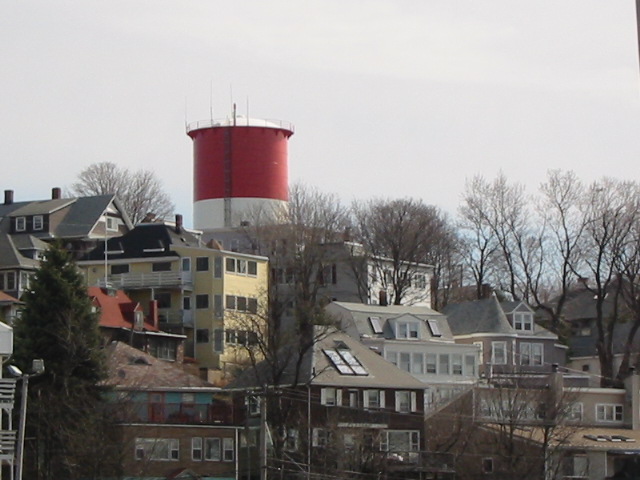 My father hails from Winthrop. I still have a lot of family there. So this entry is dedicated to my father, Sumner, my Uncles and my cousins and all of the dads who happen to stop by and read this entry. Happy Father's Day!.

I have been trying to get around to posting this stock since Friday! And here it is Sunday. And I really ought to get around to another of those "Weekend Reviews"!
GameStop (GME) made the list of top % gainers Friday, closing at $39.21, up $1.95 or 5.23% on the day. I do not own any shares nor do I have any options on this stock.
However, I have reviewed this stock before. On November 14, 2004, about 2 1/2 years ago, I reviewed GameStop on Stock Picks Bob's Advice when it was trading at $23.50, or actually $11.75 adjusted for a 2:1 stock split. With Friday's close at $39.21, this represents a gain of $27.46 or 233.7% since posting!
I would like to go over some of the current information on this stock and explain why
GAMESTOP (GME) IS RATED A BUY
Insofar as what drove the stock higher Friday, there was a report about the strong sales during the month of May which pushed the price of GameStop higher.
As reported in the story, David Magee of SunTrust Robinson Humphrey wrote in a note to clients, regarding the recent price of GameStop which has nearly doubled since last summer:
"We believe the multiple is warranted given GameStop's dominant position as a specialty retailer of video games, its substantial infrastructure to trade used titles [providing a unique point of differentiation with customers relative to other retailers] and potential for margin expansion as new software sales increase as a percentage of the product mix"
What exactly does this company do?
According to the Yahoo "Profile" on GameStop, the company
"...operates as a retailer of video game products and personal computer (PC) entertainment software. It sells new and used video game hardware and software, and related accessories and other merchandise. The company also offers video game accessories that include controllers, memory cards, and other add-ons; PC entertainment accessories, such as joysticks and mice; and strategy guides and magazines, as well as trading cards."
How did they do in the latest quarter?
On May 23, 2007, GameStop reported 1st quarter 2007 results. For the quarter ended May 5, 2007, the company reported total company sales climbing 23.0% to $1,279 million, compared to $1,040 million the prior year same period. Perhaps more importantly, comparable store sales increased a very robust 15.3% during the quarter. This beat previous guidance of a 12 to 14.0% increase.

Net earnings were $24.7 million, an 111% increase over first quarter 2006 results of $11.7 million. On a per share basis this was $.15/diluted share this year vs. $.07/diluted share last year.

As strong as these results were, apparently they were a penny shy of expectations as analysts had expected earnings of $.16/share on revenue of $1.25 billion. So earnings were a penny light but revenue came in a bit ahead of analysts. The company did raise guidance for future results with full-year earnings forecast to $1.39 to $1.42 from $1.37 to $1.40/share previously guidance.
What about longer-term results?
If we review the Morningstar.com "5-Yr Restated" financials on GameStop, we can see that revenue has steadily grown from $1.35 billion in 2003 to $5.32 billion in the trailing twelve months (TTM).

Earnings, which were flat at $.53/share in 2004 and 2005, have grown strongly since with $.81/share in 2006 and $1.00/share in 2007.

The company has increased its shares outstanding from 112 million in 2004 to 153 million in the TTM. This 37% increase in shares has been accompanied by an increase of an over 200% increase in revenue and a nearly 200% increase in net income during this period. While I prefer to not see significant increases in outstanding shares, I am comfortable with increases in the shares accompanied by an even larger increase in earnings and revenue.

Free cash flow has been positive and increasing nicely with $48 million reported in 2005, increasing to $181 million in 2006 and $290 million in 2007.

The balance sheet is adequate. The company reports $652.4 million in cash and $787.9 million in other current assets. This total of $1,440 million, when compared to the $1,087 million in current liabilities yields a current ratio of 1.32. Generally, I view current ratios of 1.25 or higher as acceptable, although ratios of 2.0 or higher are generally considered "healthy".
What about some valuation numbers on this stock?
Using Yahoo "Key Statistics" on GME, we find that the market cap of this stock is a Large Cap sized $6.21 billion. The trailing p/e is a bit rich at 36.47 with a forward p/e (fye 03-Feb-09) estimated at 21.19. The PEG ratio at 1.06 (5 yr expected) suggests a reasonable valuation based on estimated earnings results.

According to the Fidelity.com eresearch website, the Price/Sales for GameStop is reasonable with a value of 1.08 for the Price/Sales (TTM) compared to the industry average of 1.04.

Profitability is also a bit less than average with GME coming in with a Return on Equity (TTM) of 12.96% compared to the industry average of 18.22%.

Finishing up with Yahoo, there are 158.46 million shares outstanding with 144.15 million that float. As of 5/10/07, there were 3.73 million shares out short representing 2.6% of the float or 2.1 trading days of volume. This doesn't appear significant to me.

No dividends are paid, and the last stock split reported by Yahoo was a 2:1 split on March 19, 2007.
What does the chart look like?
If we review the "Point & Figure" chart on GameStop from StockCharts.com, we can see that the stock has been on an absolute 'tear', climbing sharply from the lows of $3.75 in February, 2003, to the current level of nearly $40. The stock looks a bit over-extended over the short-term, but the price direction certainly appears to be strongly higher.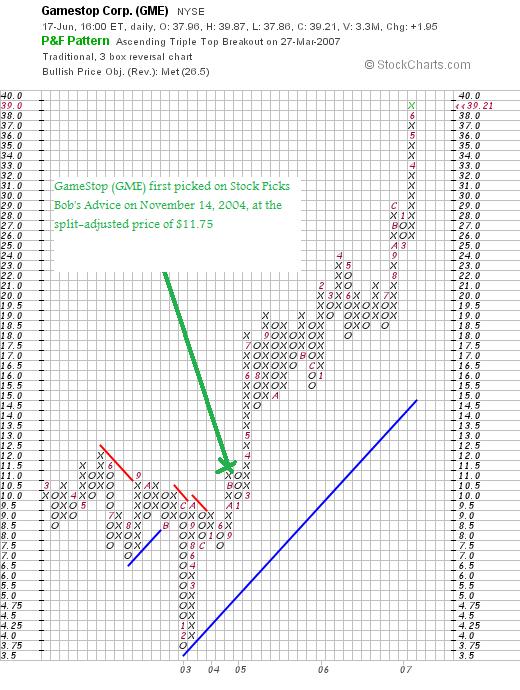 Summary: What do I think about this stock?
Well, I first of all wish I had purchased shares of this company when I first wrote it up :). But I cannot buy everything I write about. No matter how much I would like to. But this stock deserves a place on this blog and a place in my investing vocabulary.

To summarize a few of the things I have written about, the stock has recently moved strongly higher on the back of recent surge in video game player sales and software sales. They are reporting strong earnings as well as important same store sales growth with strong revenue numbers being reported in the latest quarter.

Expectations, however, are quite high for this company and it is not a tiny stock that is going under the radar. Valuation is rich with a p/e over 30 and nearly 40. However, with the rapid growth, the PEG is barely over 1.0. Also, Price/Sales and ROE figures are fairly 'ho-hum' compared to its peers. Finally the chart is quite strong.

How does this all add up? Basically I still like this stock. But I would be cautious based on valuation and the technical over-extended appearance of the chart. That is where those 8% loss limits are so important. If I were buying shares of a stock on Friday, this would be the kind of stock I would be buying. But then again, I don't have any kind of 'permission slip' to be buying so meanwhile, the company stays in my list of 'investable' companies!
Have a great Father's Day everyone! If you get a chance, say hello to all of my friends in Winthrop and all of my Uncles, Cousins, and Friends who are also I hope having a special day with their families.
If you have any comments or questions, please feel free to email me at bobsadviceforstocks@lycos.com or just leave them right on the blog. If you get a chance drop by and visit my Stock Picks Podcast Website. And if I get a chance, I shall try to make time to post a new podcast in the next day or two!
Bob