Ventana Medical Systems (VMSI) "Weekend Trading Portfolio Analysis"

Hello Friends! Thanks so much for stopping by and visiting my blog, Stock Picks Bob's Advice! As always, please remember that I am an amateur investor, so please remember to consult with your professional investment advisers prior to making any investment decisions based on information on this website.
I hope you all had a Happy Father's Day! I had a fairly tranquil day visiting my inlaws and running errands for my daughter as she prepares for a trip. Then we all went off to a local Chinese Restaurant, Hunan, where I had a nice dish of lamb with broccoli.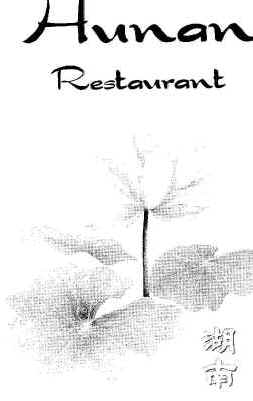 Afterwards, we headed over to The Pearl Ice Cream Parlor where I had a chocolate soda while my daughter worked on an Ice Cream. It was a nice evening for this Dad, yet my diet suffered once again. So Monday, back to lots of water.


Like so many Americans, and others around the world, we spend time with family and friends and yet food is the commonality that brings us together.
It is now getting late, and I wanted to get this entry on the blog. I do a lot of things on this website. Lately, I am taking the time to share with all of you readers more of my life as well. I hope that you all enjoy this part of my writing.
Above all I strive for transparency on this website. I am happy to talk about stocks. You can read about loads of investment scams out there and I do encourage every one of you to do your own investigations, do your own homework, consult with your investment advisers, and do whatever you need to do before listening to anyone suggest an investment whether it be on some strange website or this website by yours truly. I work very hard to share with you my ideas, give you the rationale behind them, let you know whether I own shares or not, and keep you posted on my actual trading portfolio.
I have gone so far as to register with Covestor and have them monitor my actual trading portfolio and report to you all my performance in my actual holdings. I would encourage you all to visit the Covestor site for my portfolio as well as many other investors who are putting together their stocks for public review.
In addition, for a third-party review of my 'picks' and the performance associated with them, I have signed up with Social Picks.com which reviews and determines my recommendations when I write up stocks. They are not perfect in this but they are pretty good and you can visit my stock picks evaluation on Social Picks which is current as of 1/22/07. (Thus there are many earlier picks which are not included on this review).
These new additions are wonderful ways of verifying the usefulness of my writing. Some people may ask why I blog. I don't have a very good answer. I believe that after all of the years investing that I have done, I have something to offer other investors. I believe that my thinking is on the mark, my management of portfolios innovative, and that the built-in timing mechanism to move into and out of equities while not perfect, is a clever addition for any investor. I hope so. And this blog is an excellent way for me to improve my own techniques. I sometimes dream that it will become something much bigger for me. Perhaps another career or writing opportunity. It is always nice to dream!
So I hope you can see that when I write, I try to offer honest appraisals of stocks and transparent analysis sharing with all of you what I own, when I buy and when I sell, and why I do all of this.
I was going to write about Ventana Medical Systems (VMSI) another of my holdings before I got sidetracked about Chinese food, Ice Cream and blogging. I am not sure all of these go together very well :).
I know this will be difficult for me, but let me try to be brief with this post. One of the tasks I have assigned myself on this website, is to go through my stock holdings, one at a time, and share with you my actual experiences, my actual trades involving my stocks, and review their current status. If possible, I shall be briefer than usual on this one tonight.
I am currently at my new maximum of 20 positions (I may go to 25 if I ever pay down my margin balance.) On May 19, 2007, I reviewed my Meridian Bioscience (VIVO) holding. Going alphabetically (by symbol) I am up to Ventana Medical Systems (VMSI).
I currently own 162 shares of Ventana Medical Systems (VMSI) which were purchased 4/16/04 at a cost basis of $23.47 per share. Ventana closed at $53.08 on June 15, 2007, for an unrealized gain of $29.61 or 126.2% since my purchase. As is my strategy, I have taken gains at the 30%, 60%, 90% and 120% appreciation levels. Currently I am selling 1/7th of my holdings at each point, but when I started this process, I was selling 1/4 of my holdings at each appreciation level.
Here is the current "Point & Figure" chart on VMSI from StockCharts.com with my discussions and actual purchases marked out.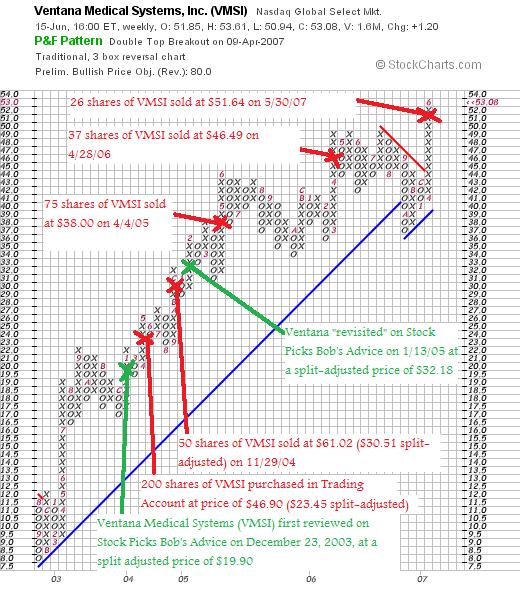 I first discussed Ventana Medical Systems on Stock Picks Bob's Advice on Decembere 23, 2003. I first purchased shares of Ventana four months later on 4/16/04 and have sold shares four times since. I "revisited" Ventana Medical Systems on January 13, 2005, when the stock was trading at $64.36 ($32.18 adjusted for a 2:1 stock split later that year).
Let's take a look at some of the more recent information.
On April 27, 2007, Ventana reported 1st quarter 2007 results. Sales came in at $64.4 million for the quarter ended March 31, 2007, up 19% over the same quarter the prior year. Net income was $18 million or $.50/diluted share, up sharply from last year's $5.0 million or $.14/diluted share. However, removing a one-time income of $12.3 million or $.34/share this year, the results are still good but not as spectacular with $42.1 million vs. $18 million, and $.16/share, up from $.14/share.
Without going into details (check them yourself), the "5-Yr Restated" financials on Morningstar.com are intact with steady revenue growth, steady earnings growth, relatively limited shares outstanding, growing free cash flow, and a solid balance sheet.
Regarding valuation, looking at Yahoo "Key Statistics" on VMSI, we can see that this is a mid-cap stock, the p/e is a bit rich at 43.26, with a PEG a bit rich as well at 1.79. With the rich valuation also comes a lot of short-sellers with 3.01 million shares out short as of 5/10/07, representing 9.10% of the float or 6.7 trading days of volume. The last stock split was 3/15/05 when the company split its stock 2:1.
With the strong quarterly report, the steady Morningstar.com report, and the solid chart,
VENTANA MEDICAL SYSTEMS (VMSI) IS RATED A BUY
To summarize, I still like this stock. They are quietly cranking out earnings and revenue growth, and the stock price is appreciating alongside all of this. However, valuation is indeed a bit rich and their are a lot of naysayers waiting for VMSI to falter. If they continue to do well, there will also be a lot of short-sellers scrambling to cover their negative bets.
Thanks so much for visiting! If you have any comments or questions, please feel free to leave them on the blog or email me at bobsadviceforstocks@lycos.com. If you get a chance, be sure and visit my Stock Picks Podcast Website, and if I get a chance, I shall be podcasting a new episode soon.
Bob