A Reader Writes "I do have a few questions about your mechanics."
Hello Friends! Thanks so much for stopping by and visiting my blog, Stock Picks Bob's Advice! As always, please remember that I am an amateur investor, so please remember to consult with your professional investment advisors prior to making any investment decisions based on information on this website.
I was getting ready to get to sleep when checking my mail, I found a very nice letter from Keith H. who writes from Melbourne, Floriday. I decided if Keith was so kind to write, to include some of my thoughts in his presentations to his stock club, well I could do no less than respond to his questions as soon as I got them!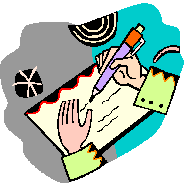 Keith wrote:
"Hey Bob

This is Keith H. from Melbourne, Fl again. Sorry I have not written in a while. I have been recommending your podcast and blog to my IBD group....I hope they are listening. I even used you in one of talks on Selling Strategies (I included the presentation). I really like your disipline and that is what I try to teach them.

I do have a few questions about your mechanics.

1. Do you always buy in the same dollar amounts?

2. Are you on a buy or sell signal right now? I know you have said you are not buying anything at the moment but is that because you are on a sell signal and none of your stocks have given a buy signal or you are fully invested (whatever that means to you).

3. Do you have to get a buy signal for each purchase? For example: let's say we are in a bear market and you are down to 6 stocks and have lots of cash. You finally get a buy signal and buy a stock. Are you still on a buy signal or did you just satisfy that buy signal with a purchase and now have to wait for another buy signal? Or are you on a buy signal until you get a sell signal?

4. Is it a buy signal or sell signal when a stock hits a profitable trailing stop?

5. Have you ever thought of using Leaps instead of buying the stock so you are not on margin?

6. Have you created a spreadsheet to manage your portfolio and your buy, sell and trailing stops points?

I have included an interesting spreadsheet for you that I created. Not sure it will make a lot of sense with me not walking you through it but the Yearly Returns tab shows the yearly returns of various investment strategies (this was to show them stick with a strategy and over time it will work). I also showed them risk adjusted returns. And on tab % Gain Dif, I tried to show them the importance of what an addition % or 2 would mean to your portfolio over time.

Keep up the good work. I listen to your podcast on my daily walks. I just wish iTunes would post you podcast in a more timely manner.

Keith"
First of all, I thank you for writing, reading, and listening to my podcasts! You have absolutely NOTHING to apologize about! If anything, I would like to thank you for your enthusiasm and sharing my ideas with your stock club. You will have to let me know if any of the stocks I have presented have made it into your club's portfolio and how they turned out. Not everything I write about turns out profitable!
Let me try to answer your questions in order:
1. I don't always buy in the same dollar amount. Recently I have been trying to do this...hopefully buying about $5,000 worth of stock on each new position. Unfortunately, I do abuse this account....using funds for miscellaneous household expenses and I make my car payments out of this stock fund. This is a real account for me....probably shouldn't be doing this when I am writing a blog though. However, my trading rules are rather strictly followed (except for a shot at Kendle which lost me some money!). Regardless of what I have been doing, I would suggest that people do make equal dollar purchases.
2. Am I on a buy or sell signal right now? The answer is no. I am at 11 positions I recently wrote about. Unfortunately, I am flirting with two sales of stocks....my Healthways (HWAY) is acting ill after reporting a shortfall on revenue expectations due to some Medicare contracts that apparently got delayed, and my ResMed (RMD) stock is flirting with a 30% gain level which would signal me to sell (I have sold twice at 30 and 60% levels...so this would be a 50% retracement). Looking through my other stocks, my Coach stock is near a sale at a gain....my last sale, if you can believe it (!) was at a 300% gain, I am at a 329% gain now, and would sell 1/6th of my 102 shares if it hits a 360% gain. (with a cost basis of $8.33 (!), that works out to 4.60 x $8.33 = $38.32. COH closed today at $35.79...so that isn't too far off.) The only other stock that is possibly close to a sale at a gain is my Wolverine World Wide (WWW) which has a 16.84% gain. I shall not be selling until it either hits a loss of 8%, or appreciates to a 30% gain, which, with my cost basis of $23.55, would be at 1.3 x $23.55 = $30.62. WWW closed at $27.51 today....so that might not be too far off (?). Insofar as being 'fully invested', as I have indicated, my full investment is 25 positions, so at 11 positions, I am far from fully invested.
3. Do I have to get a buy signal for each purchase? Yes. However, you do talk about 'my exception'. That is, if I am at a minimum number of positions in my portfolio, then I will get a buy signal if either one of my six stocks sells on the downside...as I need to replace it, or if one of the six stocks hits an appreciation target. The buy signal, as I employ it, only allows me to buy one stock. And that stock needs to be on the top % gainers THAT day. How is THAT for an arbitrary decision?
4. If a stock hits a profitable trailing stop, that means it has declined from an even higher level, and I still call that "bad news". I only get an appreciation buy signal when a stock breaks into new territory and I sell 1/6th of my holding. When a stock pulls back to that trailing appreciation target (1/2 of it highest appreciation target), then that is definitely "bad news" and once again I sit on my hands unless my portfolio is at a minimum number of positions.
5. LEAPS....perhaps. But it isn't something I do with this portfolio. I have had a miserable track record with options. But that doesn't mean somebody else could do the same thing with LEAPS that I do with stocks using some of the same criteria. It might even work. It just isn't what I do.
6. Spreadsheet? No, unfortunately. I literally scan through each of my holdings, and Fidelity has a wonderful online reporting system that shows all of my sales, cost basis, current % gain/loss etc. I end up practically counting on my fingers going 30, 60, 90, 120%, etc. do figure out if I am near a sale target. Probably could do this a whole heck of a lot better....but you know I really AM an amateur. I am serious about that. I just love stocks.
p.s. I took a look at your spreadsheet you created. I am absolutely flattered to be in you PowerPoint presentation. I hope that I am helpful and have earned that place. One thing I really could do is to use a disciplined spread sheet with my purchases/sales and be able to present a more accurate performance evaluation of my trading portfolio. That I shall save for the future!
Thanks again for visiting!
If any of you have questions or comments, please feel free to email me at bobsadviceforstocks@lycos.com.
Bob