June 14, 2005 Diodes (DIOD)
Hello Friends! Thanks so much for stopping by and visiting my blog,
Stock Picks Bob's Advice
. As always, please remember that I am not a professional investment advisor. I am not a certified financial specialist. I am truly an amateur investor who loves to invest and share ideas with fellow investors who share this same passion. However, please do consult with your professional investment advisors prior to making any investment decisions based on information on this website!
What this website is about is a process. A way of looking at the overwhelming number of stock market investment possibilities and trying to make heads or tails of the chaos. Just maybe, I shall be able to do a little better than random by having a strategy of identifying companies that may have a better than average chance of appreciating in price. Together, we shall see if this approach is successful.
Furthermore, my strategy is NOT about picking the perfect stock. Even thought that might be what YOU are looking for :). I strongly believe in building a portfolio of stocks that as a group can outperform the market. My loyalty to any particular stock in my portfolio goes only as far as the stock continues to perform.

Looking through the
list of top % gainers on the NASDAQ
today, I came across Diodes (DIOD) which closed at $33.30, up $3.37 or 11.26% on the day. I do NOT own any shares, nor do I have any options in this company.
According to the
Yahoo "Profile" on DIOD
, the company "...engages in the manufacture, sale and distribution of discrete semiconductors, primarily to manufacturers in the communications, computing, industrial, consumer electronics, and automotive markets, as well as to distributors of electronic components to end customers in these markets."
Apparently, what drove the stock higher today was an
upgrade by Raymond James
, the brokerage house, which raised the stock to "strong buy".
In my review of a stock, besides watching for a large % move that day, I check the latest quarter results. I am looking for good news :), obvious stuff like increasing revenue and earnings. On April 28, 2005, DIOD
reported 1st quarter 2005 results
. Revenues for the quarter ended March 31, 2005, increased 17.3% to $48.6 million from $41.4 million last year in the same quarter. Sequentially, the company also raised revenue by 1.5%. Net income for the company increased 49.1% to $7.2 million or $.46/share, up from last year's $4.9 million or $.32/share. These were very strong results!
One of my observations in looking at stocks, is that stock prices often appreciate when a company can demonstrate persistence of "good" results. This is another way of saying earnings "momentum". That is, a company that has grown for many years may well continue to grow. Of course, nothing is guaranteed. But in general, my goal is to identify these kind of companies.
I have found Morningstar.com to be very helpful in this regard. On the Morningstar site, I have used the
"5-Yr Restated" financials
, in this case for Diodes.
Here, I check the revenue growth, as illustrated by the series of purple bars superimposed on the yellow background near the top of the page. For DIOD, this isn't perfect, but it is quite good. Except for the drop in revenue between 2000 and 2001, when revenue declined from $116.1 million in 2000 to $93.2 million in 2001, this company has been a steady grower, reaching $192.9 million in the trailing twelve months (TTM).
Next step is earnings. Again, the company had a weak year in 2001, when earnings dropped from $1.62 to $.01, but since that year, the company has been steadily improving earnings numbers with $1.79 reported in the TTM.
Further down the page, I like to look at free cash flow. This is calculated by Morningstar by subtracting Capital Spending from Operating Cash Flow. For DIOD, this has been a bit erratic but has stayed positive the last few years in the face of growing capital spending. $12 million in free cash flow is reported in the TTM.
Finally, the last piece of information I use on Morningstar is a glance at the balance sheet. Again, I am an amateur. It is my understanding that current is distinguished from "long-term" by either being available to spend (asset) or coming due (liability) in the next 12 months. Beyond 12 months, assets and liabilities become "long-term".
In any case, obviously, if you had to own a company, you would want lots of assets and not very much in the way of liabilities. For a manager of a company, this gives a degree of flexibility to manage growth and invest for the future. In any case, for DIOD, we can see that the company has $27.9 million in cash and $72.2 million in other current assets. This is WAY greater than the $41.9 million in current liabilities and the 'smallish' $9.8 million in long-term debt. IMHO, this looks like a solid balance sheet to me.
My next step is to look up some key statistics on the company using Yahoo once again. For DIOD, let's take a look at some
"Key Statistics" on Yahoo
. Here we can see that this is a small "mid-cap" stock with a market cap of $477.36 million.
The trailing p/e is reasonable (in the teens is reasonable to me), at 18.56, with a forward p/e (fye 31-Dec-06) of an even nicer 15.71. The PEG (5 yr expected) is just over 1.0 at 1.05.
The Price/Sales is 2.22. As I have stated previously, I greatly respect Paul Sturm who writes for Smart Money and has
written on Price/Sales ratios
. His point, which I would agree with, is that to assess the meaning of a Price/Sales ratio, one must evaluate a company by its peers, that is other companies in the same industry!
I have found my Fidelity account to be a great source for research on Price/Sales ratios. I am sure there are lots of other places you can find this data. It turns out that DIOD is a member of the "Semiconductor-Integrated Circuit" industrial group. In this particular parameter of valuation, DIOD doesn't look too expensive. This group includes Marvell Technology (MRVL) at 9.2, Semtech (SMTC) at 5.2, Broadcom (BRCM) at 4.9, and then lower than Diodes, we have RF Micro (RFMD) at 1.4 and Skyworks (SWKS) at 1.3. Thus, DIOD, at 2.5 Price/Sales is on the reasonable side of valuation!
Other data from the "key statistics" site on Yahoo reveals that there are 14.34 million shares outstanding with only 9.62 million of them that float. Currently there are (as of 5/10/05) 1.31 million shares out short representing 8.30% of the float. This works out to a ratio of 8.2 (meaning 8.2 days of average trading volume to cover the short sales). This is significant, using my own arbitrary 3 days of volume cut-off. Thus, the short sellers may be adding to the buying "panic" if the stock continues to move higher.
No cash dividends are reported on Yahoo, and the last stock split noted was a 3:2 split on 11/26/03.
What about a graph? Taking a look at a
DIOD "Point & Figure" chart from Stockcharts.com
: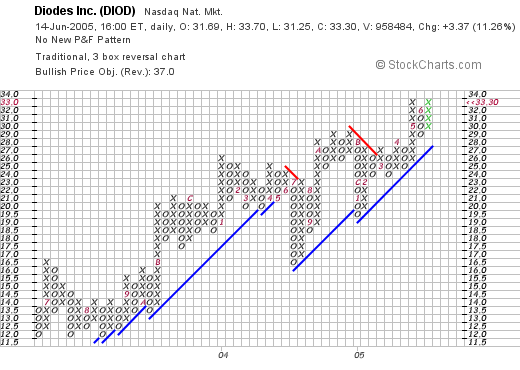 we can see what looks like a very strong long-term chart on DIOD. The stock, which was trading at around $12.00 in August, 2003, has moved higher, except for weakness in July, 2004, when it broke down to $16, the stock has been moving higher in a very regular fashion.

I am no expert at reading any kind of charts :). I look at them and determine whether the graph looks like the stock is moving higher, moving sideways, or moving lower. That's about the extent of my expertise. But I think that basic take is worth a look!

Anyhow, what do I think about this stock? Well, I think the stock looks terrific. Let me review: stock moved higher on an upgrade, recently reported great numbers in the latest quarterly report, has been growing fairly steadily in both earnings and revenue for the last 4-5 years, the cash flow is positive, the balance sheet looks strong, valuation is reasonable both with a PEG just over 1.0, and a Price/Sales ratio in the low-end of its group. In addition the chart looks great and there are a lot of short sales out there looking to be 'covered'.

Now, if I just had a reason to be buying something :). Anyway, I shall be sitting on my hands until one of my stocks hit a sale target. Ventana is actually flirting with a 90% gain...so hopefully that one is next. Meanwhile, thanks again for stopping by. I love your emails and comments. I hope that I am not being too verbose, but that my comments and observations are helpful to you!

Please feel free to leave comments or questions on the blog or email me at bobsadviceforstocks@lycos.com.

Bob













Posted by bobsadviceforstocks at 4:39 PM CDT |
Post Comment
|
Permalink
Updated: Tuesday, 14 June 2005 5:08 PM CDT