"Revisiting a Stock Pick" SRA International (SRX)
Hello Friends! Thanks so much for stopping by and visiting my blog,
Stock Picks Bob's Advice
. As always please remember that I am an amateur investor, so please consult with your professional investment advisors prior to making any investment decisions based on information on this website.

I was browsing through the
list of top % gainers on the NYSE
today and was really trying hard to get a new name. I like the excitement of new ideas around here, but the best stock I could find on the NYSE, the NASDAQ, and the AMEX top % gainers today was SRA International (SRX). This
is
a stock that I own now in my trading portfolio. I did not own any shares when I
posted SRX on Stock Picks on June 1, 2004
, at a price of $41.80. SRX recently split 2:1 making our effective stock pick price actually $20.90. SRX closed today at $34.74, up $1.74 or 5.27% on the day. Thus, we have a gain of $13.84 or 66.2% since my first listing of SRX on Stock Picks in June, 2004.
I actually purchased 160 shares of SRX, which split to 320 shares that now have a cost basis of $29.82/share. These shares were acquired on 2/1/05.
On May 2, 2004, SRX
announced 3rd quarter 2005 results
. Revenue climbed 41% to $226 million from $160 million last year. Net income increased 44% to $14.7 million or $.52/share, up from $10.2 million or $.37/share a year ago. The company also raised guidance for the fourth quarter and the full year 2005 results.
If we recheck the
"5-Yr Restated" financials on Morningstar.com
for SRX, we can see that the pattern of revenue growth from $312.5 million in 2001 to $821.6 million in the trailing twelve months (TTM) is undisturbed.
Earnings have increased from $.63/share in 2003 to $.96 in the TTM.
Free cash flow has also grown impressively from $4 million in 2002 to $52 million in the trailing twelve months.
The balance sheet is solid with $217.5 million in cash alone, enough to cover both the current assets of $151.6 million and the 'smallish' $7.2 million in long-term liabilities reported on Morningstar.com. In addition, Morningstar reports that the company has an additional $228.5 million in other current assets.
How about other "key statistics"? Looking at
Yahoo "Key Statistics" on SRX
, we can see that this is now a large cap stock (if we use a $1.5 billion cut-off), with a market cap of $1.87 billion. The trailing p/e is a bit rich at 36.23 with a forward p/e (fye 30-Jun-06) shown at 35.81. I do not think these numbers take into consideration some of the increased guidance from the company (?).
The PEG isn't too bad at 1.51, and the Price/Sales is at 2.16.
Other statistics show SRX with 53.77 million shares outstanding, with 35.53 million of them that float. Currently, as of 5/10/05, there were 2.37 million shares out short, representing 4.50% of the float or 4.7 trading days of volume. Thus, with a 3-day "cut-off" that I like to use, there are still some significant short-shares out there that could come in and contribute to buying pressure in this security.
Yahoo does not show any cash dividend, and the company recently split 2:1.
Let's take a quick look at the chart. Looking at a
SRX "Point & Figure" chart from Stockcharts.com
, we can see that this stock has been moving strongly higher since April, 2003, when it broke through resistance at $12.50 and has moved to its current $35 level in a very strong fashion.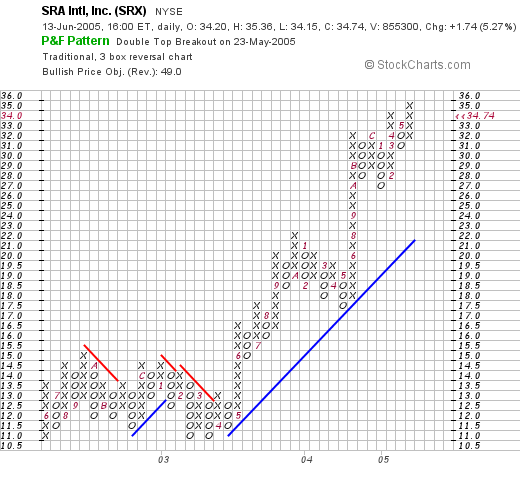 So what do I think? Well, first of all I do own the stock. The numbers on this company are fabulous, the latest quarter was very strong and the company raised guidance for the next quarter and the year. The only drawback I can think is that the company is dependent on government contracts, which can always be a bit fickle. But the numbers look nice, and I chose to purchase some shares.

Thanks again for stopping by and visiting! If you have any questions or comments, please feel free to leave them on the blog or email me at bobsadviceforstocks@lycos.com.

Bob