June 1, 2004 SRA International (SRX)
Hello Friends! It is a bit after 5 pm here in Wisconsin, and actually it is my stock club night. I am a member with bunch of great guys (and one great lady!) who meet monthly trying to divine the future of our investments. (Some of them occasionally stop by here so I will refrain from anything I might regret!) Let me just say, that I have about 41 minutes to fire off this entry! Remember, as ALWAYS, that I am an AMATEUR investor, these are just my observations on current stocks of interest, so PLEASE consult with your investment advisors before making any investment decisions based on what you read here!

I came across SRA International (SRX) a few moments ago...scanning the lists of greatest percentage gainers. I do NOT own any shares nor do I have any options or other leveraged positions. SRX did have a nice day today closing at $41.80, up $3.03 or 7.82% on the day. According to the profile on CBS Marketwatch, SRX's "...principal activity is to provide information technology services and solutions to the U.S. Federal government organization. The services provided include strategic consulting, systems designing, development, integration and outsourcing and operations management."
On May 3, 2004, SRX
announced 3rd quarter 2004 results
. Revenue was up 37% from the prior year to $160 million. Net income increased 42% to $10.2 million. And diluted earnings per share for the quarter ended March 31, 2004, came in at $.37, up 23% from the prior year's figure of $.30/share. In addition, they raised fiscal year 2004 guidance. All of this was bullish for the stock!
If we look at the
"5-Yr Restated" financials
on Morningstar.com, we can see that revenue, which was fairly flat between 1999 and 2001, increasing from $291.9 million in 1999 to $312.5 million in 2001, took off after that...increasing to $361.2 million in 2002 and $450.4 million in 2003 and $518.5 million in the trailing twelve months.
Earnings on Morningstar.com start in 2003 where they were at $1.25, increasing to $1.27 in trailing twelve months. However, from the recent quarter, we can see that the earnings are growing quicker than that!
Free cash flow has improved from $6 million in 2001 to $34 million in 2003.
The balance sheet is GORGEOUS with $189.1 million in cash, way more than enough to pay off both the $98.7 million in current liabilities and the smallish $5.9 million in long-term liabilities. In addition, Morningstar.com reports that they have an ADDITIONAL $153.8 million in OTHER current assets! With the growing free cash flow, this one looks financially healthy to me.
What about valuation? Looking at
"Key Statistics"
from Yahoo.com, we can see that the market cap is $1.08 billion, the trailing p/e is 31.19, but the forward p/e (fye 30-Jun-05) is only 25.03. The PEG isn't bad at 1.26 (imho), and the Price/Sales is reasonably priced at 1.78.
Yahoo reports 25.78 million shares outstanding with 14.80 million of them that float. There are a LOT of shares out short (from my perspective) with 515,000 as of 5/10/04...representing 3.48% of the float, but more importantly representing 7.923 trading days of short interest. (I use 3.00 trading days as a cut-off...I am not sure what other people use...but this seems to be fairly predictive of the chances of observing a "squeeze".)
Yahoo reports no cash dividend and no stock dividend is reported.
What about Technicals?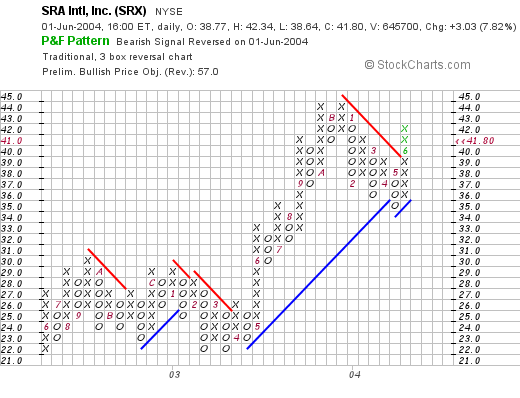 If we look at a recent "Point & Figure" chart on SRX, we can see that the stock was trading "sideways" through much of 2002 and early 2003. In April, 2003, the stock broke through a resistance level at around $6 and has been trading higher since. In my humble opinion, this graph looks just fine!

What do I think. Well, first of all I don't have any money to invest...you know the old story. But otherwise it looks nice. I guess it is a bit depended on the Federal Government for business....and I am not sure about whether a change in Administrations, that is the Democrats taking over the White House, if that is the case, would mean any change for them. Other than that, things look nice. They have a great earnings record, are raising current estimates, have a wonderful balance sheet, reasonable PEG and Price/sales....and a nice graph to boot! What is there NOT to like?

Thanks again for stopping by! Please feel free to stay awhile and browse the myriad of posts...and please email me at bobsadviceforstocks@lycos.com if you have any comments, questions, or words of encouragement!

Bob